Chiefs clipped by Indians, 5-4
Chiefs notch season-high with 14 strikeouts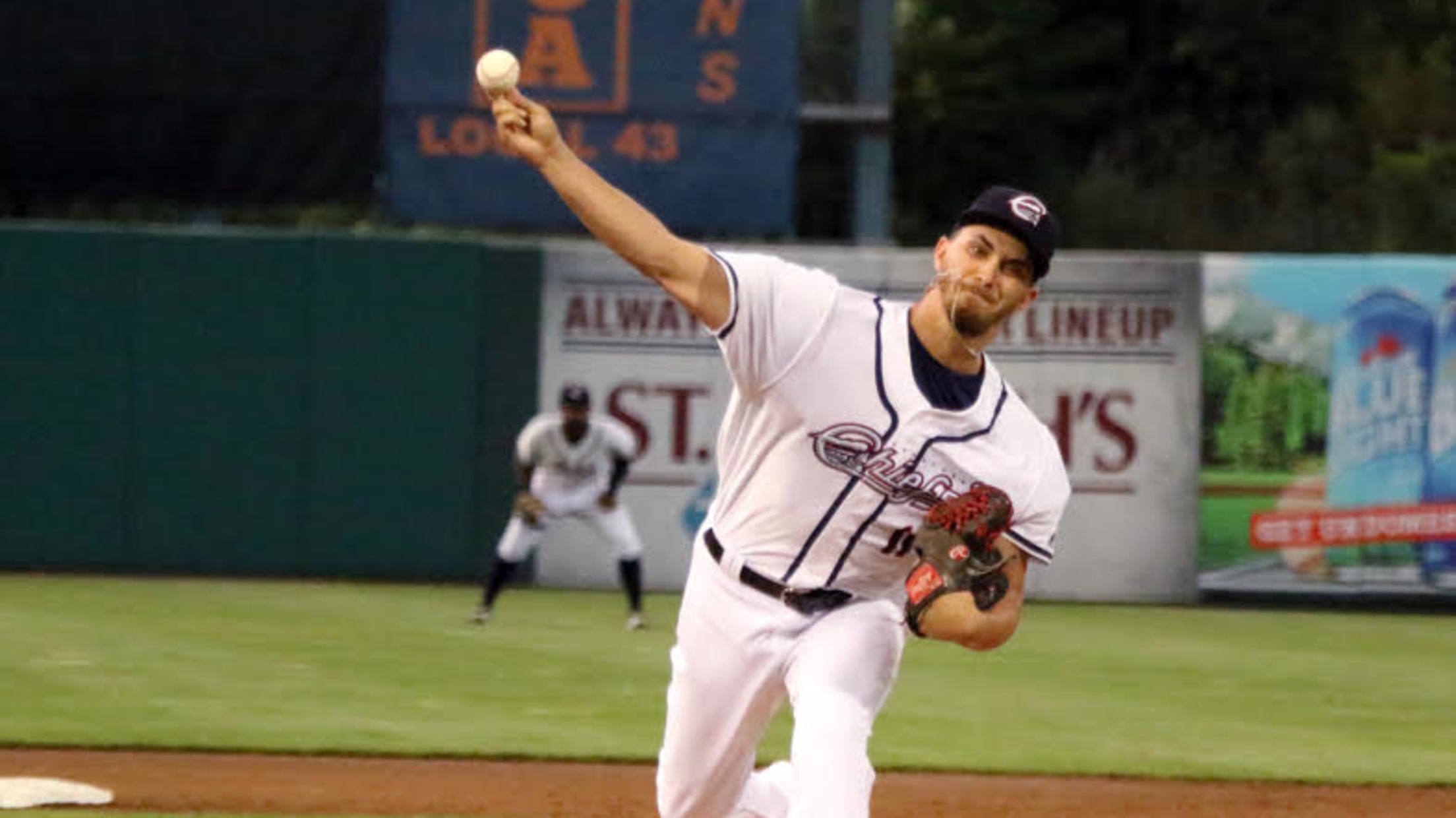 A.J. Cole struck out eight batters Saturday night (Hermon Card c.2017)
Syracuse, NY (August 19, 2017) - The Syracuse Chiefs fell to the Indianapolis Indians, 5-4, on Saturday night at NBT Bank Stadium. A.J. Cole, Phillips Valdez, Enny Romero, and Neal Cotts combined for 14 strikeouts, a new Chiefs season-high. Indianapolis (69-56) jumped in front in the top of the first inning. Kevin Newman
Syracuse, NY (August 19, 2017) - The Syracuse Chiefs fell to the Indianapolis Indians, 5-4, on Saturday night at NBT Bank Stadium. A.J. Cole, Phillips Valdez, Enny Romero, and Neal Cotts combined for 14 strikeouts, a new Chiefs season-high.

Indianapolis (69-56) jumped in front in the top of the first inning. Kevin Newman smacked a base hit off A.J. Cole to center to lead off the game. After Cole struck out Jordan Luplow and Christopher Bostick, Danny Ortiz hit a single to center, moving Newman to third. Joey Terdoslavich then singled on a line drive to right, scoring Newman and putting the Indians up 1-0.

Syracuse (47-79) responded with a four-run bottom of the first. The Chiefs initiated a two-out rally when Neftali Soto was hit by a Clay Holmes pitch. Clint Robinson then hit a groundball single to left. Brandon Snyder followed by ripping a line drive into right. An unusual sequence of events then occurred. Robinson was caught off second base, Terdoslavich chased him down from first and threw to the third baseman Erich Weiss. But Robinson slid into third ahead of Weiss' tag and Soto came into score.

With the next batter, Matt Skole, at the plate, Holmes threw a wild pitch, allowing Robinson to score and put the Chiefs up 2-1. Skole then walked on four pitches and Spencer Kieboom also followed with a walk. Bengie González then roped a single to right, scoring Snyder and Skole to give Syracuse a 4-1 lead.

However, an inning and a half later, the Indians answered with a three-run top of the third. Luplow led off with a single to center. Bostick followed with a line drive to left, advancing Luplow to third. With both runners on, Danny Ortiz blasted a home run to right field, tying the game at four. It was Ortiz's 14th home run of the year.

After that, the game remained knotted up until the top of the eighth. Romero came in on Major League rehab to replace Valdez for Syracuse. Pinch-hitter Eric Wood led off with a single to right. Newman laid down a sacrifice bunt, and a throwing error by Robinson allowed Newman to reach first and Wood to advance to second on the sacrifice. After Luplow struck out, the former Chief, Bostick, came up big for the Indians. Bostick ripped a single to left, scoring Wood and putting Indianapolis up 5-4.

The Chiefs return to action Sunday afternoon at 1:05 p.m. from NBT Bank Stadium. Jaron Long is slated to pitch for the Chiefs while Drew Hutchison is set to pitch for Indianapolis.