Chiefs clipped late in Columbus, 5-4
Stevenson, Robinson homer in loss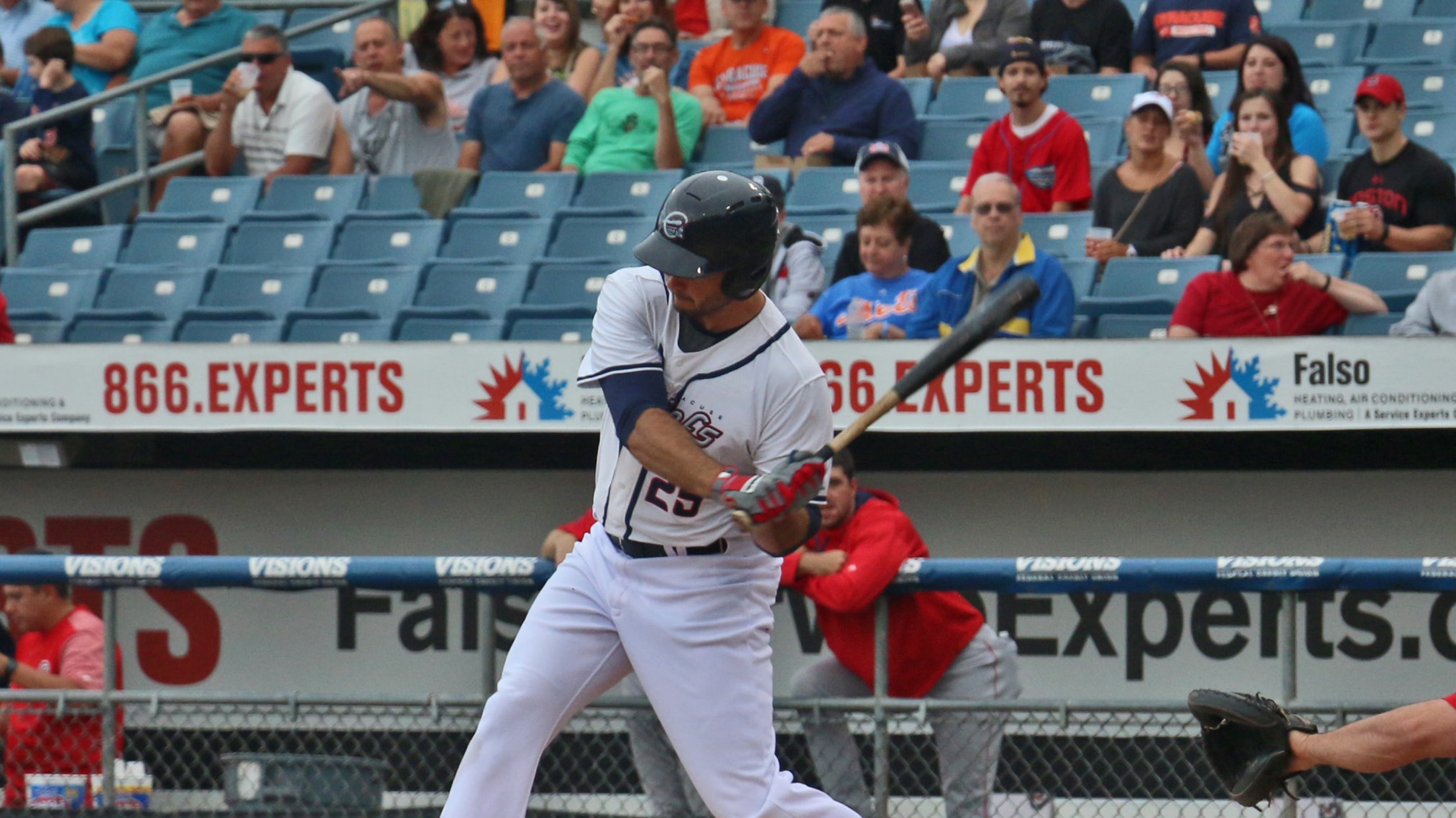 Clint Robinson homered Saturday night, his sixth extra-base hit on the road trip. (Danny Tripodi)
Columbus, OH (July 22, 2017) - An eighth-inning rally by the Clippers saw the Chiefs fall short in a 5-4 loss on Saturday night. Former Chief Michael Martinez tallied the winning RBI on a single, marring a pair of Syracuse home runs from Andrew Stevenson and Clint Robinson
Columbus, OH (July 22, 2017) - An eighth-inning rally by the Clippers saw the Chiefs fall short in a 5-4 loss on Saturday night. Former Chief Michael Martinez tallied the winning RBI on a single, marring a pair of Syracuse home runs from Andrew Stevenson and Clint Robinson
Syracuse (34-64) started the scoring in the third inning. Michael Almanzar singled with one out off Jarrett Grube. Two batters later, Andrew Stevenson hit his second home run of the season, over the right-center field fence for a 2-0 lead.
Columbus (54-45) answered back with four in the bottom of the fourth. Ronny Rodriguez singled and Martinez walked with one out. Adam Moore followed with a three-run home run off Sean O'Sullivan to give the Clippers a 3-2 lead. After a strikeout, Tyler Naquin homered to left-center to push the lead to two.
Clint Robinson brought the Chiefs back within one with a lead-off home run to right in the sixth inning. Robinson's sixth extra-base hit of the road trip made the score 4-3. The inning continued with the Chiefs loading the bases on a Brandon Snyder single, which knocked Grube out of the game, and walks by Alejandro De Aza and Spencer Kieboom against Shawn Armstrong. After a forceout at the plate, Emmanuel Burriss grounded out to third, enough to score De Aza and tie the game at four. Stevenson would ground out to second to end the rally, with the Chiefs stranding two.
The game remained tied until the bottom of the eighth. Richie Shaffer walked and Yandy Diaz singled to start the inning against Sammy Solís. After a Ronny Rodriguez sacrifice bunt, Martinez dumped a single into right-center field to score pinch-runner Jordan Smith and give the Clippers a 5-4 lead.
In the ninth, Irving Falu led off with a single and moved to second on a Neftali Soto groundout. However, Louis Head struck out Robinson and Snyder to finish the game.
Syracuse wraps up its eight-game, seven-day road trip Sunday afternoon at 4:05 p.m. at Huntington Park in Columbus. Cody Satterwhite will make a spot start for the Chiefs opposite Adam Plutko for the Clippers.