Chiefs' Dennard, Spitz save house from fire
Cards prospects doused flames after lightning strike damaged home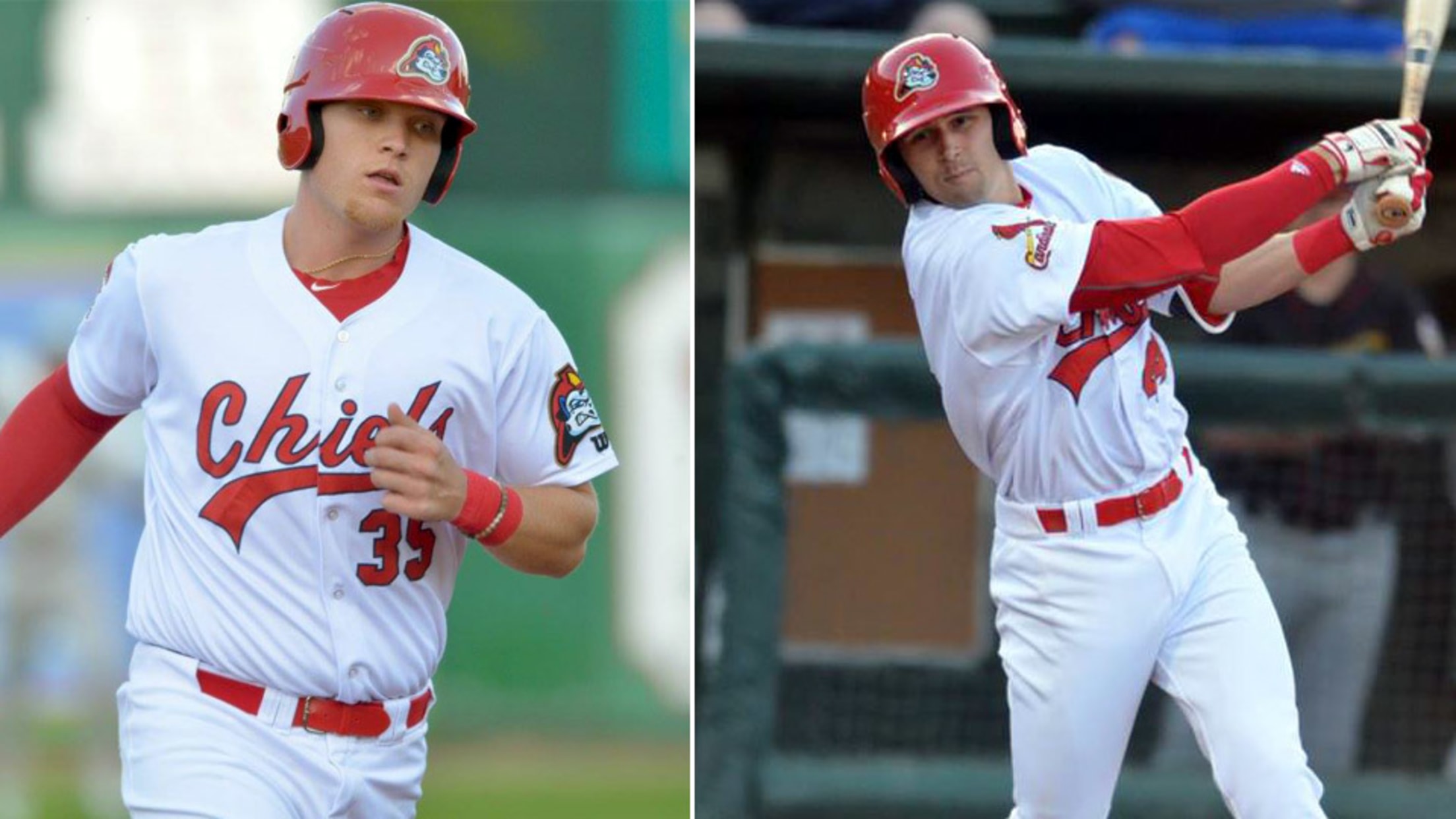 R.J. Dennard (left) and Thomas Spitz both began their careers with State College in 2015. (Allison Rhoades/Peoria Chiefs)
R.J. Dennard and teammate Thomas Spitz found themselves wet, shaken and a little stunned in the early hours of Thursday morning. Lightning struck their house in the Peoria, Illinois, suburb of Washington, and suddenly the pair of Cardinals prospects were forced to react to a fire in their shared bedroom."I
R.J. Dennard and teammate Thomas Spitz found themselves wet, shaken and a little stunned in the early hours of Thursday morning. Lightning struck their house in the Peoria, Illinois, suburb of Washington, and suddenly the pair of Cardinals prospects were forced to react to a fire in their shared bedroom.
"I guess we were happy to be there," Dennard said, "because if not, our host mom might not have gotten it out in time."
Dennard and Spitz, both St. Louis Minor Leaguers with Class A Peoria, jumped into action when they were awoken by an explosion inside the room of the house they're staying in with a host family. A lightning strike around 7 a.m. hit the house, traveled through the wiring in the walls and blew a hole below the ceiling. Neither player was injured and both played in the Chiefs' 4-3 win later that night.
"It was like seven in the morning, we heard a loud bang," said the 23-year-old Dennard. "I didn't wake up, but my roommate woke up with the bang and we just saw a big hole in the wall -- size of two basketballs. Smoke was coming out of it."
Dennard, a first baseman and 2015 Draft pick out of Armstrong State in Georgia, didn't think it was even happening at first.
"I thought it was a dream," Dennard said, "until my roommate got up and started screaming."
Spitz, an outfielder, checked the home for a fire extinguisher, while Dennard found some water to throw on the flames.
"He was looking for a fire extinguisher, and I happened to see a pitcher of water by the kitchen sink and just threw the water on it," he said. "I thought I had it all out, but there was way too much smoke. We had to leave the house. The house just filled up with smoke."
Dennard said the lightning strike hit "five feet above my roommate's head."
"We were sleeping, and suddenly there is this big white flash and a boom, and my ears were ringing," Spitz told the Peoria Journal Star. "I woke up R.J., and then we saw the flames and R.J. sprinted to the kitchen."
The homeowners, Terry and Judy Hillengonds, both escaped without injury and told the players the house would be fixed by the time they returned from their current Midwest League road trip. But in the moment, the four were left a bit shocked, standing outside in the rain waiting for the fire department to arrive.
"It was raining, I had on a tank top and boxers, he had on boxers and one sock, and that's all we had," Dennard said. "The fire department came and they made sure it was out."
Dennard said he and Spitz had extinguished the fire before firefighters arrived, although Spitz's cell phone was destroyed since the lightning strike fried the electrical outlet it was plugged into.
Dennard went 0-for-3 with a walk later that day but wasn't at all concerned about his performance, considering the long day he'd survived.
"We didn't get to bed until one or two, so we were both really tired," he said. "I wasn't worried about the 0-for, but everything going on in baseball so far has been good."
Dennard, who debuted last summer in the New York-Penn League, is hitting .268 with a homer, 19 RBIs and 10 doubles in 43 games this season at Peoria. Spitz, a 24-year-old out of Wingate University, singled and scored Thursday and is batting .295 with a home run and 15 RBIs in 38 games.
The pair is staying with the Hillengonds through a host program employed by many Minor League teams in which local families provide housing for players during the season.
Dennard said his Chiefs teammates didn't believe the story of their firefight until he showed them a photo on his phone.
"They couldn't believe it until they saw pictures of it," he said. "Kind of a wild story to tell."