Chiefs fall on Opening Night
RailRiders' five-run ninth spoils Stevenson, Voth's big days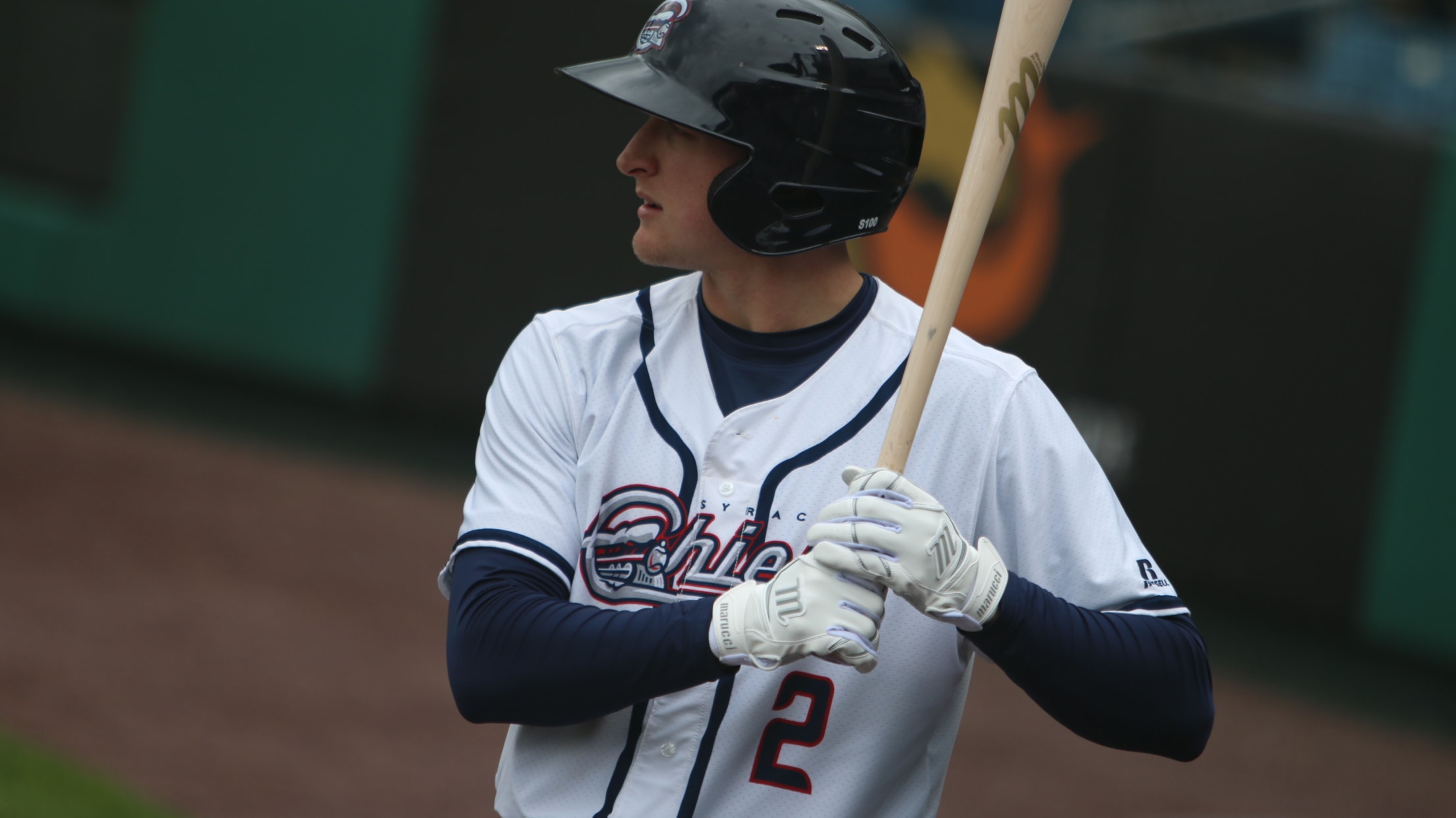 Andrew Stevenson hit a three-run home run and reached three times Friday night. (Danny Tripodi)
MOOSIC, PA (April 6, 2018) - After a promising start to the 2018 season opener, the Syracuse Chiefs allowed five runs in the ninth inning to fall, 6-5, to the Scranton/Wilkes-Barre RailRiders Friday night. Abiatal Avelino hit a walk-off three-run home run on a line drive over the right-field fence
MOOSIC, PA (April 6, 2018) - After a promising start to the 2018 season opener, the Syracuse Chiefs allowed five runs in the ninth inning to fall, 6-5, to the Scranton/Wilkes-Barre RailRiders Friday night. Abiatal Avelino hit a walk-off three-run home run on a line drive over the right-field fence to lift the RailRiders to the win.
Scranton/Wilkes-Barre (1-0) entered the ninth inning trailing 5-1. Tim Collins allowed a double to Cody Asche to start the frame, and then after a strikeout walked Kyle Higashioka and Ryan McBroom. The Chiefs then turned to Christopher Smith. Billy Fleming followed with a sacrifice fly to center field, scoring Asche from third to make it a 5-2 game. With two outs, Zack Zehner kept the game alive with a two-out single to score Higashioka to cut the deficit to two. Avelino followed with his three-run walk-off home run on another two-strike count to win the game for the RailRiders.
Syracuse (0-1) did get off to a promising start, thanks to a four-run second inning off Chance Adams. After back-to-back singles by Spencer Kieboom and Adrían Sanchez put runners on first and second with one out, Irving Falu doubled to deep right field, scoring Kieboom and moving Sanchez to third for a 1-0 Chiefs lead. Two batters later, Andrew Stevenson crushed a pitch over the right-field wall to push the Syracuse advantage to 4-0.
The Chiefs added to their lead in the fourth. With two outs in the inning, Falu and Victor Robles both singled, putting runners on first and third. Robles then attempted to steal second, and Higashioka's throw bounced off the glove of shortstop Gleybar Torres, allowing Falu to score from third on the missed catch error on Torres.
Austin Voth was excellent for Syracuse in his first start of the season. The 25-year old allowed just three hits and posted six strikeouts in five innings. Voth's lone blemish came in the fourth, when Higashioka hit a solo home run to left to cut the Chiefs lead to 5-1.
The Chiefs and RailRiders play the second game of the season Saturday at 4:05 p.m. LHP Tommy Milone gets the ball for Syracuse opposite RHP Luis Cessa for Scranton/Wilkes-Barre.