Chiefs, Whitecaps make history in MWL tie
Teams combine for 48 hits, settle for 15-inning deadlock due to curfew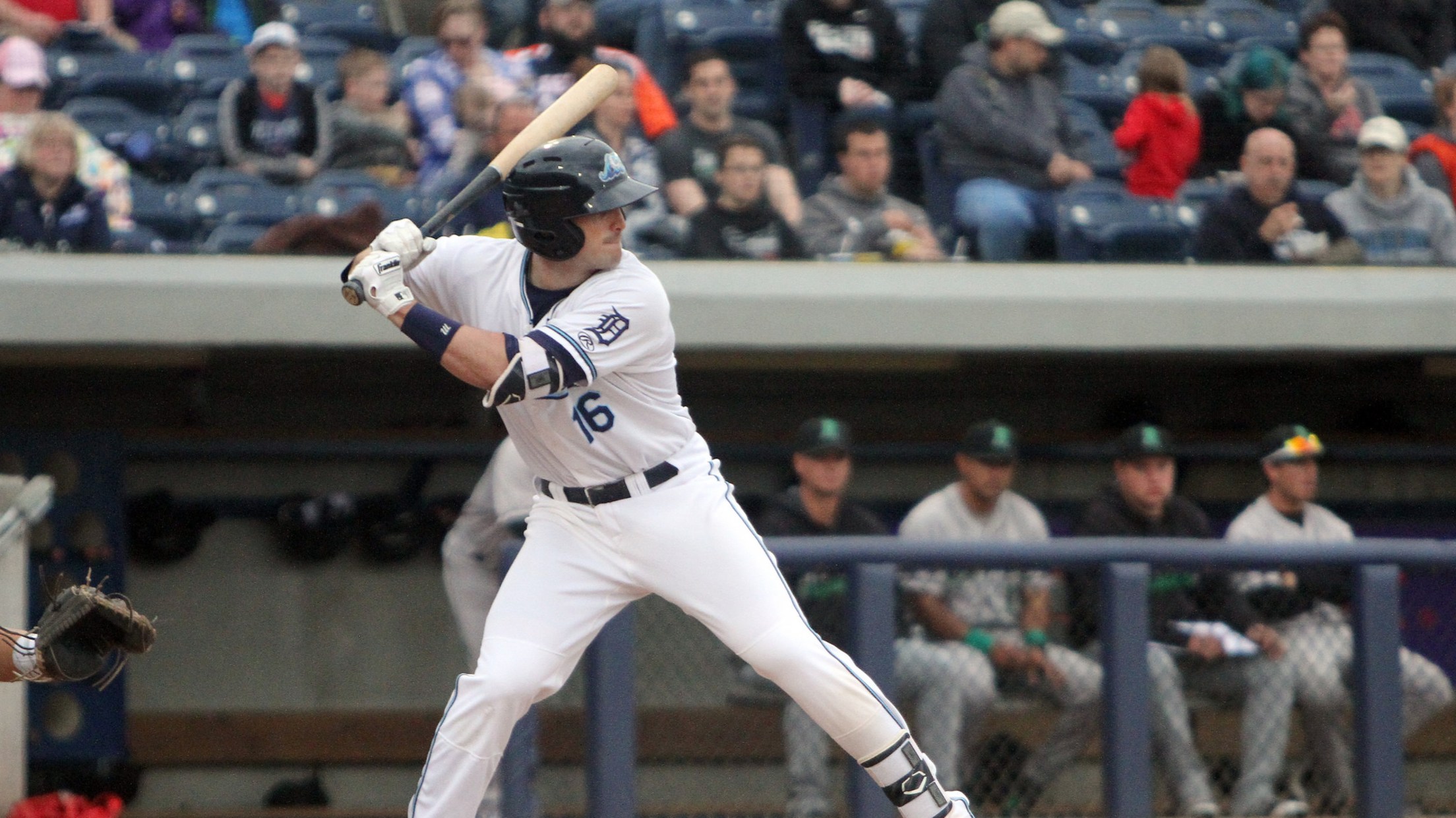 Will Allen's single in the 10th inning kept the Whitecaps alive in their eventual 15-inning tie (Emily Jones/MiLB.com)
Class A Peoria and West Michigan put on a hitting clinic like the Midwest League has never seen on Friday night. They also came away with a result rarely seen anywhere in baseball.Over six hours and two minutes, the Chiefs and Whitecaps combined for a league-record 48 hits, but when
Class A Peoria and West Michigan put on a hitting clinic like the Midwest League has never seen on Friday night. They also came away with a result rarely seen anywhere in baseball.
Over six hours and two minutes, the Chiefs and Whitecaps combined for a league-record 48 hits, but when the circuit's curfew kicked in at 1 a.m. local time, neither side had found a way in front. Despite their prolific offensive night, Peoria and West Michigan settled for a 9-9, 15-inning tie.
Just seven half-innings in Friday's marathon went without a hit for one side or the other, and one of those frames -- the Peoria ninth -- featured three walks for the visitors. The top four spots in the Chiefs lineup combined to go 19-for-33, with shortstop Jose Martinez producing five hits. Second baseman Dylan Tice entered as a defensive replacement for Eliezer Alvarez -- who was 2-for-2 -- in the fifth inning and went 4-for-5.
Not to be outdone, West Michigan's top four lineup spots posted 15 hits in 30 at-bats, with Will Maddox matching Martinez with five knocks.
Friday's scoring went in an orderly pattern of call and response. In what ended up being the longest game in franchise history, Peoria gained the upper hand first on R.J. Dennard's RBI single in the second. West Michigan answered with Rashad Brown's run-scoring bunt single to first in the third and, after the Chiefs scored twice in the fourth, the Whitecaps plated two in the fifth.
The clubs traded two-run outbursts in the seventh, eighth and 10th innings. Chris Chinea put Peoria ahead in the 10th with an RBI single and Leobaldo Pina added what appeared to be an insurance run with a sacrifice fly, but West Michigan refused to fold. Will Allen knocked a two-run single through the left side to pull the Whitecaps even for good.
Peoria went 8-for-24 with runners in scoring position. Of the Chiefs' 26 hits, 22 were singles. The Whitecaps went 4-for-19 with men in scoring position and rapped seven doubles. The combined hit total surpassed a May 8, 1999 game between Kane County (23) and Cedar Rapids (22) that held the previous mark of 45.
The Chiefs put runners in scoring position in four of their final five innings but couldn't bring home a decisive run. With a chance to end the affair in walk-off fashion, the Whitecaps also were unable to come through, leaving men in scoring position in the 12th and 13th. With the teams not scheduled to face each other again this season, the game goes into the books as a tie.
The clubs combined to use 13 pitchers, only two of whom -- Peoria catcher Jose Godoy and West Michigan right-hander Ryan Milton -- did not yield a hit. Both Nick Frey of the Chiefs and Steven De La Cruz of the Whitecaps were charged with blown saves, but in one of the wildest and longest games of the Minor League season, no pitcher recorded a decision.
Tyler Maun is a contributor to MiLB.com. Follow him on Twitter @TylerMaun.