Baker belts two homers in Storm's rout
Infielder hits first dingers of season, plates career-best five runs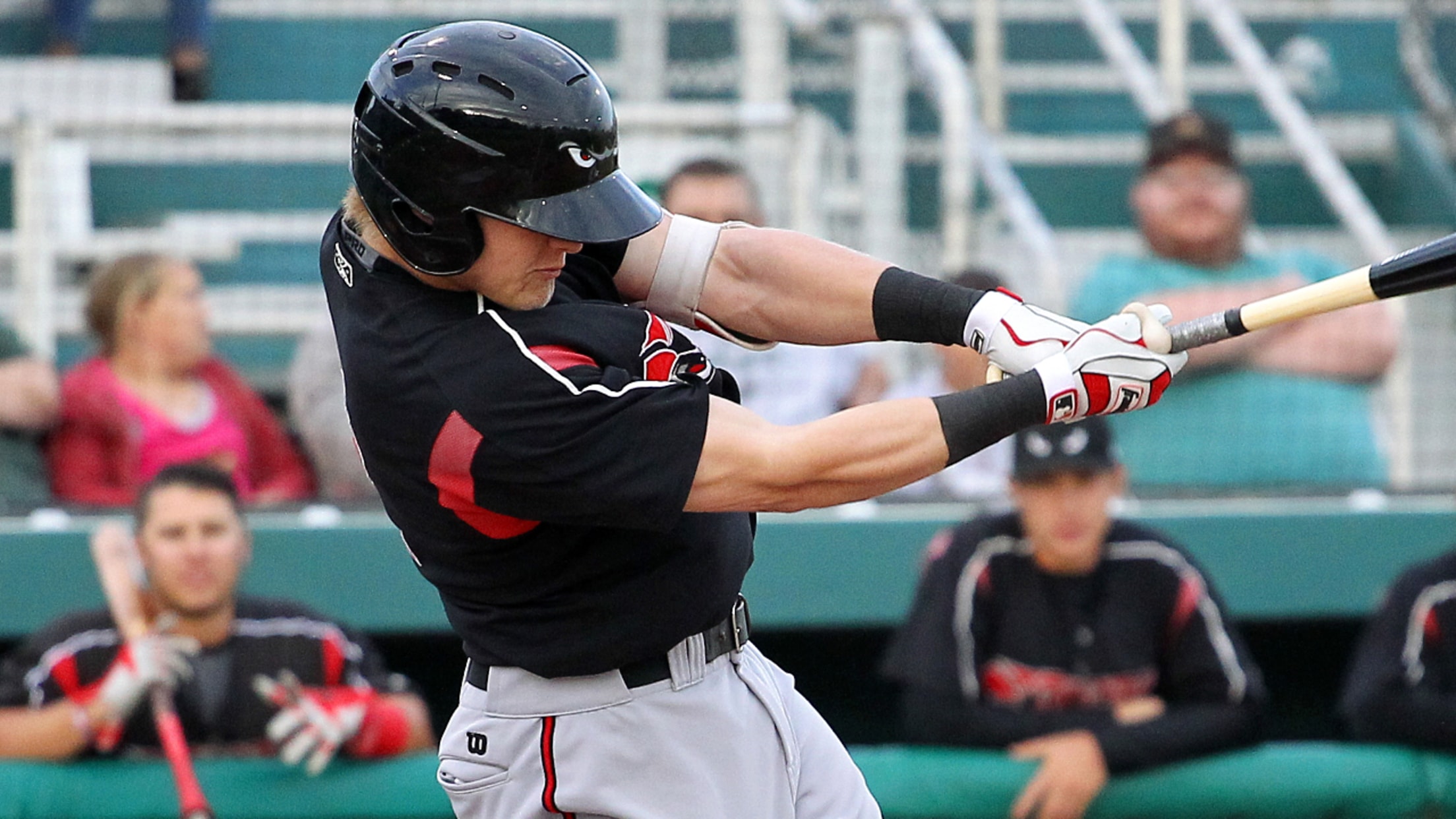 Chris Baker had just 10 extra-base hits before his first two-homer game of the season for Lake Elsinore. (Ben Sandstrom/MiLB.com)
Chris Baker hadn't taken a full trip around the bases on one of his swings yet in 2017, so on Tuesday night, he did it twice to savor the feeling.The San Diego infield prospect posted the first multi-homer game of his professional career and drove in a personal-best five runs
Chris Baker hadn't taken a full trip around the bases on one of his swings yet in 2017, so on Tuesday night, he did it twice to savor the feeling.
The San Diego infield prospect posted the first multi-homer game of his professional career and drove in a personal-best five runs as Class A Advanced Lake Elsinore drubbed Inland Empire, 13-2, at The Diamond.
"I've been struggling a little bit at the plate," Baker said. "Getting back to where I feel comfortable, working a couple good at-bats here and there, it seems like everything just falls into place sometimes."
Gameday box score
The University of Washington product's season started with a .242/.284/.347 slash line through 22 games in April, but he struggled in May. By the start of play, Baker's average had dipped to .218, and just one of his seven doubles and one of his three triples had come this month.
The second baseman found his power stroke in his first trip to the plate against the 66ers. With two outs and No. 13 Padres prospectJosh Naylor on third base, Baker drove a 2-2 pitch down the left-field line.
"It was a lot of fastballs and sliders mixed in," he said of his at-bat against Inland Empire starter Austin Robichaux. "I know I got to two strikes. I don't remember the exact count, but I was battling a little bit and got out in front a little bit on a slider. I stayed through it just enough to get it out of here."
That shot put the Storm in front, 2-0. By the time Baker clubbed his next, Lake Elsinore had broken the game open. The Storm plated five runs in the fifth, highlighted by a bases-clearing, three-run triple by No. 24 Padres prospect Javier Guerra.
After striking out against 66ers reliever Jeremy Rhoades in the fifth, Baker got another opportunity in the sixth.
"I was sitting slider because he struck me out on a slider earlier in the night," he said. "I got the exact pitch I wanted, and I crushed it."
With Naylor and Guerra aboard, Baker mashed Rhoades' first offering in the sixth out to left.
"Whatever I can do to help the team, today was just one of those funny days where everyone's hitting, which is nice," he said. "I was happy I could add on to that. The fact that I was able to drive some people in was awesome. The fact that I was able to drive some pitches when I was supposed to was awesome. I'm glad I was able to help the team win."
The Storm went for extra bases on five of their 12 hits and went 7-for-16 with runners in scoring position. Guerra drove home four runs on a two-hit night while Naylor and Lake Elsinore leadoff man Auston Bousfield added three knocks apiece.
"Lately we've been struggling a little bit offensively," Baker said. "It's kind of been the story throughout the year. We've obviously shown up offensively a bunch, but the pitching on our team is unbelievable. If we can start putting together some better at-bats here, we're really going to start winning, because our pitching keeps us in the game to where sometimes we only need one or two. The fact that everyone's starting to figure it out a little bit is awesome. We're just scratching the surface here, so it'll be exciting the rest of the year."
The pitching didn't disappoint for the Storm either. Right-handed starter Pedro Avila allowed four hits while striking out eight without walking a batter over seven shutout innings.
"He was getting ahead early," Baker said. "That was the biggest thing. When he gets out ahead of batters early, he's very successful. It allows him to throw out that curveball of his. I mean the curveball tonight looked awesome. Just getting ahead of guys, establishing the fastball early as well ... a lot of ground balls, he let us work. It was fun playing defense behind him."
Anaheim's No. 2 prospectMatt Thaiss notched two singles and an RBI for Inland Empire.
Tyler Maun is a contributor to MiLB.com. Follow him on Twitter @TylerMaun.