Gittens' two blasts lead way in Tampa's rout
First baseman drives in four on four-hit afternoon for Yankees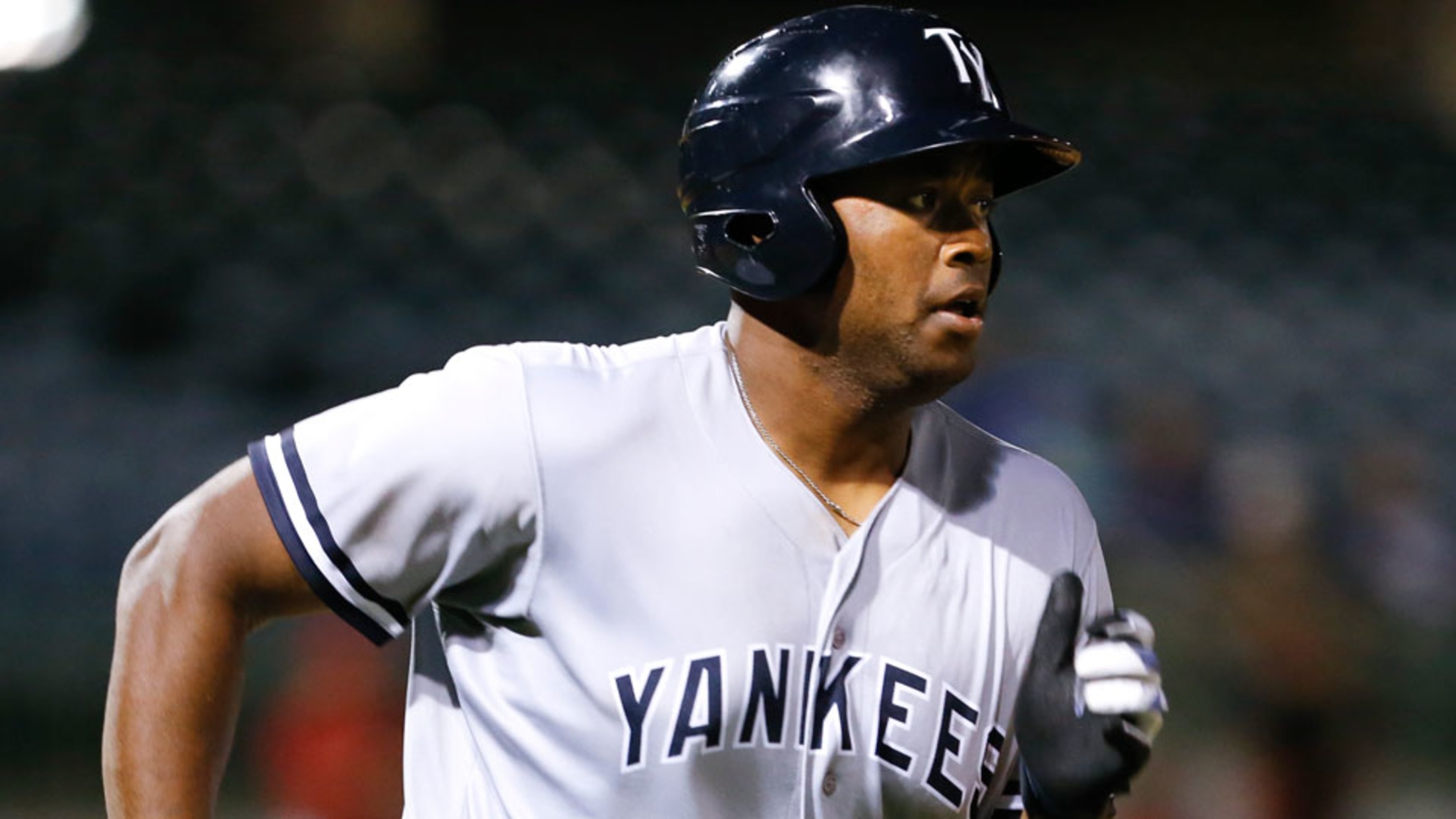 Chris Gittens belted 21 home runs in 107 games with Class A Charleston during the 2016 season. (Mark LoMoglio/Tampa Yankees)
Starting pitchers sometimes predict a good game based on how their repertoire feels in pregame bullpen work. Chris Gittens experienced a hitter's version of that Sunday afternoon.Gittens opened his day with hits in his first four at-bats, blasting a pair of homers and driving in four runs as Class A
Starting pitchers sometimes predict a good game based on how their repertoire feels in pregame bullpen work. Chris Gittens experienced a hitter's version of that Sunday afternoon.
Gittens opened his day with hits in his first four at-bats, blasting a pair of homers and driving in four runs as Class A Advanced Tampa crushed visiting Daytona, 15-0.
"I had a single to right-center field, and it just felt good," Gittens said of his leadoff knock in the second inning. "I felt like my timing was there and everything was there. I was talking to my hitting coach (Eric Duncan) and he said, 'Just stay right there. Don't change anything. Whatever happens, happens.' And that's been my approach the whole year. I've just been maybe a little late or a little early, but with my swing in general, just don't change anything. Today it paid off."
Gameday box score
In one moment, everything clicked immediately for Gittens, who finished the series finale 4-for-6 to help the Yankees avoid a three-game sweep.
"[Daytona starter and No. 11 Cincinnati prospectVladimir Gutierrez] was, I think they said, 93-95 (mph) and right when I got the single, I was like, 'Wow,'" Gittens said. " I wasn't late on it. I didn't feel rushed at the plate or anything, so right then, I knew."
After that, No. 19 Yankees prospectNick Solak belted a two-run homer to right.
"I just feel like as a team, we were kind of mad that we got our butts kicked [Saturday]," said Gittens of a Tampa team swept by a combined score of 20-3 in the doubleheader. "We couldn't do the same thing. We had to change something up. I got a single, and then Nick came through with the home run. I feel like when Nick hit the home run, that really set the tone."
Gittens followed Solak's example one inning later. With a run already home in the third on an RBI by No. 23 Yankees prospect Kyle Holder, Gittens tattooed a two-out solo homer to left-center off Gutierrez.
"He threw me a fastball inside, and it was a 1-2 pitch," he said. "The pitch before that, he threw me a fastball in, and I was late on it. In the back of my head, I was thinking, 'Fastball again. He saw I was late, so make sure you get your foot down. Make sure you start on time.' It paid off for that one."
In the fourth, the 2014 12th-round pick did it again. With Holder and Tito Polo aboard, Gittens clubbed a 1-1 offering over the right-center field wall to highlight the breakout seven-run frame.
"To tell you the truth, I wasn't even trying to think of hitting another home run," he said with a laugh. "It's just the ball hit my barrel and it went out."
Gittens didn't get on the field this season until April 21 due to offseason surgery on his left knee, but has begun to make up for those few weeks away. In nine April games, the Grayson College product batted .226/.314/.290 while rediscovering his stroke at the plate and footing in the field. In 18 games this month, the first baseman sports a .300/.417/.517 line. Last season, Gittens had four multi-homer games including a three-blast performance with six RBIs on June 16 for Class A Charleston at West Virginia.
"I missed all of Spring Training rehabbing," he said. "Just getting out here to play with the boys, being able to go play every day and not taking it for granted, it's amazing."
Tampa pounded out 21 hits in the win and went 7-for-17 with runners in scoring position.
Gutierrez (3-4) was charged with nine runs on 12 hits over 3 1/3 innings. MLB.com's No. 22 overall prospectNick Senzel went 1-for-4 with a double in the loss.
Tyler Maun is a contributor to MiLB.com. Follow him on Twitter @TylerMaun.