Lookouts' Isabel stays hot with two homers
Reds No. 25 prospect has four long balls in his last four games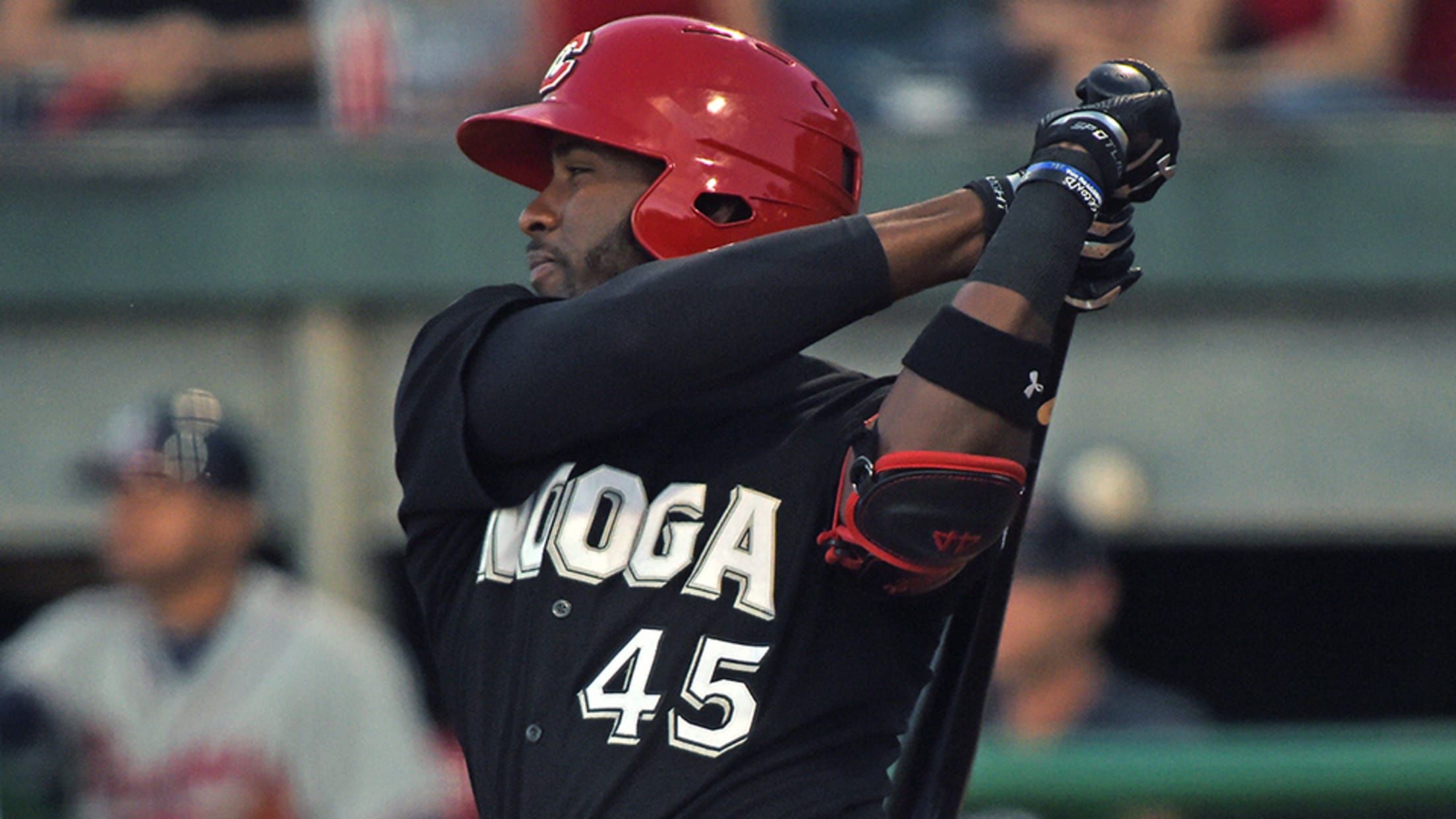 Ibandel Isabel collected his 300th Minor League RBI with a solo homer in the sixth inning. (Brian McLeod/MiLB.com)
To say it's been a roller-coaster first month for Double-A Chattanooga would be an understatement. The Lookouts dropped six of their first 10 games and split the last 10 heading into Saturday.But numbers can be deceiving.Reds No. 25 prospectIbandel Isabel smacked two more homers and drove in three runs as
To say it's been a roller-coaster first month for Double-A Chattanooga would be an understatement. The Lookouts dropped six of their first 10 games and split the last 10 heading into Saturday.
But numbers can be deceiving.
Reds No. 25 prospectIbandel Isabel smacked two more homers and drove in three runs as Chattanooga collected 11 hits in a 6-4 triumph over Biloxi at AT&T Field. It was the Lookouts' fourth straight victory and fifth in seven games.
Gameday box score
Chattanooga hitting coach Daryle Ward said the team's recent upswing can be attributed to focus.
"We're doing what we can to keep the game as simple as possible," said Ward, who spent 11 seasons in the Majors. "We are really focusing on pitches and doing our part."
The Lookouts jumped on rehabbing Brewers right-hander Freddy Peralta in the bottom of the first inning. Narciso Crook singled to left field and, two batters later, Isabel lined an 0-1 pitch over the left-field wall for a 2-0 lead.
The 23-year-old first baseman greeted Brewers No. 12 prospectBraden Webb rudely in the sixth, sending his first pitch over the wall in center to make it 5-2. It was his fourth homer in his last four games and seventh of the season, giving him sole possession of the Southern League lead.
"One thing [Ibandel] is doing is keeping his top hand calm," Ward noted. "He's staying in the zone longer and isn't pulling out of the zone on off-speed pitches. Sometimes he will swing and miss; we're OK with that. He's also staying in there with two strikes and doing a better job of taking the ball the other way."
Last year, the native of the Dominican Republic shared the Minor League lead with 36 homers, all but one coming with Class A Advanced Daytona.
Crook, Reds No. 10 prospect Jose Siri and 29th-ranked Alfredo Rodriguez had two hits apiece for the Lookouts, with Rodriguez stealing a base and scoring twice. Taylor Trammell, MLB.com's No. 15 overall prospect, contributed an RBI single.
The recent hot streak has moved the Lookouts into second place in the league in slugging (.378), third in batting (.238) and on-base percentage (.333) and fourth in OPS (.700).
Ward shares his big league experience with the hitters but added, "Each of these guys will have their own experiences. We do drills to try to take some of their 'effort' level down from 100. Instead of trying to hit home runs, focus on creating spin and getting lift."
Rob Wooten (1-1) earned the win for Chattanooga, allowing two runs -- one earned -- on four hits and two walks with eight strikeouts over six innings. Alex Powers picked up his fourth save, fanning two and working around a walk in the ninth.
Peralta (0-1) yielded three runs on four hits and a walk with seven punchouts in 4 2/3 innings. Trent Grisham and Bruce Caldwell homered for Biloxi.
Duane Cross is a contributor to MiLB.com. Follow him on Twitter @DuaneCrossMiLB.