Isabel slugs his path into Reds' future
First baseman sets record in homers while Stephenson hits reset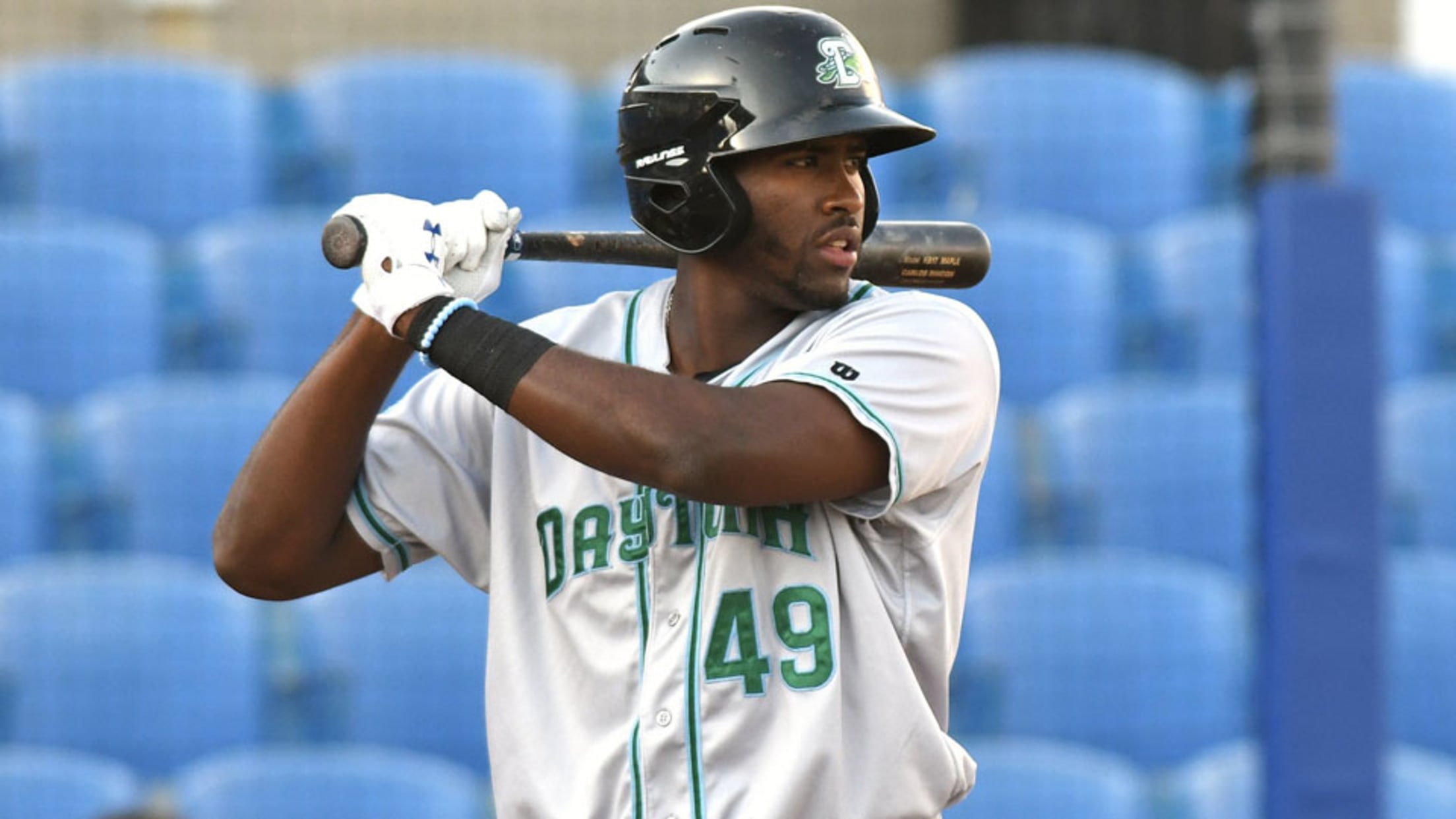 Ibandel Isabel totaled a .562 slugging percentage in 110 games across two Class A Advanced leagues. (Buck Davidson/MiLB.com)
Each offseason, MiLB.com goes position by position across each system and honors the players -- regardless of age or prospect status -- who had the best seasons in their organization. Click here to locate your favorite club. It's been a year of highs and lows for the Reds system.First, the
Each offseason, MiLB.com goes position by position across each system and honors the players -- regardless of age or prospect status -- who had the best seasons in their organization. Click here to locate your favorite club.
It's been a year of highs and lows for the Reds system.
First, the organization caught a couple of tough breaks with top prospectsNick Senzel and Hunter Greene both being limited by injuries. But on the flipside, 2018 Draft picks Jonathan India and Josiah Gray brought some excitement to the organization. Plus, Ibandel Isabel took a share of the Minor League home run title.
"I think we're on the precipices. And I think we're getting tired of saying this, but I think we feel like we're very, very close and this young talent is amassing," said Eric Lee, Cincinnati's senior director of player development. "We saw and we continue to see a lot exciting things and we're getting really close to see that bear out at the big league level."
Overall, the farm system sent two clubs to the playoffs -- Rookie-level Billings and Class A Advanced Daytona -- while Double-A Pensacola also finished above .500.
Reds Organization All-Stars
Catcher -- Hendrik Clementina, Dayton (96 games):
After spending four seasons in Rookie ball, Clementina stepped up for the Class A Dragons. The 21-year-old led the club with 18 homers and 59 RBIs. Lee said Clementina is "one of the more fun batting practices to watch" in the Reds system.
The Curacao native also made strides defensively. After throwing out 24 percent of would-be basestealers over his first four seasons, Clementina bumped that rate to 31 percent (24-for-79) in 2018. He also cut down on passed balls, letting nine go by in 552 innings behind the dish.
First baseman -- Ibandel Isabel, Rancho Cucamonga (six games), Daytona (104 games):
Just two weeks into the season, the Reds made what would become one of the most exciting acquisitions of the year from a Minor League standpoint, picking up Isabel and right-hander
Zach Neal
from the Dodgers for right-hander
Ariel Hernández
. But switching from the hitter-friendly California League to the pitcher-friendly Florida State League did not slow down Isabel one bit. The 6-foot-4, 225-pound slugger drilled 36 homers across the two Class A Advanced circuits to tie Peter Alonso for the Minor League-lead and break the FSL record.
"If you see him, it makes sense -- just a big, strong dude who's built to leverage baseballs," Lee said. "What happened with Isabel is, he just was not missing pitches that he could drive. I think as he continues to refine what that is, what a pitch he can drive looks like, if he makes contact, it's going."
After 161 strikeouts this season, making those refinements will be key. Lee said the tough part for hitters like the 23-year-old is that they have the ability to sting so many types of pitches, it's a matter of "understanding what they can really, really drive and handle as opposed to what they can do on some occasions, but not others."
Second baseman -- Dylan Harris, Billings (61 games): This spring, Harris left Nova Southeastern University with the school's single-season hits record, but his name was never called in the Draft. The Reds signed the 23-year-old on June 25, and he quickly went to work for the Mustangs.
With what Lee called a "mature hitting approach," Harris batted .314 with 23 extra-base hits and 43 RBIs in 61 Pioneer League games. The Florida native played first, third and left, but second remained his go-to position.
Honorable mention:Jeter Downs led the organization with 37 stolen bases in 47 attempts for Dayton.
Third baseman -- Alejo Lopez, Dayton (65 games): Like Clementina, Lopez broke out at Class A after a few seasons in Rookie ball. The native of Mexico led the Dragons with a .321 average while totaling a career-best 16 doubles.
"No question, Alejo can handle the bat and will be a very tough out," Lee said. "You just see all the indicators of a really good hitter who knows how to manipulate the bat head."
Lopez has shown versatility around the infield throughout his first four pro seasons, but this was the first year the 23-year-old spent the majority of his games at third.
Shortstop -- Jose Garcia, Dayton (125 games): After the Reds signed him in June 2017, Garcia kicked off his pro career in the Midwest League this season. The 20-year-old Cuban showed some expected hiccups early, hitting .202 with one of his six home runs in the first half. But with a .286 average in July and a .284 mark in August, Garcia finished on a high note. When it was all said and done, the 20-year-old led Dayton with 118 hits.
"We saw some good indicators in the first half; he was hitting balls hard. He was driving some baseballs with poor luck," Lee said. "In the second half, he started getting results. … I think he showed more of what he's going to be, whereas that first half was sort of getting his feet wet."
Organization All-Stars by MLB affiliate »
Outfielders
Taylor Trammell, Daytona (110 games): Trammell was already having a stellar season, hitting .295/.394/.421 in his first 78 games, when he drew national attention at the All-Star Futures Game. The Reds' No. 3 prospect homered and tripled for the U.S. team to earn MVP honors in the showcase.
"For such a young player who spent most of the year at age 20, going to the Florida State League, giving you the quality at-bat, driving the baseball, doing damage ... I just think Taylor, for where he is in his development, for him to do that was a pretty special accomplishment," Lee said. "He deserves to be on that radar that he put himself on and I think his year reflects that."
With 70-grade speed, Trammell swiped 25 bases in 35 attempts while legging out four triples. Known for his athleticism, the former high school football standout has put a lot of effort into his defense. While many scouts note that Trammell's arm is the most glaring hole in his game, Lee thinks it continues to improve as the left-hander works on it.
"I think his routes and reads are continuing to do well. He spent more time in center field this year, particularly in the second half and really took to that challenge really, really well," Lee said. "I just think it's a natural evolution. When you're that type of athlete, and with the kind of reps that we're going to make sure he gets, [it's] nothing of concern. It's just a continued evolution of his throwing arm and the intricacies of the position."
Gabriel Guerrero, Pensacola (26 games), Louisville (104 games), Cincinnati (14 games): Guerrero made his eighth pro season one of his best yet. The 24-year-old hit .293 (his highest average since 2014) with a career-high 19 long balls while plating an organization-leading 81 runs. Guerrero's big season led to his first Major League callup. The nephew of Hall of Famer Vladimir Guerrero Sr. wasn't quite able to translate the success to the bigs -- going 3-for-18 with a solo shot -- but he still put himself in a good position come Spring Training.
Mariel Bautista, Billings (56 games): Moving out of the complex and into the Pioneer League, Bautista continued to rake. The native of the Dominican Republic led the farm system with a .330 average while collecting 24 extra-base hits, 37 RBIs and 16 stolen bases in 19 attempts.
"He keeps showing the power. He's showing you the good, quality at-bats," Lee said. "There's no doubt in my mind that Mariel's ready for more challenges. Not to say that there isn't refinement that can occur, but he's just checked every box that you could ask a player of his level to check."
The senior director of player development said Bautista -- who turns 21 on Oct. 15 -- still needs to grow into his 6-foot-3 frame, noting that as he gets stronger, he'll continue to improve at the plate and in the outfield.
Utility player -- Brian O'Grady, Pensacola (63 games), Louisville (42 games): As he's done throughout his career, O'Grady moved around between the outfield, third and first. Spending time at all three outfield posts, the 26-year-old played the plurality of his games in left.
"For me -- and this isn't to say that it's all effort, because I think he's a really, really good athlete and you have to be to do what he does -- it's the energy and enthusiasm and consistency of those things that allows him to do it at a pretty high level," Lee said.
O'Grady posted career bests of a .280 average, 14 roundtrippers and 59 RBIs.
Right-handed starting pitcher -- Robert Stephenson, Louisville (20 games), Cincinnati (four games): Back in 2011, Stephenson was the Reds' first-round pick. But after a decline in numbers starting in 2014, he was having trouble living up to the expectations as he bounced between the Majors and Minors. Until this season.
The 25-year-old went 11-6 with a career-best (and organization-leading) 2.87 ERA, 135 strikeouts and 57 walks in 113 innings for the Triple-A Bats. The right-hander is still figuring out how to translate it to the Majors, however, going 0-4 with a 9.26 ERA with 11 punchouts and 12 walks in 11 2/3 frames before right shoulder tendinitis ended his season a month early.
"I think he really, really got that breaking pitch to be a very consistent pitch for him. He's always shown flashes of a changeup," Lee said. "I just think he started throwing them in an order that made sense to him and was really effective against quality hitters. It's just continuing to evolve and find that happy place in the big leagues is his next challenge."
Honorable mention: Vladimir Gutierrez led Reds Minor Leaguers with 145 strikeouts in 147 innings for Double-A Pensacola.
Left-handed starting pitcher -- Seth Varner, Daytona (one game), Pensacola (25 games): After elbow discomfort limited him to 45 innings in 2017, Varner kicked it into high gear this season. The 26-year-old led Reds left-handed Minor Leaguers with a 3.30 ERA while going 10-3 with 102 strikeouts and 31 walks in 125 1/3 frames.
"Seth does it by throwing a lot of quality strikes with all of his pitches. It's the quality that we wish and probably every organization wishes that all their guys had," Lee said. "He's not going to blow you away with stuff and with velocity. He's just really, really going to pitch and he's going to do it without fear."
Relief pitcher -- Ryan Hendrix, Daytona (44 games): Hendrix keeps getting better with each season in pro ball. The Texas A&M product posted a career-best 1.76 ERA with 79 strikeouts and 26 walks in 51 innings as he converted 12 of 14 save opportunities. He kept the ball on the ground, yielding just two homers.
"Electric stuff that he is continuing to refine and sort of wrangle, because it's the kind of stuff that can almost get too big at times to wrap your arms around," Lee said. "It's a superlative breaking ball. It's high, high-end velocity with all the attributes you want a high-velocity fastball to have."
Kelsie Heneghan is a contributor to MiLB.com. Follow her on Twitter @Kelsie_Heneghan.