MWL notes: Ghyzel thriving for Dayton
Reds prospect leads league in saves after earning his Draft call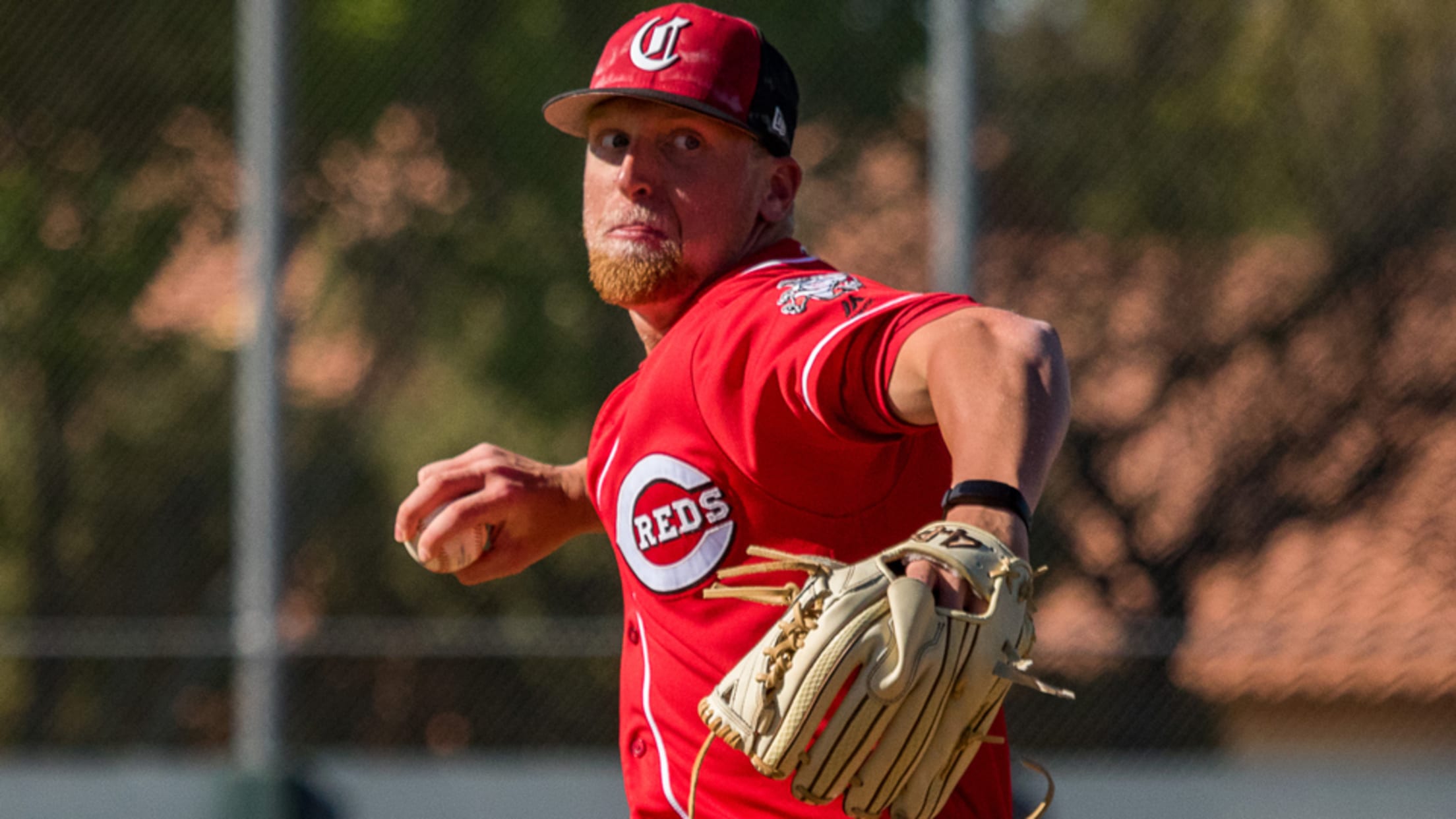 John Ghyzel is 18-for-22 in save opportunities as a pro and 15-for-18 with Dayton this season. (Freek Bouw/Phrake Photography)
Fresh out of the University of Rochester, a school that's produced more Nobel Prize laureates (six) than Major League Baseball players (zero), John Ghyzel had 10 pitches in a pro baseball showcase to gain the attention of scouts.By the time Ghyzel was finished lighting up the radar run at 99
Fresh out of the University of Rochester, a school that's produced more Nobel Prize laureates (six) than Major League Baseball players (zero), John Ghyzel had 10 pitches in a pro baseball showcase to gain the attention of scouts.
By the time Ghyzel was finished lighting up the radar run at 99 mph, his cell phone started to light up, too. The 10 pitches turned into more than 30 calls from Major League teams.
"After the tryout, my phone blew up," Ghyzel said. "It was really cool. You always know what you're capable of doing. Being able to go out and actually do it and have people notice you and start to get the opportunities you feel like you deserve, that is really a cool feeling."
Ghyzel threw well enough for the Cincinnati Reds to pick him in the 18th round in the 2017 Draft. A 6-foot-5, 200-pound right-handed flamethrower, he didn't attract much attention as a non-scholarship student-athlete whose college choice was focused primarily on academics.
"I got a few looks during the college season, enough to get me to the tryout," said Ghyzel, who leads the Midwest League with 15 saves for the Dayton Dragons.
"I knew I had to be consistent, because when you're playing at a small school, Division III, you have to dominate that competition to get any interest," he added. "Scouts know Division III is a lower level. They don't want to see guys struggling at that level. They want to see guys ready to come out of that level and [be ready for pro ball]. I tried to be the best Division III pitcher I could be. I had good days and bad days, but, luckily, I had the opportunity to pitch in showcases before the Draft."
Shortly after Ghyzel signed with the Reds, his days as a starting pitcher were over.
"Higher velocity plays well out of the bullpen," said Ghyzel, who was a starter in high school and college. "As a starter, my velocity was in the low-90s. I was pacing myself. When they gave me the opportunity to pitch one inning at a time and let it loose, my velocity started to bump up. They liked that, so they moved me to the bullpen.
"I really have enjoyed the transition. I enjoy closing. I'm happy where I'm at. There's a huge difference in the pitching approach. Mentality-wise, it varies from guy to guy, no matter what role you're in. As a closer, I see three or four guys. I don't go through the lineup three or four times. I don't have to trick anybody. I just have to beat three guys."
Dayton pitching coach Seth Etherton said the Reds organization is eager to see how Ghyzel develops.
"John's arm is live," Etherton said. "He has a different arm path. The ball has a nice heaviness to it. It explodes to the zone."
Etherton added that Ghyzel's focus of development is making his delivery more efficient.
"[John] still won't cross his body," Etherton said. "It's going to be a process to get that right. I think, for the most part, what's impressive is his intent on every pitch. He has conviction with everything he does. He wants to learn, and he wants to do everything well. He has every attribute you want in a pitcher and a late-inning guy. He has the stature, and he has a lot of room to get stronger."

In brief
Sizzling TinCaps:
Fort Wayne has caught fire with the summer heatwave. The TinCaps have won 10 of their last 12 games, outscoring opponents 61-29 during that stretch. Shortstop
Gabriel Arias
has turned his game around. Arias was hitting .200 on June 7. In his last 18 games, he is hitting .290 with two doubles, a homer and 10 RBIs. Since the second half started eight games ago,
Jack Suwinski
is 9-for-26 (.346) with a double, two triples, a homer and three RBIs. TinCaps relievers have also heated up. The Fort Wayne bullpen has a 2.92 ERA over 62 games. In the first 19 games of the season, the TinCaps bullpen had allowed 60 earned runs in 72.1 IP for a 7.47 ERA.
Big league treat:
Four-time All-Star
Yu Darvish
made a rehab start in South Bend on June 25 and treated players and staff from both South Bend and West Michigan to lobsters and steaks. Darvish, who signed with the Cubs for $126 million over the offseason, is rehabbing a right triceps tendonitis injury that's kept him out of the rotation since late May. He hit 94 mph during his rehab start with South Bend, allowing one run on three hits while striking out five without walking anybody over five innings.
Stopping a tailspin:
Burlington ended a six-game losing streak with a thrilling 9-8 victory in 10 innings against Peoria on
Monday night
. The Bees rallied from a 7-2 deficit to beat the Chiefs for the first time in 10 meetings.
Kevin Williams Jr.
banged a single off the center-field wall to drive in the winning run after a two-run base hit by
Torii Hunter Jr.
sent the game into extras. Burlington entered the evening with a 1-10 record in the second half of the Midwest League season.
Curt Rallo is a contributor to MiLB.com.