Mella breezes through seven scoreless
Reds No. 21 prospect allows three hits, strikes out nine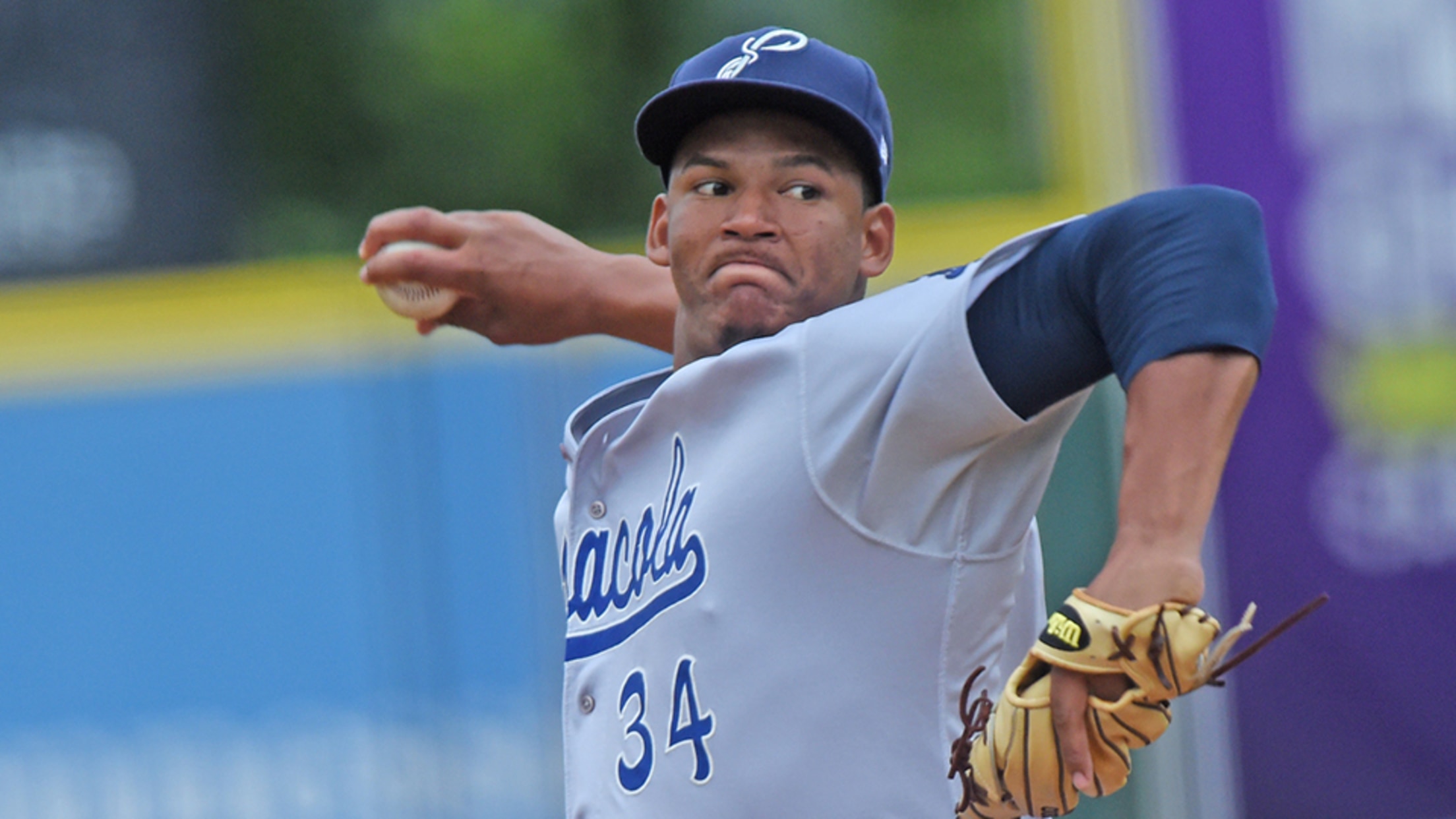 Through five starts, Keury Mella has the third-lowest ERA among all Double-A pitchers at 1.00. (Brian McLeod/MiLB.com)
First impressions are important, and Keury Mella did not disappoint in front of his new pitching coach Friday night.James Baldwin arrived with Double-A Pensacola to assume the pitching coach duties earlier this week, and the Reds' No. 21 prospect excelled in his first start under Baldwin's tutelage, giving up three hits
First impressions are important, and Keury Mella did not disappoint in front of his new pitching coach Friday night.
James Baldwin arrived with Double-A Pensacola to assume the pitching coach duties earlier this week, and the Reds' No. 21 prospect excelled in his first start under Baldwin's tutelage, giving up three hits and striking out nine over seven innings as the Blue Wahoos blanked the Jumbo Shrimp, 1-0, at the Baseball Grounds of Jacksonville.
Baldwin, who will serve as Pensacola's pitching coach for the remainder of the season, previously oversaw rehabbing players from all levels of the organization in Arizona. He only had positive comments after watching Mella in game action for the first time.
"Honestly, what I saw tonight, he has everything to be a good pitcher," Baldwin said. "I didn't see any flaws whatsoever. It's just a matter of him getting his reps and his innings in and go from there."
Mella (3-0) struck out at least one batter in each frame and retired eight in a row after hitting Rodrigo Vigil to begin the third. In the fifth, Vigil singled with two outs and Skyler Ewing reached on an error by third baseman Taylor Sparks to present Jacksonville's most significant threat of the evening. But the 24-year-old right-hander hunkered down and struck out No. 8 Marlins prospectIsan Díaz swinging to end the frame.
That began a string of seven straight outs, taking Mella to the end of his outing. He coaxed eight ground-ball outs in his lengthiest start of the season, throwing 59 of 89 pitches for strikes.
"He had everything working tonight," Baldwin said. "All his pitches, he could throw them wherever he wanted tonight, which was great. [Mella] kept the hitters off-balance all night. That was the key."
The performance was even more valuable to Pensacola in light of its overtaxed bullpen. Blue Wahoos relievers had thrown 16 innings over three games entering Friday.
"It's always good to see any of our pitchers go seven scoreless," Baldwin said. "But tonight was a special night, well-deserved because we've been using the bullpen a lot. It gave us a chance to save the bullpen."
Gameday box score
The native of the Dominican Republic lowered his ERA to 1.00 and struck out nine for the first time since July 29, 2015, pitching for Class A Advanced San Jose in the San Francisco organization. His career high is 10, set June 20, 2014 for Class A Augusta.
"He had confidence from the start of the game until the end of the game," Baldwin said. "He came out firing. He had that look in his eyes, and I knew it was going to be a good day."
Despite having his previous start limited to three frames because of rain, the 6-foot-2, 200-pound prospect ranks third among all Double-A pitchers with 27 innings pitched.
"He's got good stuff," Baldwin said. "He's one of the guys that ... when he goes out there, you know you're going to get some good, quality innings out of him."
Mella posted a 4.30 ERA over 134 innings with Pensacola in 2017. Baldwin said having a year of Southern League experience will help him in the short term.
"Being able to see what he can do and pitch with a lot of confidence, that's outstanding, knowing the fact that he's been here and he knows the hitters and whatnot while we're going over hitters," the newly minted pitching coach said. "He had an idea from the start of the game to the end."
Jacksonville starter and No. 22 Miami prospect Pablo López matched Mella with zeros for first five innings, surrendering four hits and a walk while striking out three.
Brian O'Grady broke a scoreless tie in the eighth with his second homer of the season, sending a shot to right-center field off reliever Jorgan Cavanerio.
Carlos Navas made the homer stand up, recording the final six outs for his first Southern League save.
Chris Bumbaca is a contributor for MiLB.com based in New York. Follow him on Twitter @BOOMbaca.