Reds' Greene says pitching is 'primary focus'
No. 2 overall pick hit .233 in seven-game Pioneer League stint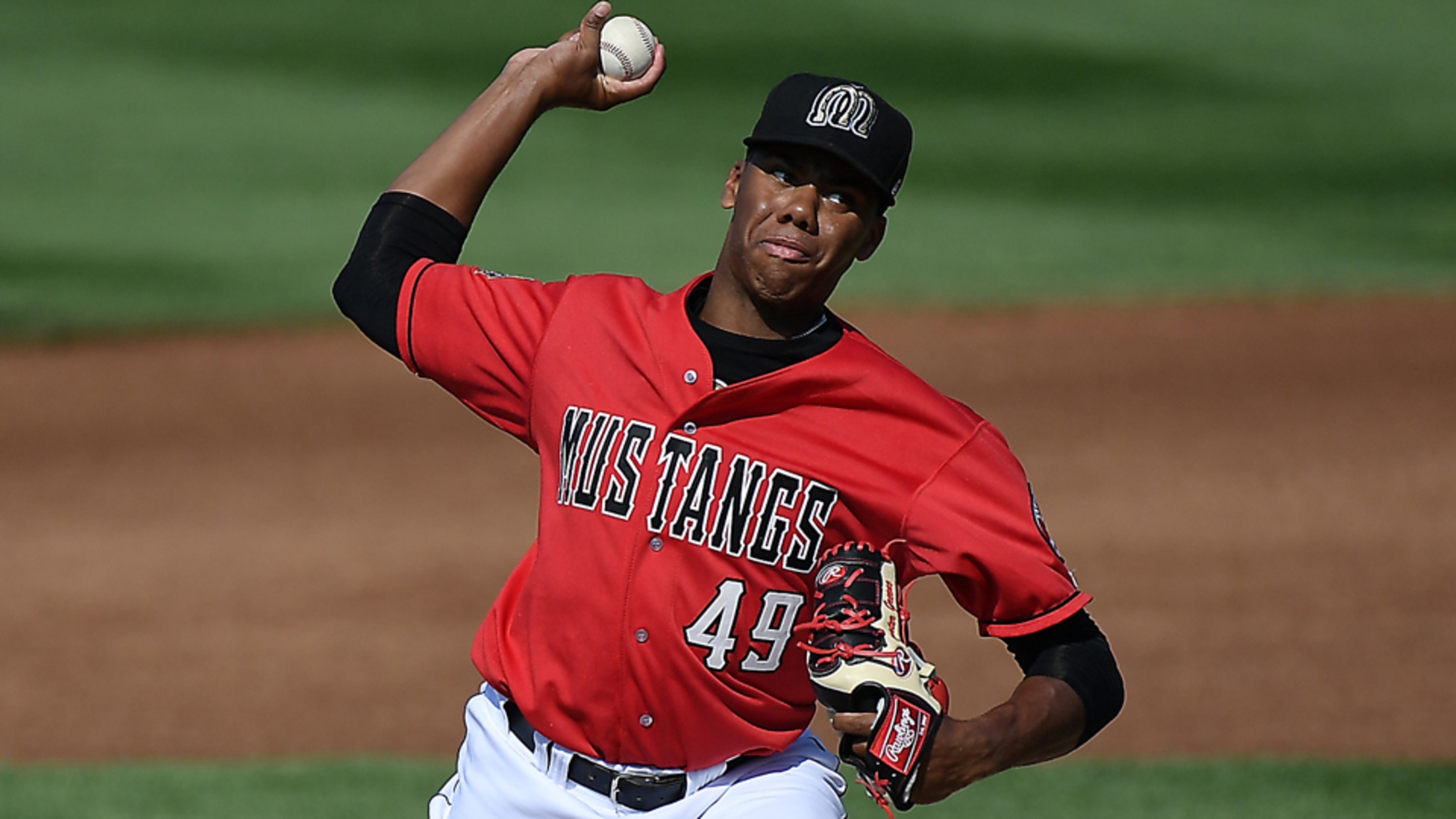 With a 6-foot-4 frame and a fastball that tops 100 mph, Hunter Greene was drafted second overall at 17. (Dean Hendrickson/Billings Mustangs)
Hunter Greene, the second overall pick in this year's Draft who played in seven games as a designated hitter and made three starts as a pitcher in the Pioneer League, will be spending much more time on the mound.Visiting Cincinnati's Great American Ball Park on Saturday, the Reds' No. 2
Hunter Greene, the second overall pick in this year's Draft who played in seven games as a designated hitter and made three starts as a pitcher in the Pioneer League, will be spending much more time on the mound.
Visiting Cincinnati's Great American Ball Park on Saturday, the Reds' No. 2 prospect -- who at one point hoped to develop through the Minor Leagues as a shortstop -- said he's committed to pitching.
"I've always loved hitting and pitching," Greene told MLB.com. "But they drafted me as a pitcher and my primary focus is pitching."
The 18-year-old right-hander is capable of hitting triple digits with his fastball and also throws two breaking pitches and a changeup.
"I definitely have to work on all of my secondary pitches, my fastball command, and being able to pitch into the seventh or eighth [inning] and come out of it still feeling good," he said.
Pitching for Rookie-level Billings, the Southern California native went 0-1 with a 12.46 ERA over 4 1/3 innings. Excluding a Sept. 1 start against Missoula in which he surrendered six runs on six hits while recording one out, he gave up one unearned run on two hits and a walk while striking out five in four innings.
"We think extremely highly of him," Reds manager Bryan Price told MLB.com. "Everyone gets reminders it's a hard game, and he got his. But his next outing, he was sensational. From what we've seen, he's very savvy and mature."
In his pitching debut on Aug. 27, Greene hit 100 mph multiple times in one inning.
"He was dominant," Mustangs pitching coach Seth Etherton told MiLB.com after that game. "I think all [of the pitches] were at the knees. His ability to repeat his delivery and direction downhill, it was very impressive for a young man of his age. He's very poised very competitive and he's fun to watch."
The product of Notre Dame High School was no slouch with the bat, either. Although he hit .233 (7-for-30) in seven games as a DH, Greene socked a two-run triple in his professional debut and recorded a four-hit performance on Aug. 14.
"Hey, [Cincinnati] is an NL team, so I still get to hit," MLB.com's No. 18 overall prospect said on Saturday. "I'm excited to be able to keep the bat."
Josh Jackson is a contributor to MiLB.com. Follow and interact with him on Twitter, @JoshJacksonMiLB.