Reds Prospect Primer: Garrett gains ground
Left-hander on cusp of MLB rotation; Senzel carries high expectations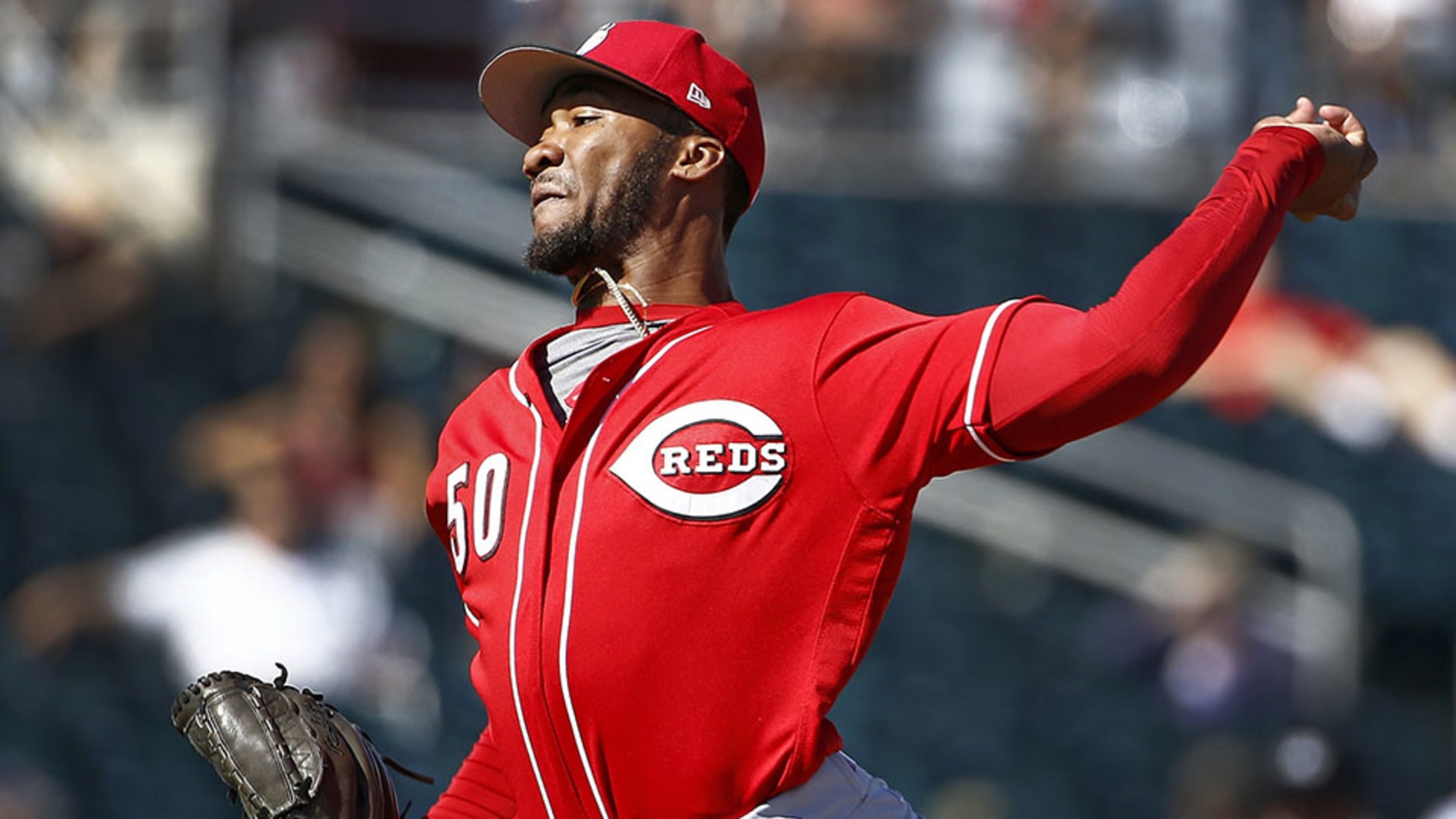 Amir Garrett has impressed this spring, registering a 2.20 ERA and 10 strikeouts in 16 1/3 innings. (Ross D. Franklin/AP)
Some players are on the verge of stardom, others are entering a crucial phase of their development and still others are getting their first tastes of full-season ball. With the 2017 season approaching, MiLB.com takes a look at the most intriguing prospects from each MLB organization.Major League-ready: Amir Garrett , LHPA
Some players are on the verge of stardom, others are entering a crucial phase of their development and still others are getting their first tastes of full-season ball. With the 2017 season approaching, MiLB.com takes a look at the most intriguing prospects from each MLB organization.
Major League-ready: Amir Garrett , LHP
A basketball player while at St. John's, Garrett has focused solely on baseball the past four seasons, and the result has been a steady climb through the Minors. The 6-foot-5 lefty earned a promotion to Triple-A Louisville last season after an impressive performance at Double-A Pensacola, where he went 5-3 with a 1.75 ERA and 78-to-28 strikeout-to-walk ratio in 77 innings.
Garrett held his own with the Bats, posting a 3.46 ERA in 67 2/3 frames, and has been thriving this spring while competing for a rotation spot in Cincinnati. The Reds' No. 2 prospect, who ranks 66th on MLB.com's MLB.com's Top 100 list, has thrown 16 innings with a 2.20 ERA, 10 strikeouts and three walks in five Cactus League starts. A 22nd-round pick in 2011, he offers a three-pitch mix with a fastball that touches 96 mph, a plus slider and an average changeup.
"Obviously he's really talented, putting it together and getting better every year," Reds senior director of player development Jeff Graupe said. "He's competing for the Major League rotation now. The plan was to let him come in and compete and see where the chips fall. I think he's really done a great job; he's improved his fastball command and he's a great competitor -- the kind of guy who goes out there and gives you a great chance to win every time he starts."
Shining star: Nick Senzel , 3B
It wouldn't be too far-fetched to swap Senzel and Garrett on this list, despite a three-year age gap between the two. As the team's top prospect (26th overall), Senzel carries high expectations as the No. 2 pick in the 2016 Draft after an impressive 58-game debut with Class A Dayton. Senzel batted .329/.415/.567 with seven home runs, 38 RBIs and 15 stolen bases and ranked ninth among Midwest League third baseman in fielding percentage out of 21 players with at least 100 total chances.
Not only does Senzel bring the ability to hit for both average and power along with the glove to stick at the hot corner, he already displays an advanced approach at the plate, walking 32 times compared to 49 strikeouts with the Dragons. His above-average speed and good baserunning instincts add another layer to what is already an impressive set of tools, one that has immediately translated to the Minors -- a place where the 21-year-old may not finish the season if he picks up where he left off in 2016.
"Obviously [Nick is] an incredibly talented young man -- he's extremely driven and takes instruction well," Graupe said. "We're very excited to see what he can do in his first full season. Obviously the profile of recent top-five picks who were college hitters, all of those guys went up three levels at once, and we're going to challenge Nick to do the same."
At the crossroads: Robert Stephenson , RHP
If it feels like Stephenson has been on the prospect radar for awhile, it's because he has -- the 6-foot-2, 200-pound right-hander was MLB.com's No. 17 prospect back in 2013 after debuting at No. 55 as a 19-year-old in 2012. Now ranked 87th overall and fourth in the Reds system, Stephenson is on the cusp of the Majors and is still nine months younger than Garrett.
The difference between the two is in their development. While Garrett has steadily improved every season since he gave up basketball, Stephenson has stalled after posting a 2.99 ERA and 136-to-35 strikeout-to-walk ratio in 114 1/3 innings across three levels in 2013. His career ERA at Triple-A is 4.31 in 192 1/3 frames with 171 whiffs and 98 walks, and his command has wavered as he's averaged well over four free passes per nine innings since his Double-A debut in 2013. Graupe has seen some positives from Stephenson of late, however.
"I think Robert has made nice strides; he's trying to improve his fastball command, is working tremendously hard and is in the mix to make the Major League team," Graupe said. "Any time [he] can establish his fastball and get ahead, it will allow him to get to his secondary pitches, which are really high-quality."
The 27th pick in the 2011 Draft touched 97 on the radar gun out of high school, but he averaged 93 mph in the Majors last year and sits more consistently in the low-90s now as he attempts to harness his command. The 2017 campaign will be pivotal for Stephenson to prove whether he still has the top-of-the-rotation upside the Reds envisioned out of high school or if he's destined for a bullpen role, where his fastball would likely play up in shorter stints.
Full-season debutant: Taylor Trammell , OF
While Senzel draws the headlines from Cincinnati's 2016 Draft class, Trammell should not be overlooked as a future top-level contributor. Taken 35th overall, the 19-year-old swiped 24 bases in 61 games at Rookie-level Billings while batting .303/.374/.421 with 17 extra-base hits -- nine doubles, six triples and two home runs.
Much like Garrett, Trammell was a two-sport star in high school, playing both baseball and football. That makes his debut season even more impressive, especially considering his ability to work counts and draw walks with 23 in just over 250 plate appearances. His raw left-handed power hasn't quite shown up yet, which isn't a surprise considering Trammell played all of 2016 at the age of 18.
"He's incredibly athletic, very strong and really takes consistent quality at-bats," Graupe said. "We're going to challenge him to go to full season and expect him to perform and be a leader on that team at a young age."
Trammell's plus-plus speed plays both on the basepaths and in center field, although there are some who think his 6-foot-2, 195-pound frame will fill out too much for him to stick in center. Regardless of where he ends up playing full-time, Cincinnati's No. 5 prospect projects as an all-around talent.
Back and healthy: Tyler Stephenson , C
After being drafted 11th overall in 2015, Stephenson was highlighted as the Reds' full-season debutant in last year's Prospect Primer. Unfortunately his 2016 season was interrupted by four separate stints on the disabled list -- the last three due to a nagging left wrist injury. His .216/.278/.324 slash line at Dayton was a disappointment, a byproduct of the fact that his longest healthy stretch was a mere 18 days at the start of the season before a concussion sidelined him for more than two weeks.
Stephenson did show signs of life after returning from his first wrist injury, going 9-for-24 with a home run, four RBIs and two walks in seven games for the Dragons before succumbing to another wrist injury. The 20-year-old backstop hopes to build on the on-base skills and gap power he flashed in the Pioneer League in 2015.
"Tyler is fully healthy, has gotten in a full offseason and is really strong right now," Graupe said. "We're excited. This is his age-20 season -- I think he's going to do really well. I'm excited to get him out there and hopefully get through a full season successfully.


Others to keep an eye on:Jesse Winker saw his power drop in 2016 due to a wrist injury, hitting just three homers in 106 games with Louisville after blasting 28 combined the previous two seasons. He maintained his advanced approach at the plate and if the power returns quickly, don't be surprised to see him debut in Cincinnati this summer. ... Luis Castillo was acquired this offseason as one of the return pieces for veteran hurler Dan Straily, the second time he was dealt in a six-month span. The 24-year-old right-hander reaches the high-90s with his fastball and has shown above-average control in the low Minors, something he'll look to continue this season as he polishes his secondary offerings. ... Shed Long moved from catcher to second base two seasons ago, and while his defensive profile projects as below-average, his bat has a chance to carry him through the system. With an above-average walk rate and legitimate power -- 15 home runs split between pitcher-friendly venues in Dayton and the Florida State League -- the 21-year-old will look to continue building his prospect stock.
Chris Tripodi is an editor for MiLB.com. Follow him on Twitter @christripodi.