Reds Prospect Primer: Senzel does it all
Versatile infielder, Siri sizzle while Greene puts focus on mound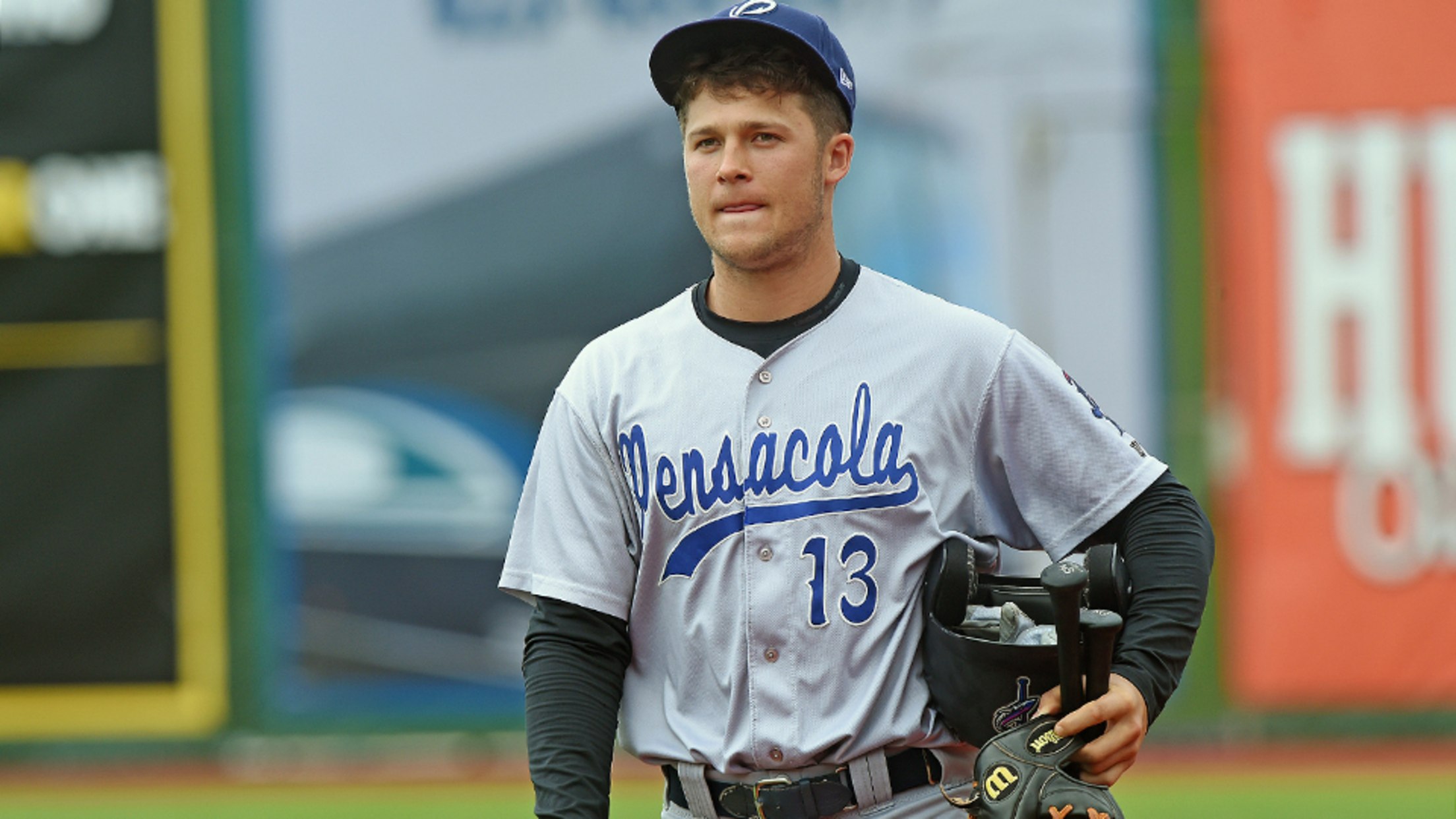 Nick Senzel's hit tool might be his best, but his defensive work isn't going unnoticed by the Reds. (Brian McLeod/MiLB.com)
Some players are on the verge of stardom, others are entering a crucial phase of their development and still others are getting their first tastes of full-season ball. With the 2018 season approaching, MiLB.com takes a look at the most intriguing prospects from each MLB organization.Major League-ready: Nick Senzel, 3B/INFSenzel
Some players are on the verge of stardom, others are entering a crucial phase of their development and still others are getting their first tastes of full-season ball. With the 2018 season approaching, MiLB.com takes a look at the most intriguing prospects from each MLB organization.
Major League-ready: Nick Senzel, 3B/INF
Senzel was lauded for his advanced hit tool and approach coming out of Tennessee as the second overall pick in 2016, but his glove has been nearly as impressive as a pro. This spring, the Reds tried the third-base prospect at shortstop -- his collegiate position -- and suggested he could see time elsewhere in the field in 2018.
"When you're trying to put the best nine out there every day, it's difficult to be a one-position player," said Jeff Graupe, the Reds' senior director of player development. "It just puts way more pressure on your development track. When he first came in, everyone talked about Nick's hitting and his approach. He almost got labeled as that and not the athlete that he is, so it's been fun to kind of untether him and let him go be the gifted young man that he is."
In 15 big league Spring Training games, Senzel was up to the task, batting .286 with a pair of doubles and three RBIs in 28 at-bats while playing third base and shortstop. Last year, Senzel hit .305/.371/.476 with four homers and 31 RBIs in 62 games with Class A Advanced Daytona. After jumping up to Double-A Pensacola, he was even better, posting a .340/.413/.560 line with 10 homers and 34 driven in over 57 contests.
"He's extremely well-rounded and that's athletically, approach to the game, on field, off field," Graupe said. "He's got every tool and he's just a fascinating young player. Every time we've challenged him, he's risen to it. He's really fun to watch and I'm really excited to see what he does this year."
Senzel won't be in Cincinnati to open the year, but with a good start and continued defensive adaptability, could impact the big league club in short order.
Shining Star: Jose Siri, OF
Siri hit the prospect radar for many last year when he set a Midwest League record with a 39-game hitting streak that ended in controversial fashion. For the outfielder, 2017 represented conquering a level that gave him fits the year before and led to a demotion.
"I think it was confidence more than anything," Graupe said of the outfielder's breakout campaign with a .293/.341/.530 line in 126 games for Class A Dayton. "If I was to point to something on field, I think his pitch selection got better. I think a lot of that was just feeling like he owned the batter's box. He's a really talented guy and he knew it was going to click at some point. It was just, when is that moment going to occur?"
Siri slumped in Dayton in 2016 and was sent back to Rookie-level Billings, but looked every bit a future Major Leaguer last year. In addition to his terrific showing at the plate, the 22-year-old led the circuit with 46 stolen bases and finished second with 24 homers. Defensively, his plus-plus speed and instincts make him a solid center-field fit. Now it's about smoothing everything out as he climbs toward the upper Minors.
"I think it's day-in, day-out consistency," Graupe said. "He's so gifted that, every single day, he should do something to help his team win, whether it's the obvious in hitting a three-run homer or the hidden details of making a good throw to keep a guy out of scoring position or keep a double play in order with his decisions. To me, that's where the team game [comes in]. We have so few opportunities in Minor League Baseball to create a winning environment where that game matters more in the big picture. That's the beauty of the [half-season] system to me. Those are the only simulations you can get to a Wednesday night game in the big leagues, where there's a focus on executing that day."
Loudest tool: Hunter Greene, RHP
It still might be a bit misleading to list Greene as just a right-handed pitcher because there's a chance he could be inserted into the batting order this season. The former high school shortstop-pitcher hybrid phenom is focused solely on the mound right now, entering his first full year in the Minors.
It's also odd to list one tool among Greene's as loudest, given the multitude of things he does well as one of the most intriguing and exciting prospects in recent years in baseball. While Greene likely could've been a first-round pick as a power-hitting shortstop, his work on the mound -- headlined by an 80-grade fastball -- is just that good.
"We're going to continue to give his bat some attention just because it's a weapon for him, but for right now, it's all focused on pitching," Graupe said. "He's really done incredibly well. His velocity, his arm strength -- as everyone's well aware of. He really improved his slider this winter, which is a really good pitch, and the changeup's on the come as well. I think he's a little more well-rounded this season than he was last season."
Greene entered pro ball with so many good skills, it was a luxury -- and maybe a bit of a challenge -- for the Reds to craft a specific plan for his development.
"I think you have to prioritize," Graupe said. "What do we need to accomplish right now vs. what can we wait a little bit and not lose? To me, the priority was the pitching. Secondary was the bat. Third for him, if we ever got there, was the glove. I think we're going to put things that way and continue down that path."
While Greene generates easy velocity that scrapes 102 mph, the young righty's confidence in the pitch has given him the ability to focus on developing complementary elements.
• On the blog: Reds Prospect Primer Outtakes »
"Definitely my secondary pitches," he said earlier this week at Reds camp. "I'm comfortable with all my pitches. I felt great the last outing I had. It's just continuing to attack the zone, being able to pitch in on guys, move the ball left-right, up and down. I'm just focusing on my pitch and location and the philosophy of my pitches."
Back and healthy: Tyler Stephenson, C
"He played more games than I think he gets credit for playing," Graupe said of the young catching prospect, who appeared in 80 games for Dayton last year before being forced out with a thumb injury. "I can't wait for this time next year when it's not even a topic because he's a really good player."
Stephenson also played just 44 games in 2016 due to a concussion and a right-wrist injury, but the Reds are confident the backstop is ready for big things in his third full season, especially when viewing the things he did accomplish a year ago.
"He did a lot of really good things, especially when you stack them up next to Siri and [Taylor Trammell] and [TJ Friedl] and some of the really good seasons that happened on that team," Graupe said. "His overall stat line didn't get the benefit of some of the historically better hitting months in the Midwest League. I'm excited to see what he does next and I think the sky is the limit."
Two things that stand about Stephenson are his vision and patience as a hitter. The Georgia prep product took 44 walks while striking out 58 times last year, reaching at a .374 rate, nearly .100 points higher than his .278 average.
"I think some of it is natural and inherent ability," Graupe said. "I think some of it is just a preached approach. He really did an impressive job of slowing the game down last year, whether it was catching, hitting. He was in complete command."
Defensively, the big-bodied catcher still has much to learn. Listed at 6-foot-4, 225 pounds, Stephenson's mechanics are works in progress.
"It's a challenge, I think especially during your teenage years, to figure out who you are," Graupe said. "Right now, he's toned up, looks great. There are just different ways to do it. Right now on our staff we've got [roving catching instructor] Corky Miller who caught one way a long time and [Pensacola manager] Jody Davis who caught another. You can do it different ways, but it's all about discovering who you are and what you need to do to be successful."
Full-season debutant: Jeter Downs, SS
Before you ask, yes, he's named after Derek Jeter. Playing the same position, Downs carries a lot of upside. The Reds snagged him in the supplemental round last year, and the Florida product jumped into Billings with a .267/.370/.424 line that included six homers, 29 RBIs and 27 walks while whiffing 32 times in 50 games. Downs should accompany Greene to a prospect-stacked Dayton club opening the year.


More to keep an eye on: Siri got most of the headlines, but Trammell was as impressive alongside him in last year's Dayton outfield, batting .281 with an .818 OPS. The 2016 35th overall pick will head to Daytona with Siri. … Signed out of Cuba in 2016, Vladimir Gutierrez hadn't played in two years when he debuted last season in the Florida State League. Although he missed August after fading late in the year, his ceiling is high, and he'll test it in Pensacola. … First baseman Nick Longhi has nearly recovered fully from Tommy John surgery last year and shouldn't be limited once the season starts.
Predictions:
Most home runs: Gavin LaValley
Most stolen bases: Siri
Most strikeouts: Tony Santillan
Current prospect to get most Major League playing time: Senzel
Non-Top 100 prospect to end 2018 in the Top 100: Siri
Tyler Maun is a contributor to MiLB.com. Follow him on Twitter @TylerMaun.