Dayton's Santillan flirts with perfection
Reds No. 14 prospect retires first 19 batters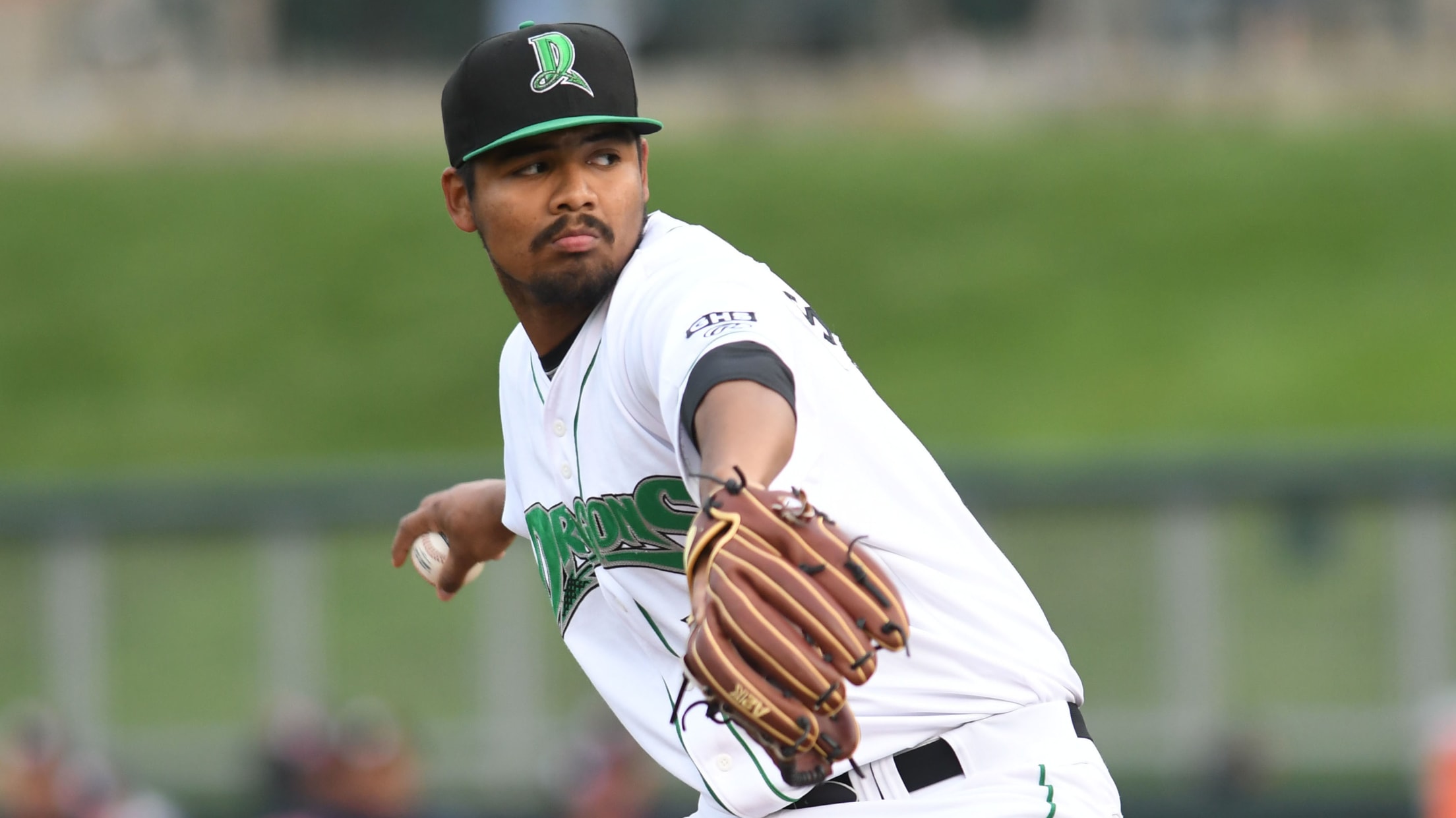 Tony Santillan has struck out 21 with no walks over his last three starts for Class A Dayton. (Dayton Dragons)
Before Tony Santillan took the mound Friday night, pitching coach Derrin Ebert saw he was locked in.When the No. 14 Reds prospect carried a perfect game into the seventh inning, Ebert wasn't surprised."Honestly, it was the moment from when he took the mound in the bullpen," he said. "It was a
Before Tony Santillan took the mound Friday night, pitching coach Derrin Ebert saw he was locked in.
When the No. 14 Reds prospect carried a perfect game into the seventh inning, Ebert wasn't surprised.
"Honestly, it was the moment from when he took the mound in the bullpen," he said. "It was a different intensity. Not like he was trying to overthrow. His concentration was on trying to locate his fastball."
Santillan lost his chance to make history, but allowed two hits with five strikeouts over seven shutout innings as Class A Dayton topped Bowling Green, 4-2, in front of 8,539 at Fifth Third Field.
Gameday box score
"I mean, I just went out there with my game plan before the game and stuck to it," Santillan said. "My catcher [Cassidy Brown] did a great job tonight calling the game and I just went and attacked the hitters.
"I've been taking it one day at a time. I'm always being aggressive and attacking the zone on hitters. I've been just been pitching the same and repeat what I've been doing the last four days and just get out there and do it today."
The right-hander set the tone early as he fanned leadoff hitter Lucius Fox on three pitches.
After striking out 17 over his previous two starts, Santillan managed just four on Friday. He threw 51 of 75 pitches for strikes and retired six batters with two pitches or fewer.
"They're a fastball-hitting team and he still challenged them with the fastball and made them prove that they could hit the ball on both sides of the plate," Ebert said. "And tonight, he had his slider and his changeup for strikes. When you have a guy with plus-stuff like that and a three-pitch mix, it's going to be tough to hit."
The Fort Worth, Texas, native's perfect game ended when Rays No. 7 prospectJesús Sánchez singled to center field with one out and moved up on a single to right by Michael Brosseau. Ebert went to the mound to calm Santillan.
"The first thing I said was, 'That was an emotional high to an emotional low.' But I just said, 'You get a chance to catch your breath right here and don't let the game get away.' And I let him and the catcher decide how they were going to attack the next hitter."
Santillan induced a fly out from Robbie Tenerowicz before picking off Sanchez.
"They got the two hits, it didn't bother me," Santillan said. "Yeah, I lost the no-hitter, but I went back out and attacked the zone and kept my team in the game. I gave a cue to my shortstop [Hector Vargas] on [the pickoff attempt] and it just ended up working out."
The 2015 second-round pick did not walk a batter for the third straight game after issuing at least one free pass in his first 29 Minor League outings. And over his first six starts this season, he walked 18 batters.
"We're trying to cut back the walks with him," Ebert said. "Some of these young power pitchers they kind of, throughout the game, here and there will start to lose the feel on their release. He was so focused on pitching to contact and getting ahead in the count. He was doing it with his slider, with his changeup.
"It's more of a mental approach for him. When certain things go on around him he wants to take that intensity level higher than he needs to. It's just getting him to realize how good his stuff really is that he can be more of a pitcher and he can still get outs with quality stuff down in the zone. Ninety-six [mph] at the knees is just as good as throwing 99 up in the zone. He's learning how to do both of that right now."
Ryan Hendrix (4-1) relieved Santillan and surrendered a run on two hits with two strikeouts and a walk in the eighth, and Brian Hunter gave up a run and two hits with a strikeout and a walk in the ninth for the save.
No. 4 Reds prospect Taylor Trammell ripped a three-run triple to left field in the eighth to break a 1-1 tie.
Andrew Battifarano is a contributor to MiLB.com. Follow him on Twitter, @AndrewAtBatt.