Long dials long distance twice for Tortugas
Reds' No. 13 prospect plates four in first multi-homer game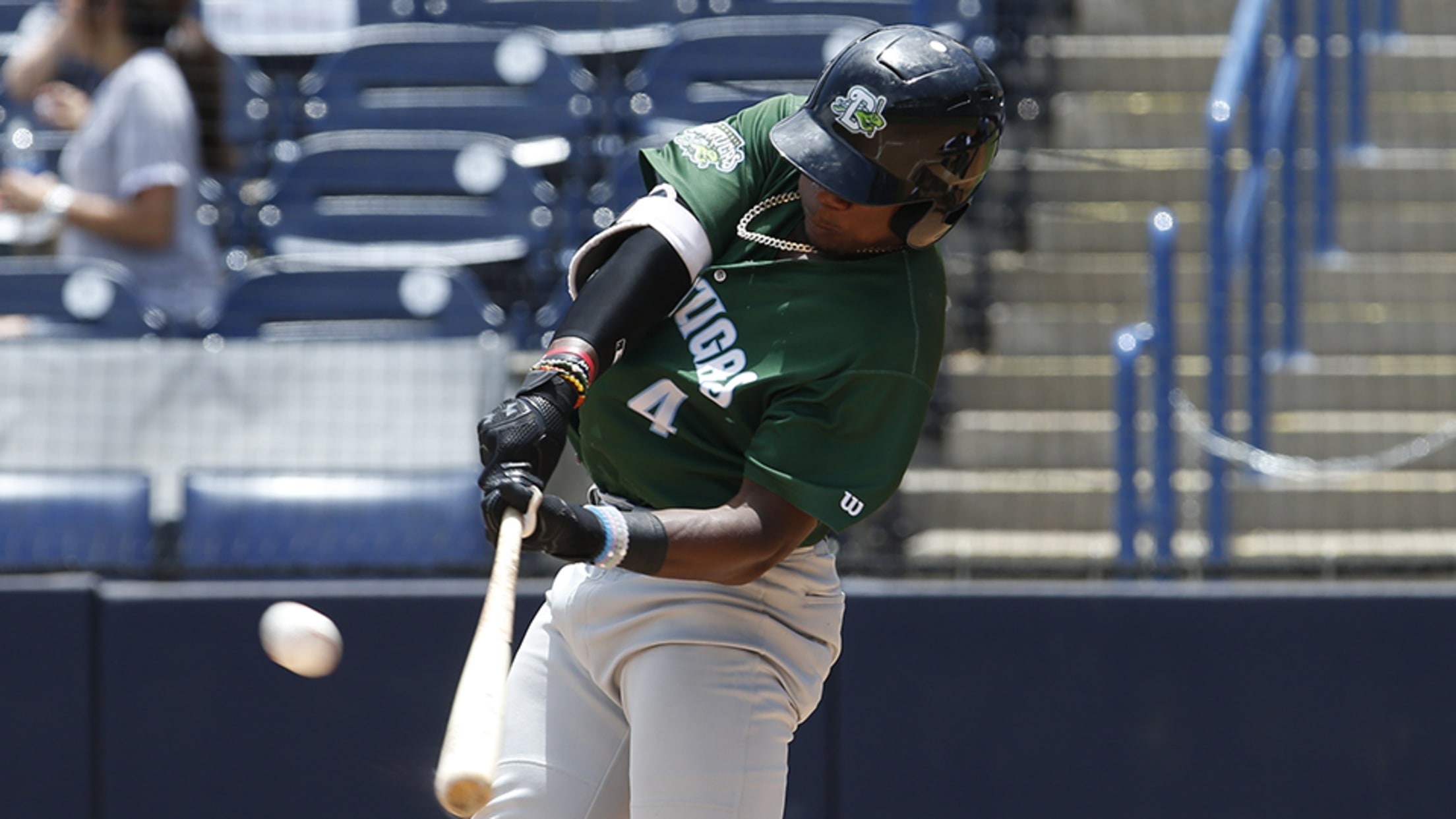 Shed Long is fourth in the Florida State League in batting and fifth with a .530 slugging percentage. (Mark LoMoglio/Tampa Yankees)
Shed Long doesn't want to slap a particular label on his hitting style. In his mind, he's just one thing with a bat in his hands: a hitter.The Reds' No. 13 prospect went 3-for-4 with a pair of homers and tied his career high with four RBIs on Saturday to
Shed Long doesn't want to slap a particular label on his hitting style. In his mind, he's just one thing with a bat in his hands: a hitter.
The Reds' No. 13 prospect went 3-for-4 with a pair of homers and tied his career high with four RBIs on Saturday to power Class A Advanced Daytona to a 7-4 win over Tampa at Jackie Robinson Ballpark.
Gameday box score
Long slugged a pair of two-run shots for the first multi-homer game of his career. With eight roundtrippers, he's more than halfway to his career best of 15 set last season with Class A Dayton and Daytona. He's tied for fourth in the Florida State League, five behind Bradenton's Logan Hill.
"One was a fastball away and the other was a fastball middle-in," Long said. "I'm just sticking to my approach, as simple as that sounds. I'm focused on that plan and not deviating from it when I'm up at the plate. Fortunately, I'm seeing the ball really well and when I'm looking for that ball over the plate to drive, I'm finding it, attacking the zone and not missing it."
Long beat out an infield single in the first inning and scored the game's first run on a double to center by Reds No. 26 prospect Gavin LaValley's double to center. He lined his first two-run blast over the center field wall in the third and went the same way for his second homer in the fifth. Both followed singles by Tortugas leadoff man and Reds No. 10 prospect Alfredo Rodriguez.
"I try and remember the good times and throw away the bad times," said Long, an Alabama native. "I still want to get hot. I'm trying to find that moment where I know I'm really hot. I still don't feel like I'm quite there yet. I want to remember the feelings of these good swings and just forget about the bad ones. There's always more at-bats coming, so don't get too high or too low over any of them."
Long enjoyed a solid first month, hitting .278 with four homers and 16 RBIs in 22 games. But he's taken it to another level in May, batting .374/.431/.582 with 11 extra-base hits and 13 RBIs. Overall, Long has a .326/.378/.500 slash line with 29 RBIs in 46 games. He's recorded nine three-hit games, including two in the last four days.
"I don't really think of myself as any one type of hitter. I consider myself a combo guy," the second baseman said. "You need me to hit for average? I can do that. Need some power? I can do that, too. Want me to drop a bunt? Fine. I'm a complete package, a complete hitter."
Long also was quick to credit the rest of the Tortugas lineup, particularly fellow infielders LaValley, Rodriguez and Reds top prospect Nick Senzel. The quartet comprises the top half of the batting order and went 8-for-16 with five RBIs and five runs scored in the win.
"It's awesome playing with these guys," Long said. "There's nobody better to hit behind at leadoff than Rodriguez. Then there's Senzel and LaValley, who's at the top of the offensive boards [in the Florida State League]. The four of us on the infield is awesome. We feed off each other and push each to be the best that we can be. There's no pressure on us. If one doesn't get the job done, we know one of the others will."
Long also was impressed by Daytona starter Vladimir Gutierrez (4-4), who rebounded from a poor outing his last time out. The Reds' No. 11 prospect took a one-hitter into the sixth and left after surrendering three hits while fanning eight over 6 1/3 scoreless innings.
"My goodness, it was beautiful to watch," Long said. "His last few outings, he didn't do as well as he wanted to do, but for him to bounce back like he did and attack hitters tonight, that was big-time. He's got it in him, and everyone knows that. He just needs to attack hitters and try not to be too fine. Hats off to him. He was great tonight."
LaValley had two hits and an RBI, while Rodriguez singled twice and scored twice for the Tortugas, who also got a two-run homer from Chad Tromp.
Yankees No. 4 prospectJorge Mateo doubled for Tampa.