Clementina Goes Yard in Raptors Win
Ogden's catcher puts finishing touches on 11-run fifth with third home run of the year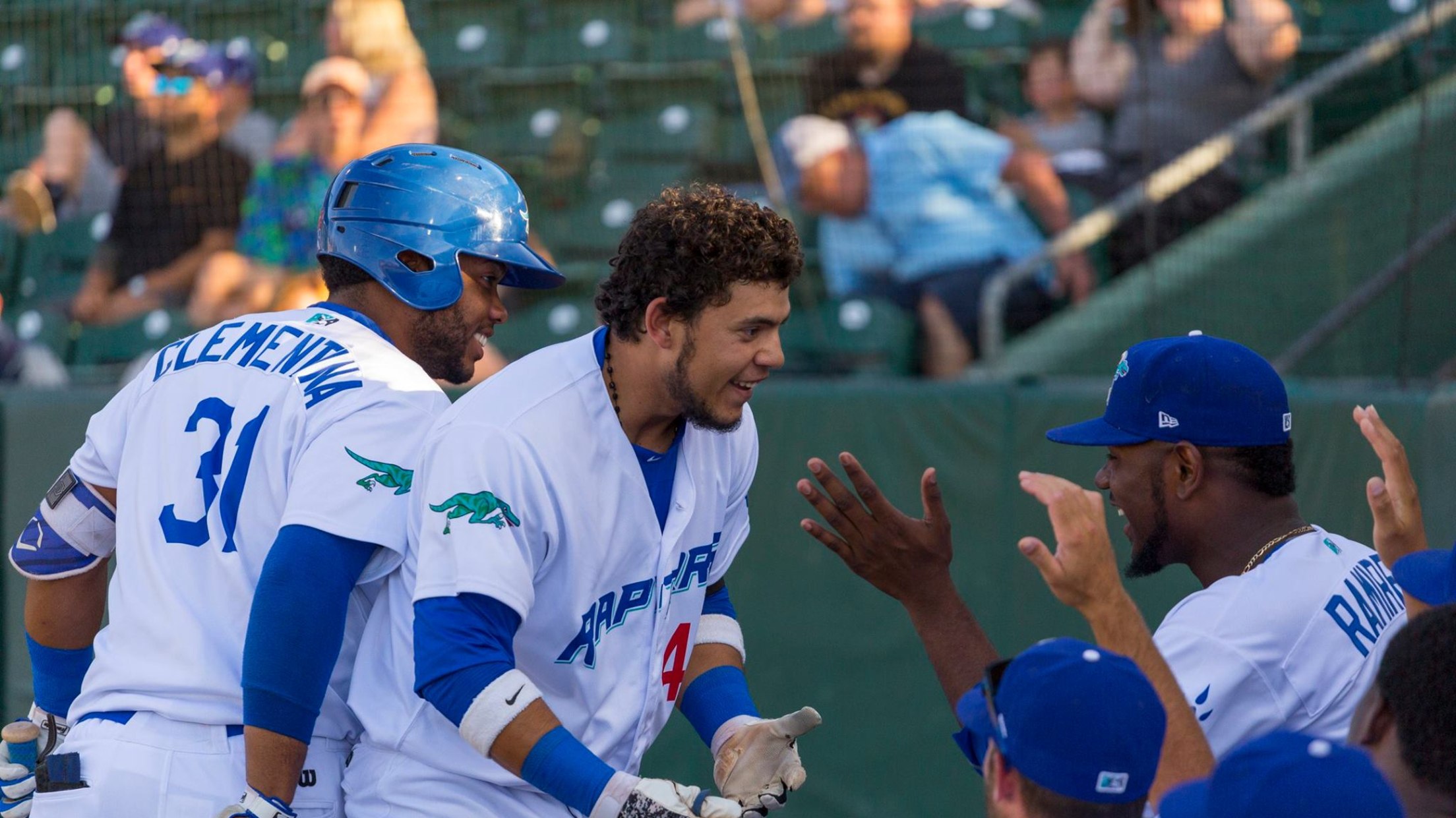 Hendrik Clementina, left, hit a three-run home run to cap an 11-run fifth inning in Ogden's win. (Kevin Johnson)
For the second-straight game, the Ogden Raptors scored double-digit runs in an inning. Tuesday night, it was 10 runs in the fourth to beat Helena. Thursday, the Raptors eclipsed their season high of runs in a frame with 11 in the fifth, and with that they cruised to a victory
For the second-straight game, the Ogden Raptors scored double-digit runs in an inning. Tuesday night, it was 10 runs in the fourth to beat Helena. Thursday, the Raptors eclipsed their season high of runs in a frame with 11 in the fifth, and with that they cruised to a victory in the first game of a road trip at the Missoula Osprey.
Ogden, which had not scored 10 runs in an inning even once since 2005, made it three times this season (including July 5 at Idaho Falls) with the fifth inning rally.
In the first four innings, Ogden put only two runners on base - and one of those was erased on a double play. Nick Yarnall opened the fifth with a walk off Missoula starter Tyler Vail, who had shut down the Raptors on July 14, and Tyler Adkison followed with another free pass. Hendrik Clementina's high bouncer was muffed by the third baseman, loading the bases for Rylan Bannon. Bannon, in his first game action since July 7, lined a single up the middle to bring in two runs and tie the score.
Connor Heady then took the third walk of the inning, and after a strikeout Jeren Kendall lined a single over second base for another pair of runs. After a pitching change, Romer Cuadrado was walked and Luis Paz hit a double into the right field corner, scoring another two and giving Ogden a 6-2 lead.
Yarnall and Adkison both drove in runs with singles before Clementina launched his third home run of the campaign to cap the frame at 11 runs.
That was all Ogden scored, but it held up. Missoula stranded the bases loaded in both the third (after scoring two runs) and fourth, and a pair of late two-run home runs by Andy Yerzy brought the Osprey close.
Kendall finished 3-for-5 with a triple after a 3-for-3 night in his professional debut on Tuesday, and Yarnall, Adkison and Clementina all scored two runs.
Christian Stolo earned the win in his first Ogden appearance, throwing an inning and a third without allowing a run. James Carter turned in a dominant relief appearance, striking out five and walking one in two nearly-perfect innings.
The teams return to Ogren Park Allegiance Field Friday night for game two of four, with first pitch slated for 7:15.