Guardians prospect Meléndez passes away at 20
Cleveland backstop spent 2021 season with Low-A Lynchburg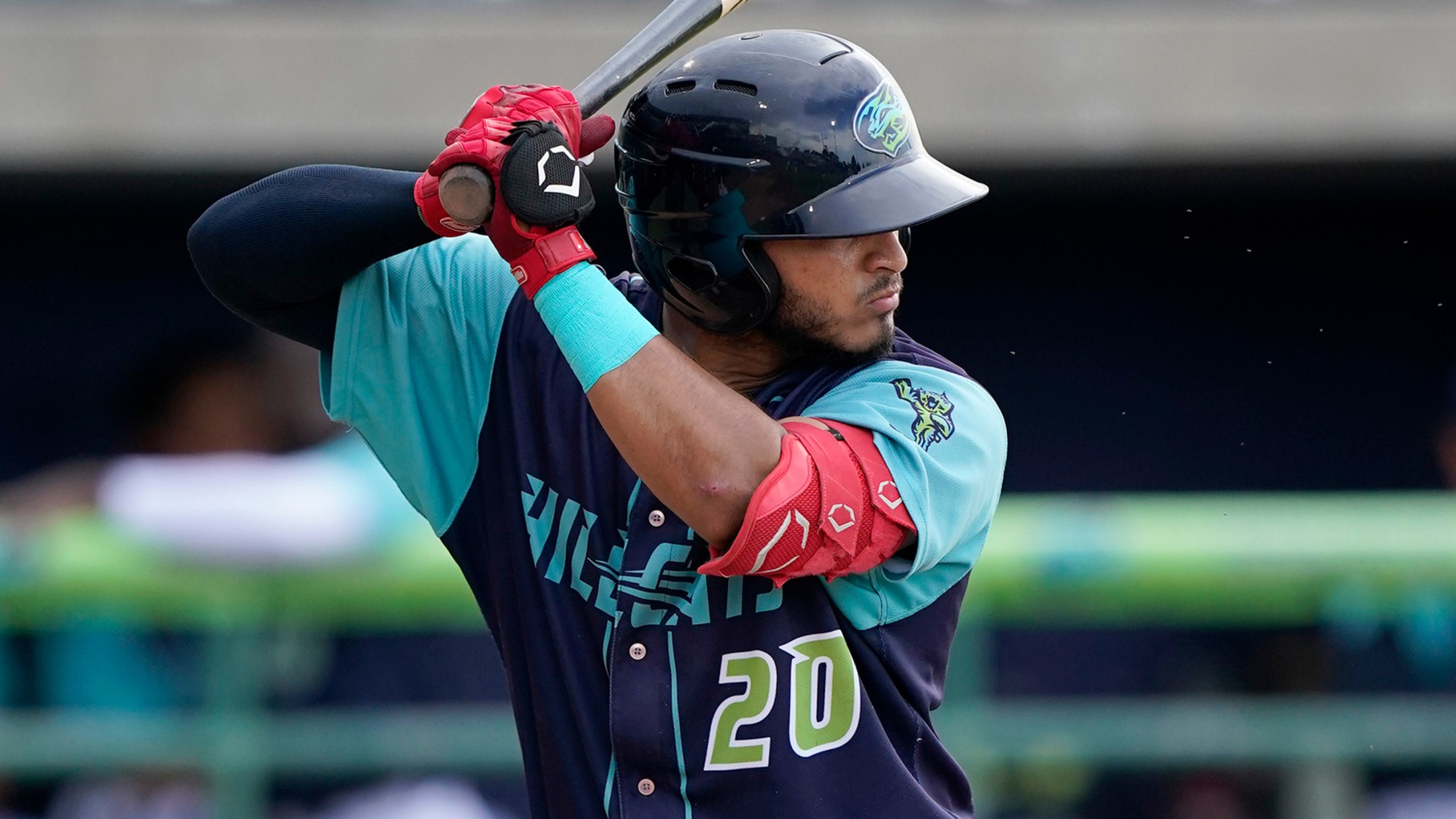 Over three seasons in the Minors, Andrés Meléndez hit .258 with 10 homers and 78 RBIs. (Tom Priddy/Four Seam Images via AP)
Guardians prospect Andrés Meléndez died suddenly in Miami on Thursday afternoon, the team announced. No cause of death was given for the Venezuela native. Meléndez was 20 years old. As word of the catcher's death circulated Thursday night, former teammates and his organization took to social media with tributes and
Guardians prospect Andrés Meléndez died suddenly in Miami on Thursday afternoon, the team announced. No cause of death was given for the Venezuela native. Meléndez was 20 years old.
As word of the catcher's death circulated Thursday night, former teammates and his organization took to social media with tributes and to express their condolences.
I never thought I would be saying these words but RIP mi hermano. Anyone who knew or played with Andres saw the joy he brought everyday. He was always bringing positive energy to the field and locker room. He was a fantastic teammate and an even better person. Love you Andres. pic.twitter.com/bN1YpCtXU5

— Josh Wolf (@JoshWolf30) December 17, 2021
Signed as an international free agent by Milwaukee in 2017, Meléndez was traded to Cleveland in November 2019. He made his organizational debut this year with Low-A Lynchburg and put together a solid first full-season campaign. Meléndez set numerous career highs with the Hillcats, batting .247/.367/.431 with 46 RBIs and 26 extra-base hits in 73 games. He was especially adept defensively, throwing out 33 percent of attempted base stealers.
The Guardians released a statement Thursday evening:
"Andrés is remembered by his teammates and friends as a positive, respectful, and thoughtful young man with a beautiful smile who had a profound impact on others. He will be greatly missed.
Our thoughts and prayers are with his family, loved ones, teammates and those that knew him."
We are deeply saddened to hear about the passing of Andrés Meléndez.

Our thoughts and prayers are with his family and loved ones. Rest In Peace. pic.twitter.com/GgmureOQCz

— Lynchburg Hillcats (@LynHillcats) December 17, 2021
Michael Avallone is a contributor to MiLB.com. Follow him on Twitter @MavalloneMiLB.