Clippers turn second triple play in two years
Indians infielders Stamets, Gonzalez and Shaffer finish feat in loss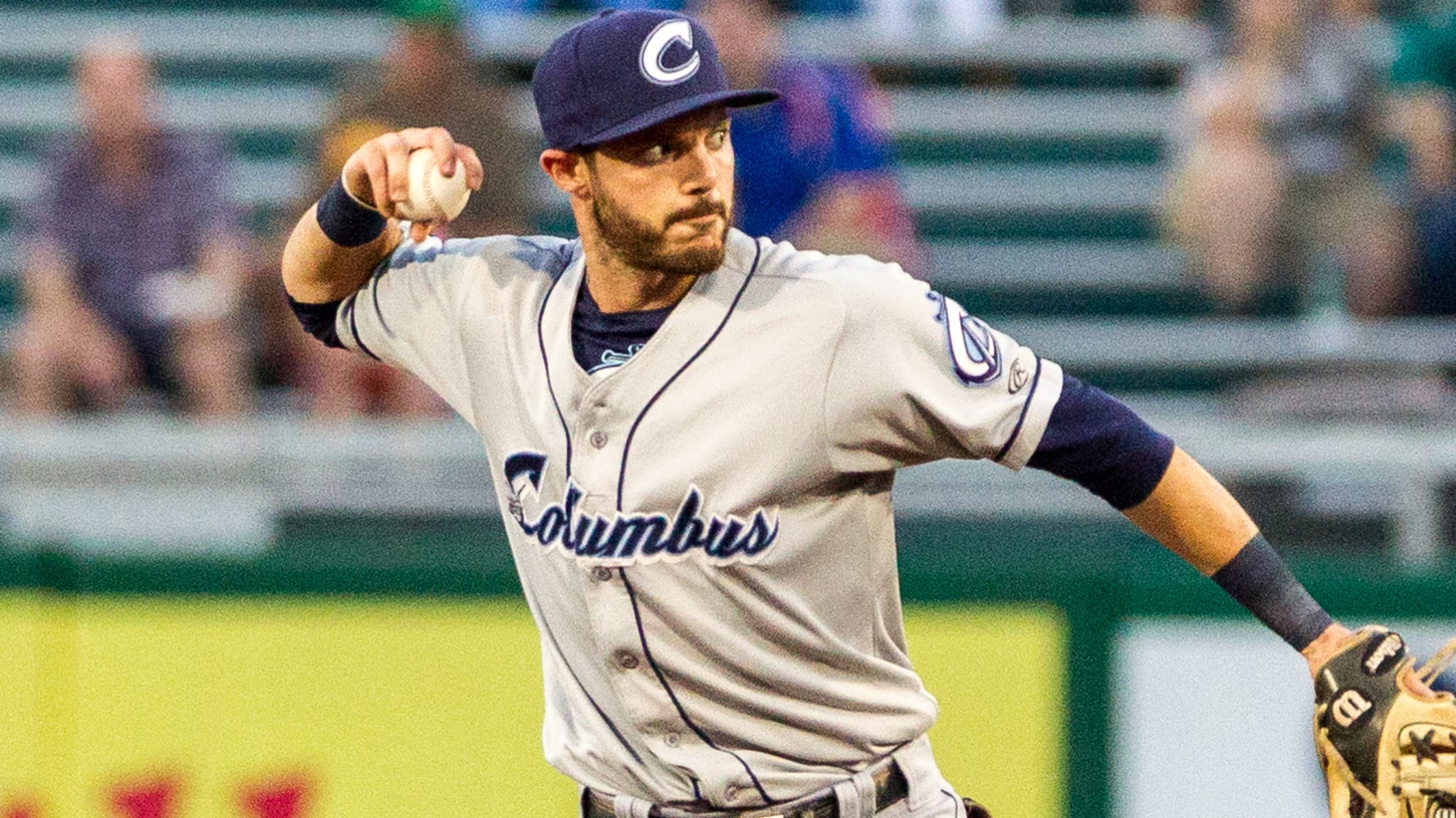 Eric Stamets is hitting .270 with 15 homers and 46 RBIs in 104 games across two levels this season. (Ken Jancef/MiLB.com)
Eric Stamets has participated in a triple play before. He has seen his team hit into one. On Tuesday, the ledger shifted to two in the plus column.The Cleveland infield prospect combined with Erik González and Richie Shaffer on Triple-A Columbus' first triple play in two years, though the Clippers
Eric Stamets has participated in a triple play before. He has seen his team hit into one. On Tuesday, the ledger shifted to two in the plus column.
The Cleveland infield prospect combined with Erik González and Richie Shaffer on Triple-A Columbus' first triple play in two years, though the Clippers fell to the Toledo Mud Hens, 6-1, at Fifth Third Field.
In the fourth inning with the score tied, 1-1. Columbus starter Adam Plutko surrendered a leadoff double to Jason Krizan and walked Dominic Ficociello. Matt den Dekker lined the first pitch he saw from Plutko toward the gap between second and first base. Stamets moved to his right from second base and made a diving catch on the ball. Krizan had taken off with the pitch, allowing the 25-year-old to flip to Gonzalez at second for the easy forceout.
"I was kind of in between whether I was going to dive or try to take a deeper angle, and then I just ended up diving," Stamets said. "Because [Krizan] was stealing, I knew we probably had a double play, but I didn't really see what [Ficociello] was doing."
To Stamets' surprise, Ficociello had wandered a good distance off first. He had begun retreating by the time Gonzalez got the ball, but the throw from the Clippers shortstop arrived to Shaffer just in time as Ficociello was diving back into first.
Gameday box score
After finishing the play, Shaffer immediately pointed at Stamets and Gonzalez, then jogged to the dugout for a round of high-fives from the rest of his teammates. Stamets took a moment to process the historical moment before joining them.
"At first, I was like, 'Well, that's three outs. That's pretty sick,'" he said.
The Clippers turned a triple play on Sept. 11, 2015 in a 6-1 loss to Norfolk in Game 2 of the International League semifinals. Before then, the club had last accomplished the feat in May 1994. Tuesday's triple play marked the first in the International League and ninth in the Minors this season.
Toledo pulled away after the triple play behind three hits and an RBI from third-ranked Tigers prospectJeimer Candelario. Jim Adduci chipped in a double and a single and plated two runs for the Mud Hens while Luis Valdes finished 2-for-3 with a double and two RBIs.
Toledo starter Artie Lewicki (4-0) remained unbeaten in the International League after allowing a run on three hits and two walks over seven innings. He struck out eight.
• Get tickets to a Clippers game
Kyle Crockett (5-5) gave up two runs on three hits while recording two outs in relief of Plutko to take the loss for Columbus.
For Stamets, the defeat did not lessen the thrill of turning a triple play.
"It's something you can be around the game a very long time and a lot of people have still never seen," the Ohio native said. "To be actually involved in the play itself is pretty cool."