Captains' McCarty fans career-high 11
Indians prospect hurls 6 1/3 scoreless innings, gives up two hits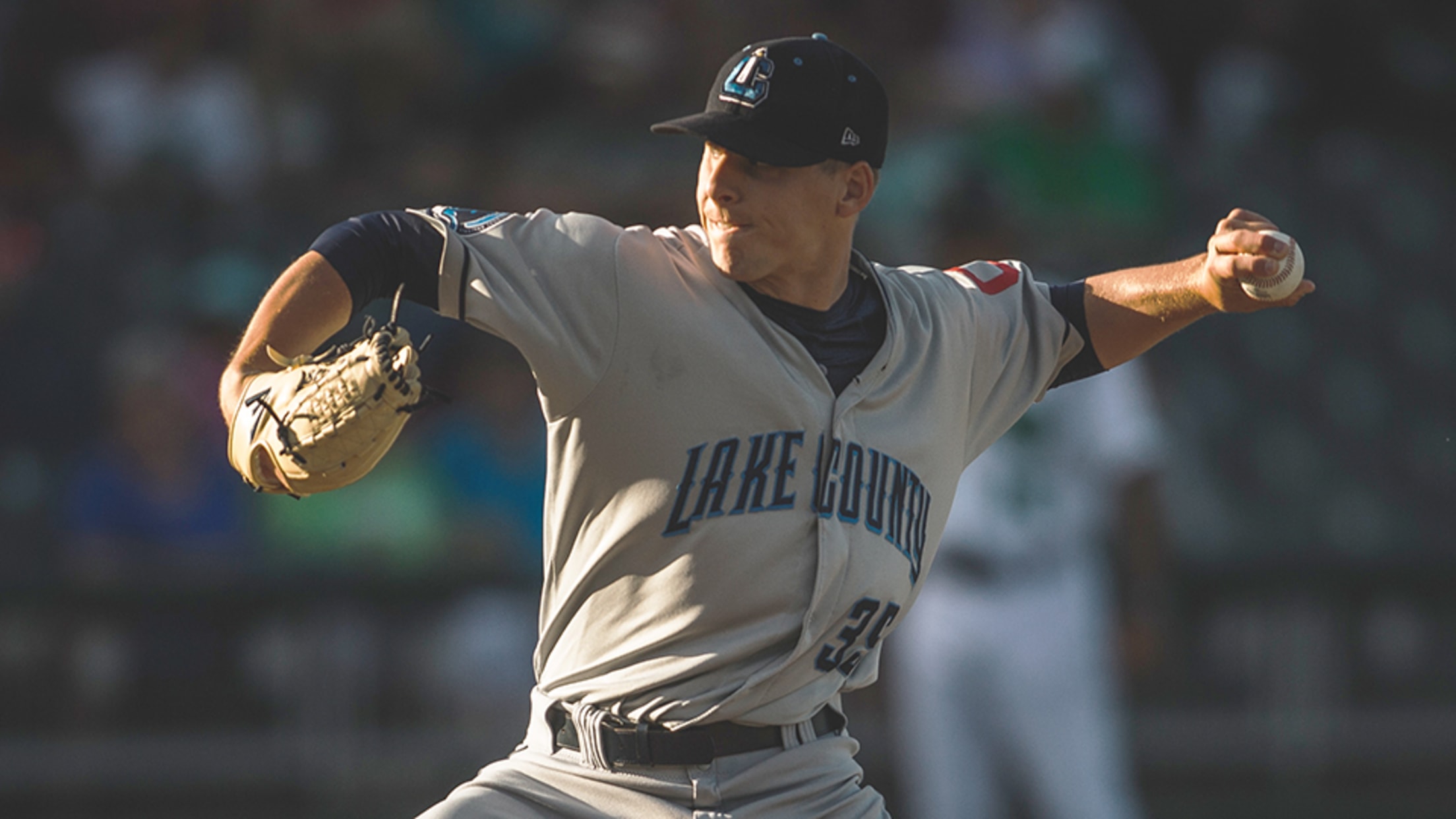 Kirk McCarty lowered his ERA to a season-low of 4.83 and ended a personal seven-game losing streak. (Dave Wegiel/MiLB.com)
Kirk McCarty has been up and down in his first full professional season, but Saturday night, backed up by a former Southern Mississippi teammate, he turned back the clock to his college days.The Indians prospect recorded a career-high 11 strikeouts and gave up two hits and a walk over 6
Kirk McCarty has been up and down in his first full professional season, but Saturday night, backed up by a former Southern Mississippi teammate, he turned back the clock to his college days.
The Indians prospect recorded a career-high 11 strikeouts and gave up two hits and a walk over 6 1/3 innings as Class A Lake County blanked West Michigan, 3-0, at Classic Park. It was his first scoreless start of the season.
Gameday box score
The Indians' 2017 seventh-round pick said his roller-coaster year has trended with the success and accuracy of his fastball. A pitch he used in college with much success, McCarty had to learn how to hone it even more for the professional ranks.
"What has been considered good command my entire baseball career before this gets even tighter as far as what's considered a good pitch," he said. "I have to hold myself to a higher standard. Those pitches up a bit now have to either be above or below a certain mark, and I've gotten myself in trouble a few times. But it's been fun to develop a full body of work while continuing to improve."
This week, McCarty brought more focus to his bullpen session, rather than throwing a scripted list of pitches. He and catcher Joshua Rolette would often start with a fastball and see where the starter placed it, according to the call, then analyze where that may have set them up in the count. That game-like approach translated into career-best success on Saturday.
McCarty worked around a runner in scoring position after he allowed a one-out double to Brady Policelli in the top of the first. From there, he set down the next 13 batters, fanning eight. After issuing a two-out walk to Kody Clemens in the fifth, the left-hander fanned Dylan Rosa for his 10th strikeout.
"We challenged a lot of guys with fastballs early and then we could tunnel off that and help us decide which pitch to throw next. Often, we stayed with the fastball and got ahead, and guys were down, 0-2, and hadn't seen a secondary pitch yet," McCarty said. "We had a lot of success with the elevated fastball, and they had to honor that pitch, so we got a lot with the breaking ball later."
McCarty (2-8) needed only six pitches to ease through the sixth, then opened the seventh by striking out Brock Deatherage. Reynaldo Rivera reached on an error by first baseman Jose Vicente and Joey Morgan lined a single to center on the 22-year-old's 84th and final pitch of the game.
Robert Broom pitched around two hits while recording five outs and Indians second-round pick Nick Sandlin fanned two in the ninth for his first professional save. McCarty and Sandlin anchored the Southern Miss pitching staff last year, both going 10-2, with Sandlin compiling a 2.38 ERA.
McCarty said he's fed off having Sandlin in the dugout the last couple weeks, and it's been no coincidence that the reliever has been around for two of McCarty's better starts of the season. Both are a stark contrast to the 10 hits and five runs he gave up over 3 2/3 innings on June 27.
"It's been fun having him around, a familiar face and a guy that's so competitive," McCarty said. "You know what you're going to get with him on the mound. He's going to execute pitches and make a lot of hitters look bad. His mindset is great to have around. He's uber-competitive and he trusts that he's better than any hitter that steps in the box.
"I told him on the ride back that 'What changed was having you around. I can't look bad in front of you.'"
The Captains gave their starter a quick lead as Oscar Gonzalez hit an RBI single in the bottom of the first. Todd Isaacs and Jesse Berardi extended it with back-to-back run-scoring singles in the second.
Nathan Brown is a contributor to MiLB.com. Follow him on Twitter @NathanBrownNYC.