L-Kings erase 16-run deficit, beat Bees
Mariners' Class A affiliate ties it in ninth inning, wins it in the 12th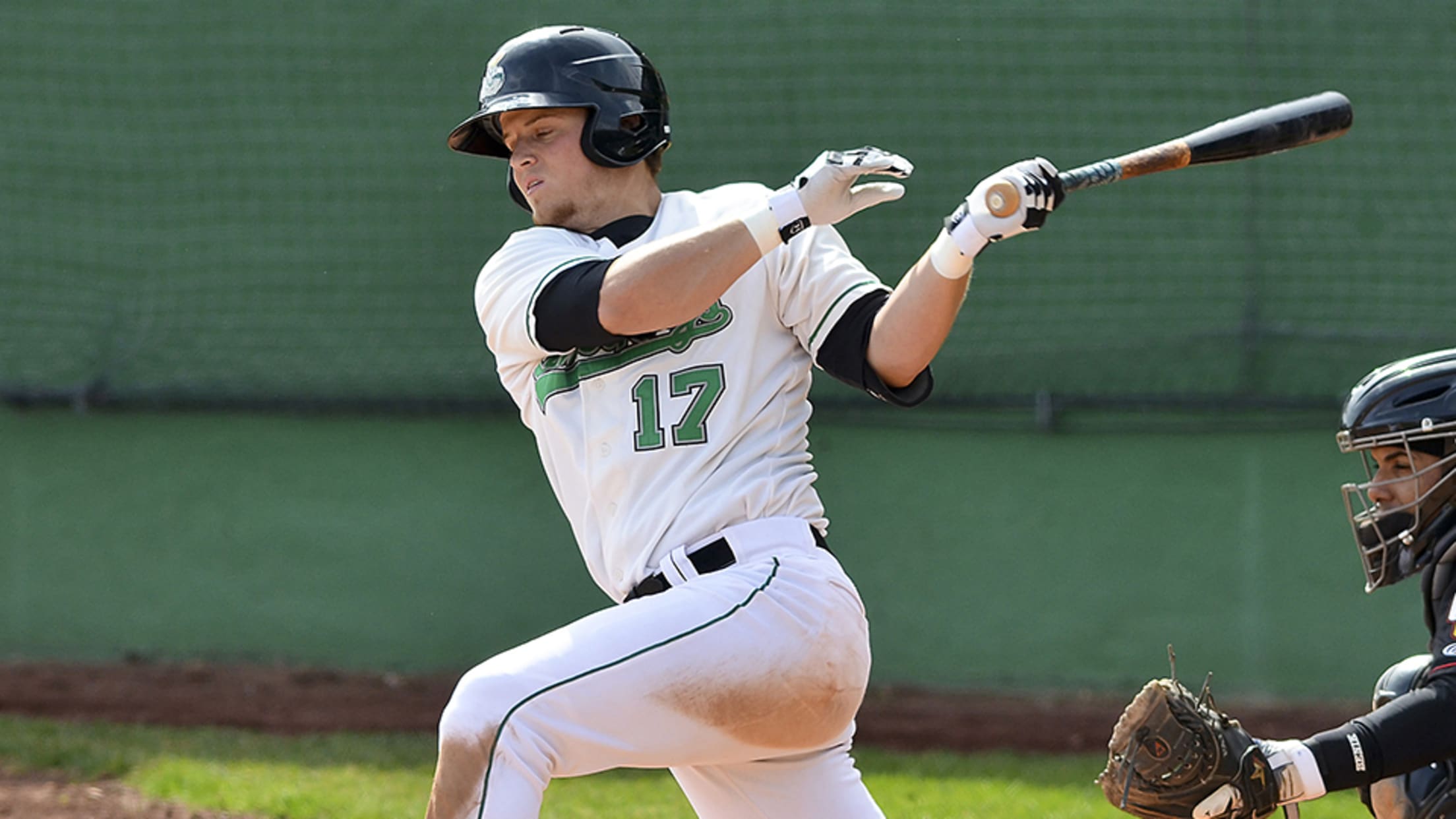 Justin Seager hit .267 in the Northwest League after being drafted in the 12th round last year. (Paul R. Gierhart/MiLB.com)
Justin Seager needed only a second to consider whether he'd ever been a part of the game like the one he played Wednesday night. "I don't think so," he said. "I don't know if anybody's ever played a game like that before." Trailing by 16 runs after five innings, Class
Justin Seager needed only a second to consider whether he'd ever been a part of the game like the one he played Wednesday night.
"I don't think so," he said. "I don't know if anybody's ever played a game like that before."
Trailing by 16 runs after five innings, Class A Clinton got a grand slam from Marcus Littlewood in a five-run ninth, then scored three times in the 12th to stun Burlington, 20-17, at Community Field.
Seager went 4-for-7 with a triple, two RBIs and three runs scored. His run-scoring groundout in the top of the 12th put the LumberKings ahead for good.
"That was my whole focus, to make sure I get the run in. I just wanted to make sure I get the run, whatever happened -- I didn't care if I got a hit or a grounder or whatever," the Mariners' 2013 12th-round Draft pick said. "I didn't really crush it like some of the other balls I hit tonight, but I did get to do my job and help the team then."
Clinton also overcame an eight-run deficit on Saturday, scoring five times with two outs in the ninth inning to beat Wisconsin, 16-13.
"That is a crazy win. I've never been a part of something like that. The closest thing is four days ago," LumberKings manager Scott Steinmann said. "[Another comeback] says a lot. They weren't giving up. They stayed in it the whole time."
Lonnie Kauppila followed Seager's tiebreaking grounder with a two-run single, capping a night on which he went 3-for-6 with three RBIs and two runs scored.
Kauppila had extra incentive in his final at-bat, since he had a strong suspicion he'd be asked to pitch the bottom of the 12th. He hadn't pitched since high school but had been asked to warm up in the 11th and again in the top of the 12th.
"Being up by one and knowing I was going to have to pitch when I haven't pitched in five years, I really wanted to get us some extra runs," the Stanford product said. "I was really glad that I was able to get that hit."
Kauppila was more comfortable with a three-run lead.
"I just wanted to throw strikes. After the first guy, I pretty much knew they were taking first-pitch strikes. I just had to continue to throw strikes after that," he said. "I knew our defense could pretty much catch anything, so I was pretty confident."
Steinmann said that after using five pitchers and getting three innings of one-hit relief from Emilio Pagán (1-0), he had no doubts about leaving the game in Kauppila's hands. The 22-year-old second baseman, who throws right-handed, worked a 1-2-3 frame and picked up the save.
"When it comes to that situation, we're not putting another pitcher out there to get hurt," the manager explained. "We told [Kauppila] to not throw 100 percent and risk an injury to a guy who's not used to pitching -- that's my only concern. That's why we tell him to throw nice and easy and fastball and change only, and to throw strikes. He did a great job."
Steinmann was equally confident in his club when it was down, 17-1, heading to the top of the sixth.
"I tell them to keep competing and have professional at-bats and I just stay out of the way and let them do it. That's all them," he said. "We start to string together a couple of little hits in the sixth and you could kind of feel it turning. That's when it was really exciting."
Seager, the younger brother of Mariners third baseman Kyle Seager and older brother of Dodgers top prospect Corey Seager, kicked off that six-run sixth with a triple.
"I was just trying to do my best to have a good at-bat," he said. "We needed to get runners in scoring position and I was lucky enough to shoot the gap and get a triple."
Two innings later, Seager followed Burt Reynolds' leadoff homer with a single, setting up another big inning.
"That's when I started a little bit to get butterflies and get exciting," he said. "I was really cheering the team on and pulling for everybody."
In the ninth, Seager again provided some kindling with a one-out single, the first of five straight for the LumberKings. The fifth was Littlewood's game-tying grand slam.
"I'll remember the teammates I had on my side," Seager said. "We never stopped fighting. We were battling, chipping away and we never quit."
Making his season debut Bees catcher Cambric Moye was 3-for-5 with a homer, a career-high five RBIs and three runs scored.
Josh Jackson is a contributor to MiLB.com.