WooSox Week Ahead: Charlotte Knights visit Worcester, Week of 6/21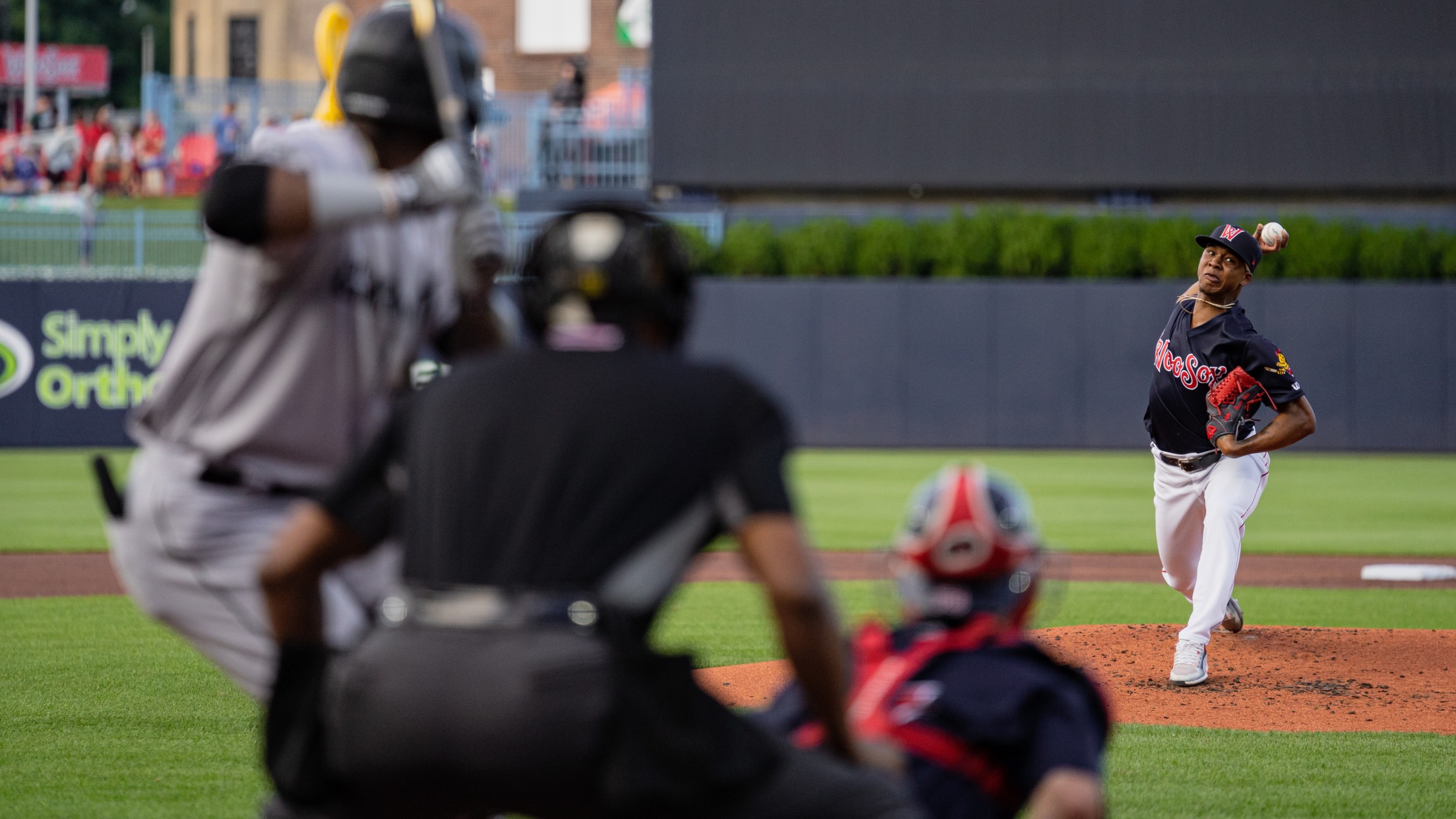 The Worcester Red Sox (33-34) play host to the Charlotte Knights, Triple-A affiliate of the Chicago White Sox (25-42), Tuesday, June 21, in the team's second consecutive six-game series this homestand. The WooSox will welcome the International League's last-place squad to Polar Park, where Worcester won, 5-4, Sunday over the
The Worcester Red Sox (33-34) play host to the Charlotte Knights, Triple-A affiliate of the Chicago White Sox (25-42), Tuesday, June 21, in the team's second consecutive six-game series this homestand. The WooSox will welcome the International League's last-place squad to Polar Park, where Worcester won, 5-4, Sunday over the Toledo Mud Hens, the Triple-A affiliate of the Detroit Tigers.
B_y the Numbers_
WooSox pitchers have allowed the fewest runs in Triple-A baseball the past two weeks, and have the second-best ERA (3.35) and home runs allowed (8).
Charlotte pitchers rank 20th this season, producing a 5.97 ERA and a 1.57 WHIP. Their -84 run differential is in part due to the Knights having allowed 25 more home runs than the next highest team, the Durham Bulls. This figure would be the worst in Triple-A, if not for the Albuquerque Isotopes' 114.
The WooSox hit 7 home runs last week, capped by Ryan Fitzgerald's 3-run bomb Sunday. The WooSox average a home run every 25 at-bats this season. Their batting average last week, .219, ranked 20th in the 20-team International League. The Woosox also ranked in the bottom five in runs, hits, OBP, and OPS.
Worcester dropped four of their six games to Toledo after winning four of six over first-place Buffalo in the previous series.
The Knights, who have right-handers in four of the five slots in their rotation, face a WooSox offense that is in the league's top three versus righthanders in OPS (.803) and slugging (.454), and second in homers (70) and RBI (254).
W_ooSox Players to watch for_
B**rayan Bello**
The first Worcester arm to face the Charlotte lineup will be Red Sox lefty Josh Taylor on a rehab assignment. After Taylor opens the first frame, Sox top pitching prospect Brayan Bello (3-2, 3.78) will take the bump. In Worcester, Bello has yet to throw fewer than 5.0 IP or give up more than 3 ER in a start. His eye-popping 13.5 K/9 leads the WooSox and is a top-3 metric in all of Triple-A baseball. He faces Knights lefty John Parke (2-5, 6.75) at 6:45. Bello has the potential to see two turns in the rotation this week.
J**aylin Davis**
Davis made headlines last week in Game 1 against Toledo, going 3-for-4 and nuking two 400+ foot home runs and a triple. Through that series, Davis went 8-for-21, slashing .381/.458/.762/1.220. Suffice to say, Davis is the hottest hitter in Worcester right now. Davis' .595 OPS in May seems a distant memory compared to the 1.035 he has put together in June. Look for Jaylin to keep the hot streak rolling against a Charlotte team allowing league-high home run totals to right-handed hitters.
Y**olmer Sanchez**
His 8-for-18 performance with 4 2Bs v. Toledo last week was good for a team-leading .444 BA and .524 OBP. Additionally, Yolmer may play with a little more wind in his sails against a Charlotte team he played 323 games for from 2012-2016.
Yolmer was brought up through the White Sox organization, spending the better part of eight years (2012-2020) on the South Side. Chicago waived Yolmer in October 2020, and he signed with the Red Sox organization in February 2022.
D**evlin Granberg**
Jeter Downs' call-up to Boston Monday gives an opportunity in the WooSox lineup to Devlin Granberg, up from Double-A Portland. He received Soxpropsects.com's co-Player of the Month honors alongside Brayan Bello in May. In 40 games with the Sea Dogs, Granberg hit .304/.427/.467/.894, leading Portland in all four categories.
K_nights Players to watch for_
G**avin Sheets**
Sheets bounced between Charlotte and Chicago in 2021, and was sent down June 10, 2022, after starting the season on the White Sox Opening Day roster. The lefty first baseman has a .949 OPS through his first 8 games in Charlotte.
E**loy Jimenez**
White Sox slugger Eloy Jimenez has been sidelined with a hamstring strain after playing just 11 games with Chicago this season. To the dismay of WooSox faithful, Jimenez will resume his rehab assignment with Charlotte this week. Jimenez is one of Chicago's brighter offensive talents, and is likely to show prowess with the bat in his return.
Unfortunately for WooSox fans, the White Sox activated star shortstop, Tim Anderson, Monday after a three-week absence due to a groin injury. Anderson made four appearances with the Knights before being re-activated. Anderson will return to Chicago where he is slashing e.356/.393/.503/.896 this season.
Worcester fans may be the beneficiaries of internal rehab assignments, however, as Red Sox pitcher Josh Taylor will open the homestand Tuesday. Taylor will pitch one inning, followed by Bello. Red Sox utility man Christian Arroyo will make an appearance at Polar Park this weekend as well.
Garrett Whitlock and Nathan Eovaldi both approach returns to the bump from injury. Although on different recovery timelines, it is possible either of these right-handed hurlers may make a rehab appearance this week in Worcester.
Chris Sale pitched an inning in the Florida Complex League against Tampa Bay's rookie ball squad Monday, June 20. Sale allowed one run on a walk and a single, with a strikeout over former MLB.com No. 1 prospect Wander Franco. Sale will not make an appearance in Worcester this week, but may grace Polar Park in the coming weeks as he recovers from a February rib cage fracture.
Coincidentally, patrons of the WooSox game Wednesday, June 22, will receive a Chris Sale bobblehead when gates open ahead of Game 2. The series will take form in 6:45 starts on Tuesday, Wednesday, Thursday, and Friday, followed by a 4:05 Saturday and a 1:05 Sunday afternoon matinee.