Grand Junction's Montes busts loose again
Rockies infield prospect posts second five-hit game of season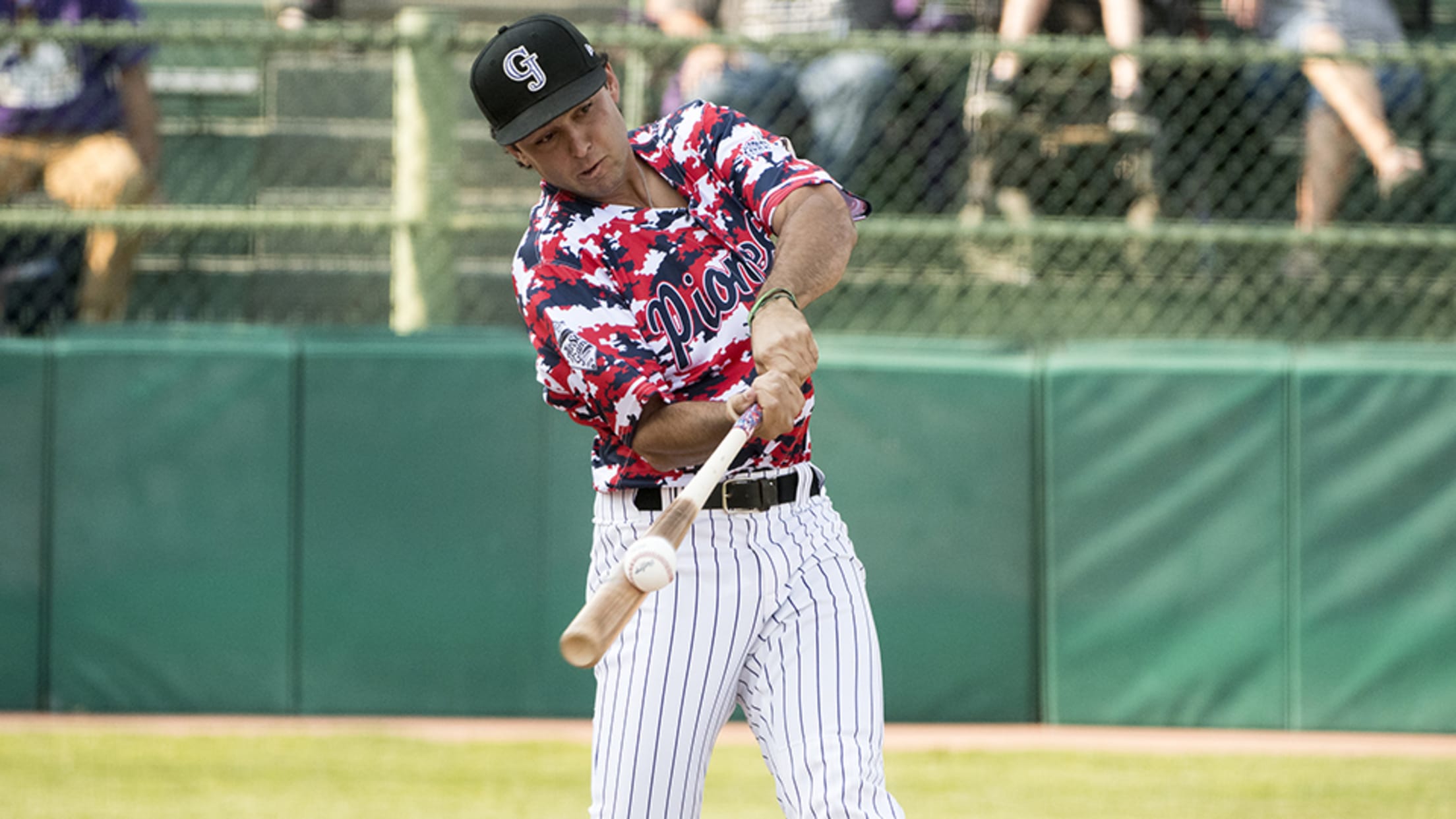 Coco Montes won MVP honors at the Pioneer/Northwest All-Star Game earlier this month. (Jared Ravich/MiLB.com)
Coming into Wednesday in a bit of a funk, Coco Montes just wanted to put the ball in play and maybe get a few hits. He not only got a few base knocks, he added another milestone to his resume.For the second time this summer, the Rockies prospect collected a
Coming into Wednesday in a bit of a funk, Coco Montes just wanted to put the ball in play and maybe get a few hits. He not only got a few base knocks, he added another milestone to his resume.
For the second time this summer, the Rockies prospect collected a career-best five hits, but Rookie-level Grand Junction dropped an 8-7 decision to Orem at the Home of the OWLZ. Montes plated two runs and scored one in his sixth multi-hit effort this month.
"Everything just went my way today," he said. "I had a couple of balls that maybe weren't hits on other days that found a good hop and stuff like that -- they were just in the right spot. I was just trying to put the ball in play and help the team win the game, and we ended up losing a tough one. But we'll be back out there tomorrow."
Seven games into his professional career, the University of South Florida product notched his first five-hit effort on June 22 in a 9-8 loss to Idaho Falls. Montes kept up the pace, batting .431 through 14 games in June and .343 in July.
Delivering steady outcomes at the plate earned him a starting nod in the Pioneer/Northwestern All-Star Game, where he bashed two homers on the way to claiming BUSH'S® All-Star MVP honors.
Accolades aside, Montes is soaking in the opportunity to be an everyday player as he winds down his first season in pro ball.
"It's amazing. I get to come out here to play baseball every day," Montes said. "Whether I'm doing good or bad, I'm going to be happy at the end of the day. I just want to take full advantage of this experience and do as much as I can and play as long as I can. I can't thank the Rockies enough for this opportunity."
Things had slowed in August, however, as the 21-year-old came into Wednesday's matchup hitless in his last 14 at-bats to drop his average for the month to .243. Grand Junction is tied atop the South Division second-half standings, so Montes felt his cold spell came at an inopportune time. Breaking through Wednesday could propel him through the last seven regular-season games, he said.
"Going 0-for-14, especially when we're in a playoff run, it's hard because I want to help the team win," he said. "In my head, I said, 'Well, if I didn't go 0-for-14 over the last few games we would have won three or four games instead of going 2-2.' So it was nice today to be able to contribute and help the team. It just didn't go our way in the end."
Gameday box score
Montes noticed in recent weeks that he hadn't been driving the ball with his legs, which ended up causing him to drift forward in the batter's box more than he'd like. So he worked with coaches Zach Osborne and Andy Gonzalez on making some minor corrections to get him back in the right direction.
Using their insight, the 15th-round pick in this year's Draft followed a first-inning double by Hunter Stovall with a single up the middle to plate Grand Junction's first run. Montes whacked his second single of the night off starter Jose Natera in the third and scored four batters later on Reese Berberet's infield hit.
The Miami native drove in his second run of the game with a two-out single to right off reliever Tanner Chock in the fourth, although he was cut down trying to extend it into a double. Montes attacked the first pitch from right-hander Cole Duensing in the sixth for a single to right before beating out an infield hit two innings later.
"Especially after going 0-for-14, it felt good," Montes said. "But at the end of the night, it was a rough loss. That's all that's kind of going to stick with me. Hopefully, my next five-hit game -- if I get one -- we win because we lost both of them [this season]."
With the big night, he raised his average 14 points to .343, one point behind teammate and eighth-ranked Rockies prospect Grant Lavigne, who ranks fifth in the league. Montes said the New Hampshire native has been an invaluable part of his season, and the two have bonded as a formidable duo in the middle of the lineup.
"Grant's one of the best hitters I've ever seen, approach-wise and at the plate," Montes said. "We talk a lot about hitting and everything about the game. For being so young, from a part of the country that's not really big into baseball, it really amazes me how advanced he is mentally in the game. It's always nice having him behind me. I get on, I'm pretty sure I'm going to score when he's getting up."
The Owlz rallied for five runs over the final two innings, completing their comeback on Connor Fitzsimons' two-run single in the ninth.
Andrew Battifarano is a contributor to MiLB.com. Follow him on Twitter, @AndrewAtBatt.