Cole, Chiefs edge Red Wings, 3-2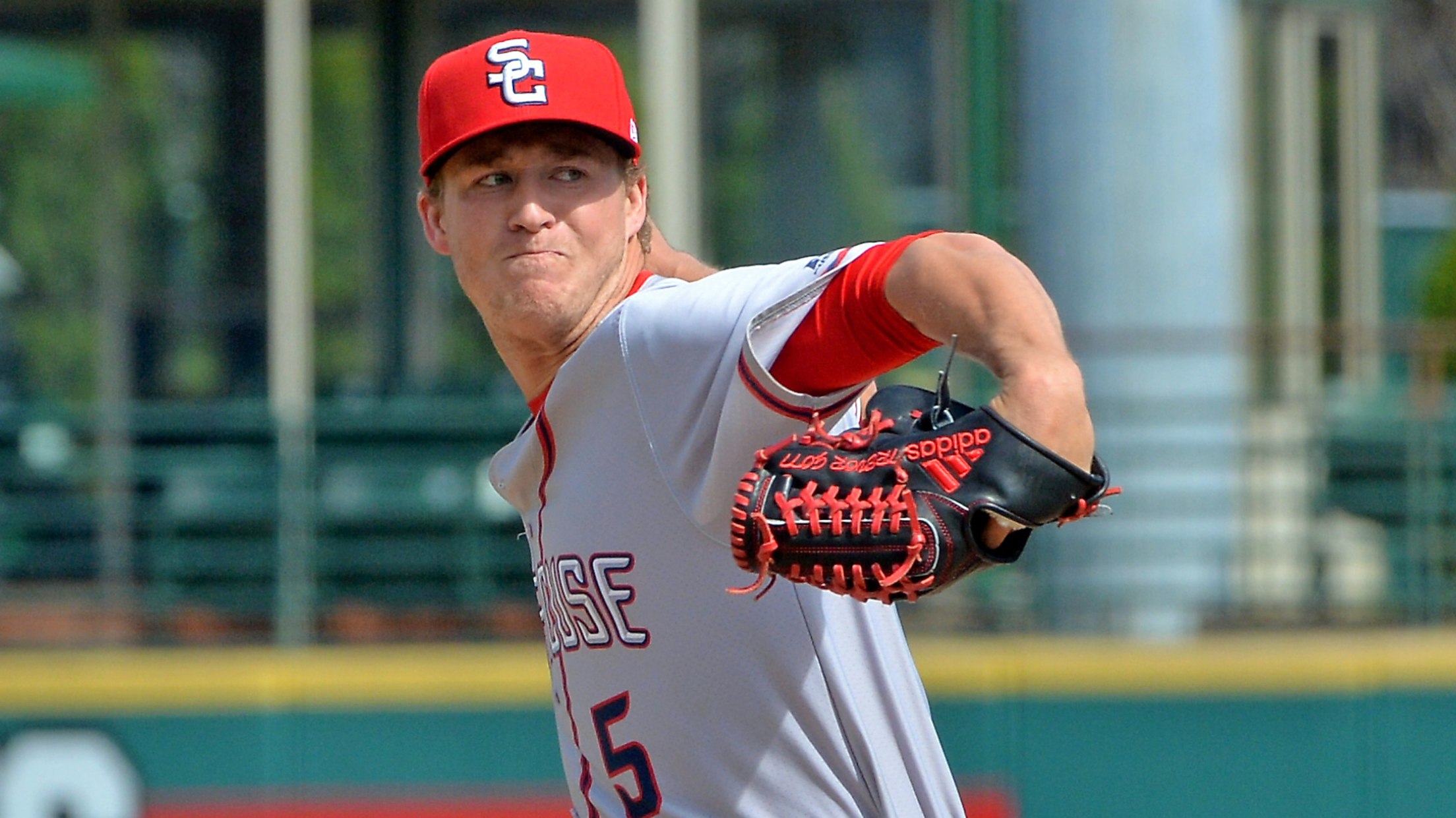 Trevor Gott picked up a four-out save Thursday night. (Rick Nelson)
The Syracuse Chiefs snapped a five-game losing streak with a 3-2 win over the Rochester Red Wings on Thursday from Frontier Field. Chiefs right-hander A.J. Cole threw seven strong innings in the victory, and Syracuse broke a scoreless tie with three runs in the sixth inning to hand him the
The Syracuse Chiefs snapped a five-game losing streak with a 3-2 win over the Rochester Red Wings on Thursday from Frontier Field. Chiefs right-hander A.J. Cole threw seven strong innings in the victory, and Syracuse broke a scoreless tie with three runs in the sixth inning to hand him the necessary run support
After five scoreless innings, Syracuse (18-37) struck for three runs against Aaron Slegers in the sixth. Brandon Snyder singled and Matt Skole doubled to start the inning to put runners on second and third. Pedro Severino followed with a two-run double off the left-center field wall to start the scoring. The double was Severino's first since April 27th. After a pair of fly outs, Irving Falu lined Slegers' first pitch back up the box, singling home Severino to give the Chiefs a 3-0 lead.
Rochester (26-29) answered with two runs in the bottom of the inning against Cole. Engelb Vielma and Zack Granite each singled to start the frame. After the runners moved up on a groundout, Matt Hague hit a sacrifice fly to center to score Vielma and put the Red Wings on the board. Then, with Mitch Garver batting, Cole threw two consecutive wild pitches, allowing Granite to move to third and then to score to bring the Red Wings within one.
Those were all the runs allowed by Cole, who retired the first eight batters he faced and finished his outing with a 1-2-3 seventh. In seven innings, he surrendered just six hits and two earned runs, walking none and striking out five. Cole has thrown to a 2.81 ERA over his last four starts, lowering his season ERA from 8.31 to 5.32.
The Red Wings rallied against Matt Grace in the eighth and nearly tied the game. With one out, Vielma singled and Granite double, putting a pair of runners in scoring position. Grace then induced a groundout to first from J.B. Shuck, holding the runners, before he exited for Trevor Gott. The right-hander took just one pitch to escape the inning on a Hague groundout to shortstop.
Gott closed the game in the ninth, sealing the win with a double play and a strikeout.
The Chiefs and Red Wings will play game two in a four-game set Friday at 7:05 p.m. Syracuse right-hander Sean O'Sullivan will oppose Rochester southpaw Adam Wilk.