Goats' Welker posts first two-homer game
Rockies No. 2 prospect nets three extra-base hits, drives in four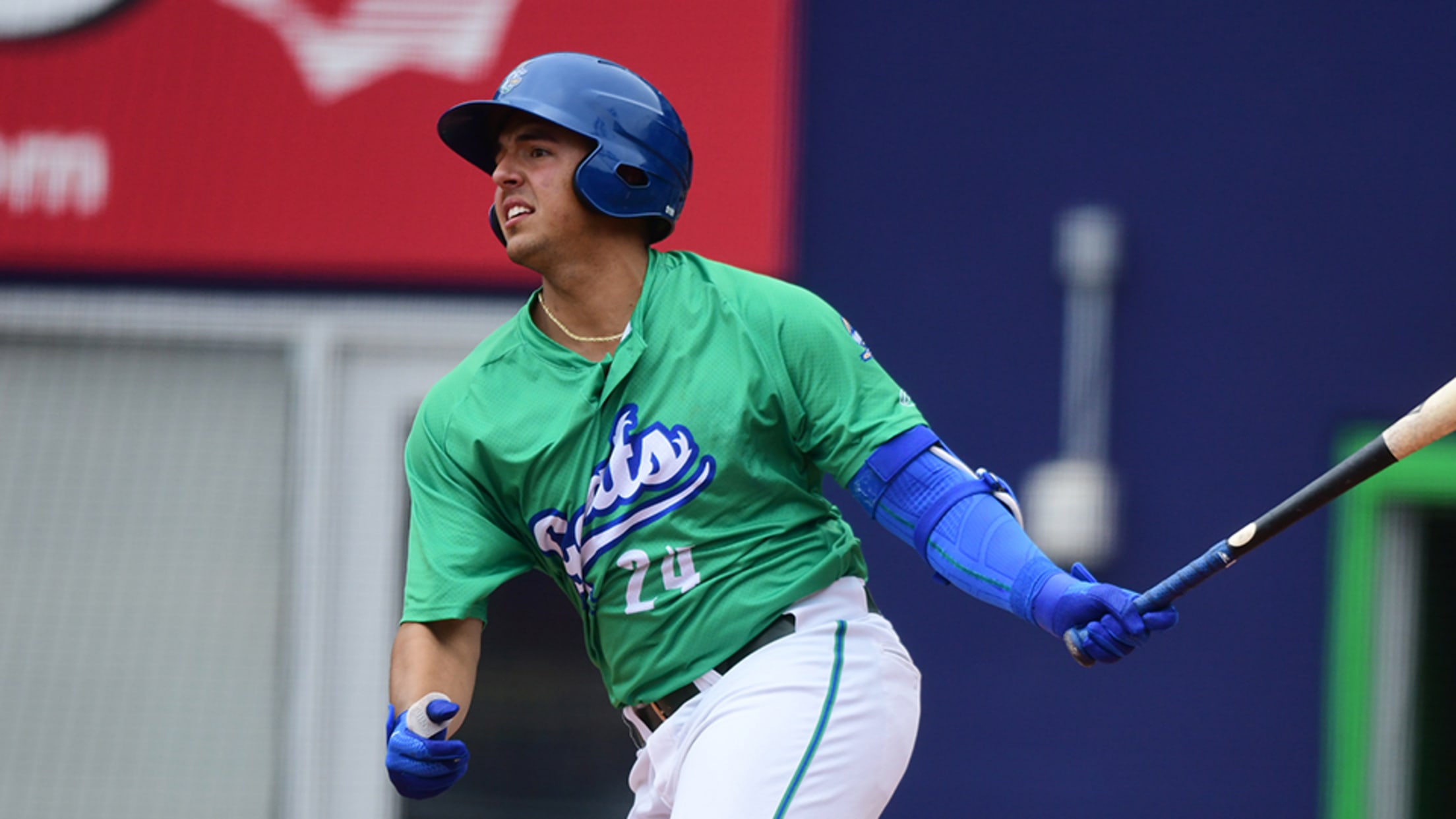 Colton Welker has accumulated 13 games with three hits or more over the last two seasons. (Kevin Pataky/MLB.com)
Early in the season, Colton Welker was either just missing his pitch or taking them for strikes. So coming into Saturday night, his plan was to hunt fastballs early in the count and tap into his power.Sticking with that approach, the barrel was catching up to just about everything.The second-ranked
Early in the season, Colton Welker was either just missing his pitch or taking them for strikes. So coming into Saturday night, his plan was to hunt fastballs early in the count and tap into his power.
Sticking with that approach, the barrel was catching up to just about everything.
The second-ranked Rockies prospect blasted a career-best two home runs, going 3-for-5 with four RBIs to lead Double-A Hartford to a 12-4 thumping of New Hampshire at Northeast Delta Dental Stadium.
"I felt great, I've been feeling great coming into these games," Welker said. "It's definitely just getting into a rhythm. As these at-bats go on this season, definitely getting more comfortable in how these guys are throwing me. Overall tonight, I had a game plan and I executed it."
Welker went 0-for-15 to start the season, collecting the first hit in his final at-bat in the fifth game. But there were positives gleaned from the slow start as line drives found gloves rather than the green of the outfield.
It took some time for Welker to kick things into gear, but he now has three three-hit games and four multi-hit efforts overall. After climbing above the Mendoza line last Sunday, MLB.com's No. 90 overall prospect is now batting .286 with five extra-base hits.
"I know I'm a great hitter and I had some line outs in that 0-for-15, so there was some confidence in there in the 0-fer," Welker said. "And not thinking too far, it's just 15 at-bats. I'm going to have 500 at-bats this year. So it's staying confident and not thinking about stats too much. Just keep hitting the ball hard and it'll fall."
Welker grounded out in the first inning but got another shot against No. 18 Blue Jays prospect Patrick Murphy in the third. Rockies No. 25 prospect Bret Boswell blasted a leadoff homer and Welker followed suit on a 1-1 off-speed pitch with a blast over the left-center field wall.
"Honestly, was just looking for a fastball. [Murphy] has great stuff," Welker said. "He was sinking the ball in the mid-90s with a nasty curveball. He ended up throwing me a changeup, which I wasn't really expecting. But luckily enough for me, he left it up and I put a pretty good swing on it."
Gameday box score
Another groundout in the fourth kept the 21-year-old off the bases, but he was back up in the sixth wreaking havoc on New Hampshire pitching again. Welker geared up for a fastball and smoked a belt-high offering from Jackson McClelland that cleared the left field wall, giving the designated hitter his first career multi-homer game.
The Florida native wasn't finished, coming up in the eighth with two runners in scoring position against lefty Jake Fishman. The infield played in looking to cut the runner at home, but Welker again jumped on the first pitch and flipped it deep into right field for a two-run double. It marked the fifth time in his career that he'd driven in at least four runs and the first time he collected five RBIs since April 8 last year.
"In that situation you obviously don't want to hit a ground ball with the infield in," Welker said. "[Fishman] was kind of a crafty lefty, working away. So I wanted to stay back in my approach and drive the ball the other way. And that was executed pretty spot-on to how I wanted it."
In his short time with Hartford, Welker has found a good partner to work with in hitting coach Lee Stevens, who totaled 144 big league homers in a 10-year career. The two have found a connection and have an easy working relationship.
"He's my guy, I love Lee," Welker said. "I love what he stands for, obviously did it at the highest level. Me and him click very well, I have the same type of mind and stuff like that. He's really good with scouting reports. Just simple, mental stuff, little cues that get you on time. He's not a huge mechanics guys, which I love, so we're clicking great."
Taken in the fourth round of the 2016 Draft, Welker amassed three straight seasons with batting averages above .300 to start his pro career. He broke out last year in the hitter-friendly California League, producing a circuit-best .333 average with 13 homers and 32 doubles. Having hit safely in five of his last seven games, Welker has upped his Eastern League OPS to .826.
Moving to Double-A will provide new challenges, and Welker said he's geared up to keep making an impact.
"This is more of a fair league, I'd say. It's definitely a different animal," Welker said. "For me, I just have to stick with what I do best and not change to these guys and make them beat me with their best pitch. Just don't think too much and react and know that my hands and eyes work well.
"I think my defense on the corners is right on cue. I just want to start stepping into my raw power, which I have, and start hitting balls for extra-base hits. Just be a guy that hits for average and power and be an overall threat offensively and make every play defensively."
Willie Abreu finished a home run shy of the cycle, while Brian Serven hit his second dinger of the year on a two-hit night to round out Hartford's 15-hit attack.
Andrew Battifarano is a contributor to MiLB.com. Follow him on Twitter, @AndrewAtBatt.