Pioneer notes: Gonzalez grows into potential
Rockies teenager starting to show more tools with Grand Junction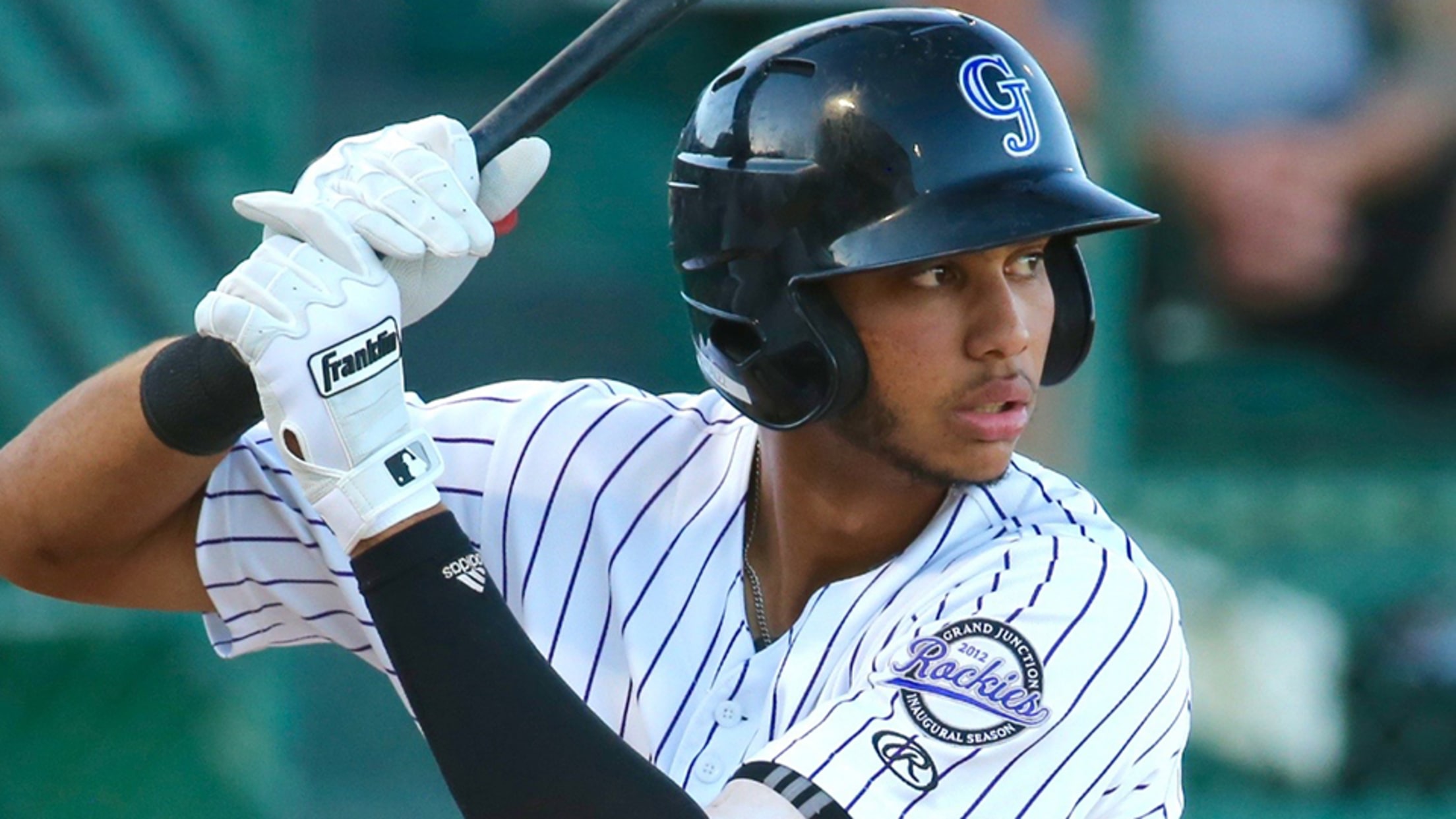 Signed in 2014, Pedro Gonzalez is hitting .309 with 23 extra-base hits in 44 games for Grand Junction this season. (Todd Bennett)
The idea when the Rockies signed Pedro Gonzalez out of the Dominican Republic in 2014 was that the 150-pound shortstop could grow into his position.Then he grew out of it.
The idea when the Rockies signed Pedro Gonzalez out of the Dominican Republic in 2014 was that the 150-pound shortstop could grow into his position.
Then he grew out of it.
Now 6-foot-6 and listed at 190 pounds, the 19-year-old roams center field for Grand Junction of the Pioneer League. A torrid August -- slowed some by a sore finger that kept him out of the lineup Wednesday -- saw him go 16-for-31 at the plate. Slotting primarily into the second spot in the order, the Rockies' No. 14 prospect is batting .309 with 23 extra-base hits in 44 games this season.
After a rocky start to his pro career, he really looks like he can play.
"I think when we got him he was in that 6-1, 6-3 range," said Grand Junction manager Frank Gonzalez. "You look at the guy now and he's 6-6 or at least 6-5. He's making the transition to center field, and it's taking some time. It doesn't happen overnight."
In fact, Pedro Gonzalez didn't play any outfield until last season, his first in the Pioneer League. It was a frustrating campaign in which he hit .230.
"I played shortstop all my life," he said. "I was pretty athletic. I still am.
"But then I got too big. At first I thought [center field] was easy. Then I found out I had to take more fly balls -- taking better routes, that's the hardest part."
"He's getting after it," his manager said. "He's confident, and he's throwing guys out. And offensively his at-bats have gotten so much better -- you're starting to see the ball go to all fields with some power."
Four times in August he banged out three hits in a game. If it seems like Gonzalez, who signed for $1.3 million, has found his stroke, he counts the mental practice he got last season as just as important.
"I had a lot of learning days and took advantage of it," the right-handed hitter said. "Just staying focused and staying positive. There are going to be weeks when I hit the ball hard and right at people. You just have to stay focused."
"When you go from 6-1 or 6-2 to 6-6, there's holes," his manager added. "He still has some size he can put on. There's a lot of development that can still happen physically, but now you're starting to see a guy showing some baseball tools."
Gonzalez is slugging .503 with three home runs, so he has some pop. His arm is strong and his speed good enough to pick up a league-high six triples and garner nine steals in 15 attempts.
"Now you're looking at that fourth tool, and maybe a fifth," Frank Gonzalez said. "You're looking at a unique opportunity for a guy to produce at the next level. We'll see how he turns out."

In brief
Streaking O's:
Missoula's hitters continue to put up big streaks.
Gabriel Maciel
saw his 18-game hitting streak snapped just after the Pioneer-Northwest League All-Star Game. Then teammate
Joey Rose
ran his streak to 21 games before it ended Aug. 13. Now the longest streak in the Pioneer League belongs to Missoula catcher
Andy Yerzy
, who doubled Wednesday to make it 17 straight. Yerzy, a second-round pick in 2016, has raised his average 60 points to .293.
Major comoeback:
Brandon Leyton's three-run homer in the ninth capped a wild comeback by Missoula against the Rockies in Grand Junction on Aug. 8. The Osprey trailed, 9-0, after two innings and won, 11-10. It was the first professional home run for Leyton, an 18-year-old out of Leon, Nicaragua.
Fritz Neighbor is a contributor to MiLB.com.