Rockies' Rodgers hits third spring homer
No. 14 overall prospect comes off bench, drills solo shot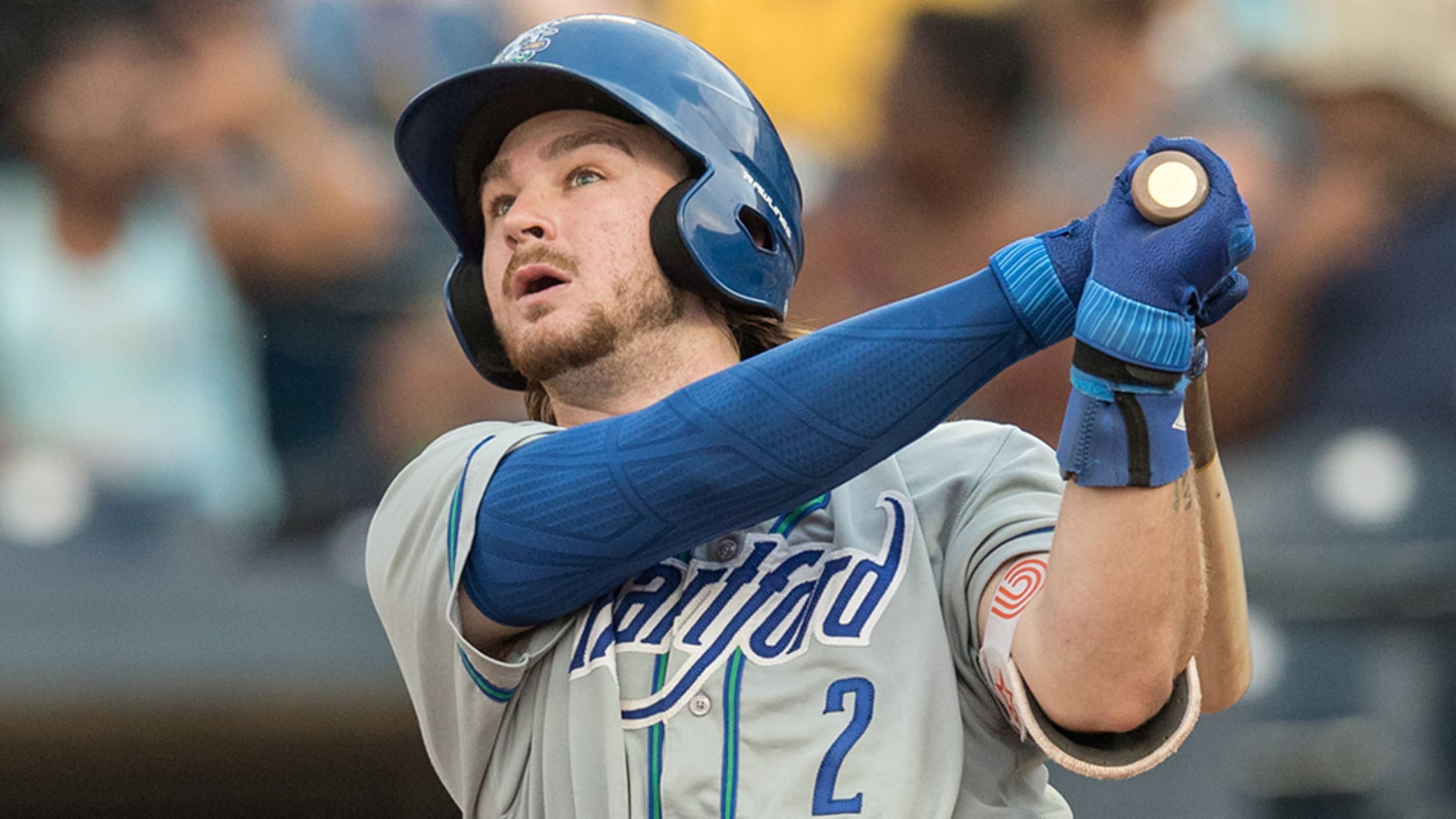 Brendan Rodgers batted .336 with 18 homers, 64 RBIs and 64 runs scored in 89 games across two levels last season. (David Monseur/MiLB.com)
Brendan Rodgers, MLB.com's No. 14 overall prospect, smacked his third spring homer in the Colorado Rockies' 11-6 Cactus League loss to the Los Angeles Dodgers on Wednesday night.The Rockies' top prospect flied to center field as a pinch-hitter in the sixth inning, then drilled a solo shot off the batters' eye
Brendan Rodgers, MLB.com's No. 14 overall prospect, smacked his third spring homer in the Colorado Rockies' 11-6 Cactus League loss to the Los Angeles Dodgers on Wednesday night.
The Rockies' top prospect flied to center field as a pinch-hitter in the sixth inning, then drilled a solo shot off the batters' eye in center leading off the ninth against right-hander Parker Curry.
The 21-year-old infielder boosted his slash line to .300/.349/.550 in 18 Spring Training games and ranks second on the team behind David Dahl with three homers and seven RBIs.

Rockies No. 2 prospect Ryan McMahon walked and scored a run in three plate appearances, while 12th-ranked Sam Hilliard singled in his lone at-bat to raise his average to .409.
Dodgers No. 25 prospect Kyle Farmer continued his solid spring, belting a two-run homer in the eighth in his lone plate appearance. The 27-year-old, who made his big league debut last July, is batting .500 (10-for-20) with three homers and nine RBIs in 12 Cactus League games.
In other spring action:
Luis Guillorme had another big game since shaving his face, reaching base four times as the Mets fell, 5-1, to the Marlins on Wednesday in Spring Training action.
The Mets No. 10 prospect singled to left field twice and collected a pair of walks. Guillorme also scored New York's only run of the game in the ninth. The infielder is 3-for-4 with four free passes since donning a fresh look Sunday.
As he gets looks this spring at shortstop, second base and third, Guillorme has excelled at the plate. The 23-year-old is batting .323 with two extra-base hits, six RBIs, six runs and seven walks in 15 games.
Jacob Rhame, the Mets No. 30 prospect, notched a strikeout in a perfect eighth to lower his ERA to 2.57.
In the second, seventh-ranked Marlins prospect Magneuris Sierra injured his left hamstring while running out a groundout to pitcher Steven Matz. The leadoff hitter walked and came around to score in the first.
"Obviously, it was back in that hamstring area," Marlins manager Don Mattingly told MLB.com. "It's that time in camp, it's getting later, and the guys are on their legs a lot."
Braves 5, Phillies 3 (Box)
No. 35 overall prospect Scott Kingery went 2-for-2 with a double and run scored for Philadelphia to bring his average up to .393. The Phillies No. 7 prospect Jorge Alfaro finished 2-for-3 with a home run. No. 37 overall prospect J.P. Crawford added a hit and a run scored in the loss.
D-backs 7, Reds 3 (Box)
Fourth-ranked Reds prospect Jesse Winker singled twice and stole his first base of spring. The 24-year-old outfielder is batting .357 with a homer and four RBIs in the Cactus League.
Orioles 7, Yankees 4 (Box)
Anthony Santander , Baltimore's No. 8 prospect, picked up a double and came around to score off Yankees starter Chance Adams.
Red Sox 2, Twins 1 (Box)
Boston reliever Bobby Poyner continued his steady spring. The team's 23rd-ranked prospect pitched a scoreless sixth, yielding one hit while striking out one. Poyner sports a 1.29 ERA over seven innings in seven Grapefruit League appearances.
Cardinals 3, Astros 1 (Box)
Cardinals No. 29 prospect Ryan Sherriff worked around a hit with a strikeout in a scoreless eighth to lower his ERA to 1.50.
Rays 9, Pirates 3 (Box)
Rays No. 21 prospect Yonny Chirinos picked up the win after giving up one run on three hits and a walk with six strikeouts over three innings.
Royals 7, Cubs 6 (Box)
No. 22 prospect Alec Mills got the start for Chicago in his fifth spring appearance. He gave up one hit and fanned one in two shutout innings. Thirteenth-ranked Dillon Maples was tagged for two runs on three hits and a walk over two-thirds of an inning. Cubs No. 11 prospect Miguel Amaya singled in his lone at-bat. In his third appearance, Royals No. 20 prospect Richard Lovelady gave up a solo homer and struck out one in one inning. Kansas City's 13th-ranked prospect Josh Staumont tallied a walk and a punchout in the ninth to record the save.
Brewers 11, White Sox 3 (Box)
White Sox No. 10 prospect Carson Fulmer was tagged for seven runs on five hits -- including a grand slam and a solo shot by Ryan Braun and a Travis Shaw homer -- over 1 2/3 innings. Fulmer has given up at least one earned run and one homer in each of his four Cactus League starts. Brewers No. 6 prospect Brett Phillips reached on an error and scored.