Lawrence shutting down hitters for Salt River
Rockies No. 17 prospect showing off plus sinker, sidearm delivery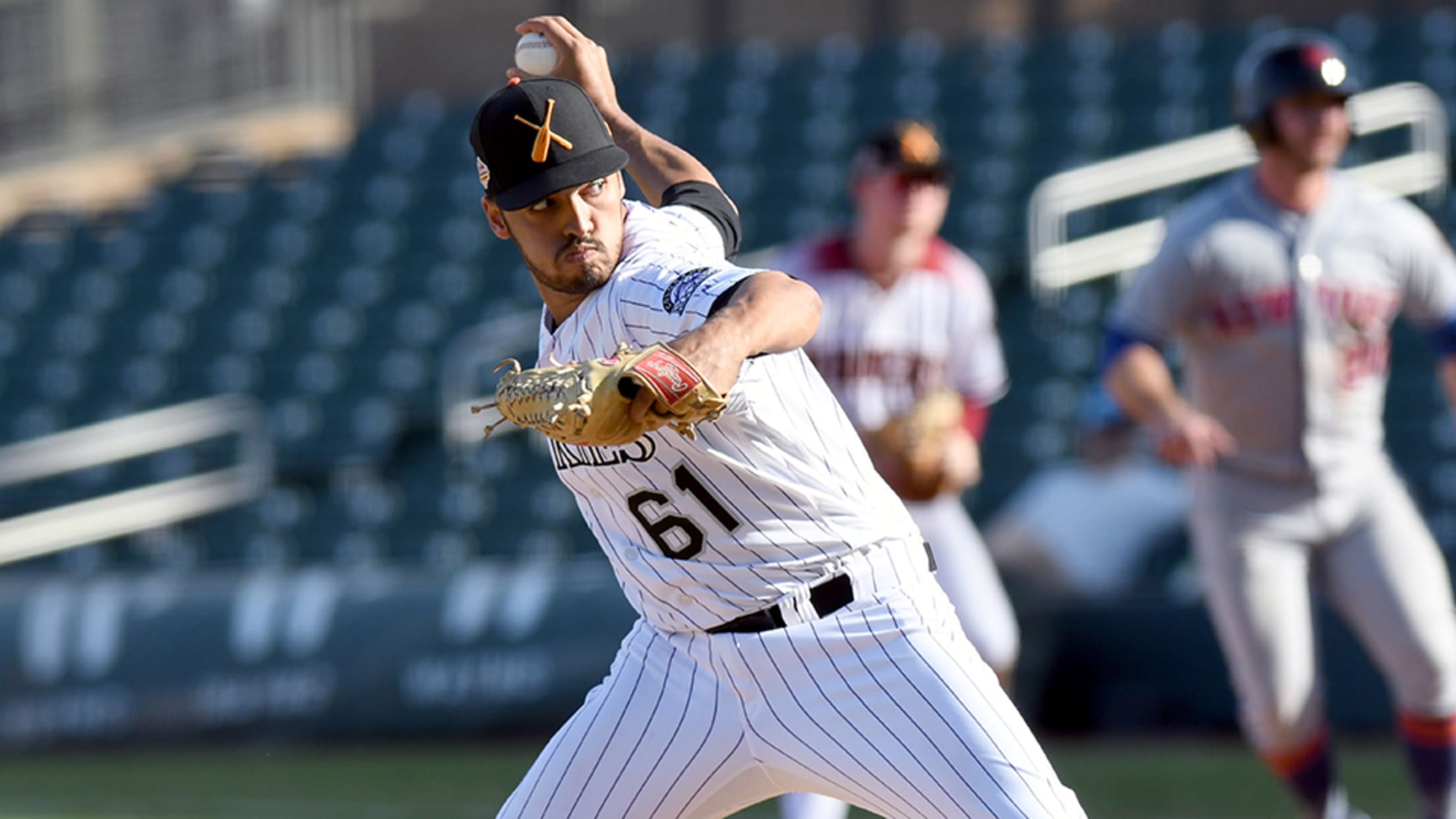 Justin Lawrence sports a 2.79 ERA with 10 strikeouts over 9 2/3 innings in the Arizona Fall League. (Freek Bouw/European Baseball Magazine)
Being thrust into a high-leverage situation is not only commonplace for a reliever, but a main component of the job description.When Justin Lawrence was called upon to close out a one-run lead in the Fall Stars Game, it was appropriate that his first opponent was Vladimir Guerrero Jr., baseball's top-ranked
Being thrust into a high-leverage situation is not only commonplace for a reliever, but a main component of the job description.
When Justin Lawrence was called upon to close out a one-run lead in the Fall Stars Game, it was appropriate that his first opponent was Vladimir Guerrero Jr., baseball's top-ranked prospect.
Lawrence got exactly what he wanted out of the bout with Guerrero -- an easy-to-handle chopper to shortstop. But the ball hit to top Mets prospectAndrés Giménez did not exactly go according to plan. Gimenez put the throw in the dirt and his future teammate Peter Alonso (New York's No. 2 prospect) was unable to dig it out. Padres No. 13 prospectBuddy Reed tied the game with a two-out triple. Royals catcher Meibrys Viloria walked it off with a blooper to right and Lawrence was saddled with a blown save and a loss.
The Arizona Fall League provides a low-risk, high-reward atmosphere for a prospect to refine their tools while showcasing their natural talents on a grand stage. The Fall Stars final box score may not have been favorable for Lawrence, but any close observer of the nationally televised contest noticed a sidearmer -- or what may look closer to a submarine delivery -- consistently throw a pitch with a significant sinking motion that can hang in the upper-90s.
"Initially, I was nervous knowing that I was going to come out here and pitch against the best of the best in baseball," the 17th-ranked Rockies prospect said. "And then realizing that I'm doing the same thing, I'm not changing anything. I'm doing the same thing I've done all year. ... It's been eye-opening."
Lawrence sports a 2.79 ERA with 10 punchouts in 9 2/3 innings for Salt River this fall. The invitation to the prospect showcase was not his first All-Star nod this season. The right-hander was tabbed for the California League's midsummer classic and finished the year with a 2.65 ERA, a 1.16 WHIP and 62 strikeouts over 54 1/3 innings out of the bullpen for Class A Advanced Lancaster. Lawrence converted 11 of 16 save opportunities, held opposing batters to a .188 average and was even tough on righties, who batted .176 against him.
The breakout season came after an injury-shortened 2017 campaign with Class A Asheville in which a torn latissimus dorsi and teres minor on his right side shut him down in May. He made only 16 appearances and was perfect in six save chances before suffering the injury on one pitch. Lawrence has been taking his AFL invitation as an opportunity to make up the innings he missed, but he also had two clear goals in mind for the fall.
"When I came out here I wanted to work on just attacking hitters -- with my arm slot and the velocity that comes with it, there's no reason to try and be too fine," he said. "Just really wanting to go straight after these guys like, 'Here it is, hit it if you can.' Then working on my changeup as well."
With his unorthodox style, Lawrence's sinker has enough zip and enough break to appear to be a physical anomaly. The 23-year-old remembers his decision to drop down to sidearm came in 2014 after he struggled to get on the field as a two-way player at Jacksonville University. The freshman's new delivery impressed his coach, Tim Montez, and Lawrence was used more out of the bullpen, but still wasn't getting the at-bats he desired.
He transferred to Daytona Junior College before the next season, playing first base and pitching regularly. He eventually decided to hang up the bat and focus on pitching once he noticed the two skills were rapidly moving in different directions.
"The velocity kind of started to sneak up every week," Lawrence recalled. "I got to Daytona, and it was a rigorous workout routine that we had there. I think that definitely had a part in the kick-start of getting that velo going. I think between that and my comfort level from throwing from that slot, I was able to give it more and more."
Lawrence does not throw a formal fastball, he abandoned the four-seam grip early in his professional career for the sinker, which fell in line with the organization's plan. The lanky 6-foot-3, 220-pound hurler aims for his arm to be fully extended, straight out as if there were a line across his chest when the ball leaves his hand. He stands a little taller through his delivery than a conventional sidearmer, but he's still able to generate sharp screwball-like movement on the sinker coming from that slot.
"Sometimes it's bigger than other pitches. Sometimes it may be a little more flat. Sometimes it might break down a little bit more and sink more," Lawrence said. "Early on, I had trouble locating when I first dropped down. … [The four-seamer] just kind of faded away as I progressed with my competence and throwing sidearm. The consistency was there with the sinker."
Lawrence's goal of going right after hitters can have two extremely positive effects. He can pitch to contact and taper his workload, which doesn't seem to be paramount for someone who generally pitches one inning per game, but it can provide the opportunity for more appearances throughout the season.
The other effect of that plan -- the one that increases Lawrence's appeal to the big club -- is the type of contact he can induce. His lowered arm slot, effective sinker and ability to pitch down in the zone made Lawrence a prolific ground-ball pitcher. According to FanGraphs, 63.2 percent of Lawrence's batted balls were hit on the ground while only 22.4 percent were fly balls.
"Having a higher ground-ball rate, I think it'll translate in Denver," Lawrence said. "I know with the technology nowadays and spin rate and all that stuff, guys like to pitch up, but the way my ball moves, if I'm going to miss, I'd prefer to miss down and get those guys to chase."
The Rockies, despite committing $106 million to relievers in the offseason, had the fifth-worst bullpen ERA in the Majors (4.62), but still ranked fourth among all big league pens with a 45.8 percent ground-ball rate. Although obviously a drastic difference in competition, Lawrence's ground-ball numbers were favorable to All-Star Adam Ottavino (43 percent ground ball/38.4 percent fly ball), Wade Davis (41.6/40.3), Bryan Shaw (48.5/30.4) and Jake McGee (40/39.4).
Rockies notable relievers
Robert Tyler (No. 12), Reid Humphreys (No. 14) and Ben Bowden (No. 15) are proof the Rockies a willing to reward a good ground-ball rate. Each relief prospect jumped up a level after posting impressive numbers in that category.
Lawrence's second goal for the AFL related to gaining a better feel for his changeup, very much his third offering behind his sinker and a tight-breaking slider. Fortunately, he belongs to an interesting community of sidearmers who, like knuckleballers, are willing to help a fellow "weirdo."
"There's definitely a brotherhood there. There's definitely a level of communication that you don't really get with me talking to a spin-rate guy that throws straight over the top," Lawrence said. "You can talk about approach and all that, but mechanics is really where there's that divergence and that connection with other sidearmers."
Nationals southpaw Jordan Mills was also assigned to Salt River this fall, and his delivery is nearly a mirror image of Lawrence's. Despite the similarities, Mills has something that Lawrence admittedly covets.
"[Mills'] changeup is disgusting. It's every other day I'm asking him, 'How does he throw that?'" he said. "I don't throw a changeup often, and that's his go-to pitch. We throw from similar slots, obviously left-handed/right-handed, but if he could throw a good changeup from there, I feel like I should be able to and the other way around as well. He'd ask me about my slider. I have a lot of confidence in my slider, and he'd ask me about grips and stuff."
The parent club took note of Lawrence's abilities and called upon a Rockies' alum with membership to the sidearmer's fraternity, Steve Reed, to work with him at the early stages of his professional career.
"[Reed] gave me some key pointers that allowed me to kind of store that in my head," Lawrence said. "It showed a big commitment by the Rockies to fly a guy out just for one guy in the organization."

Gerard Gilberto is a contributor to MiLB.com. Follow and interact with him on Twitter, @GerardGilberto4.