Rockies Prospect Primer: Enter potent Pint
Righty with electric fastball leads arms; Rodgers continues climbing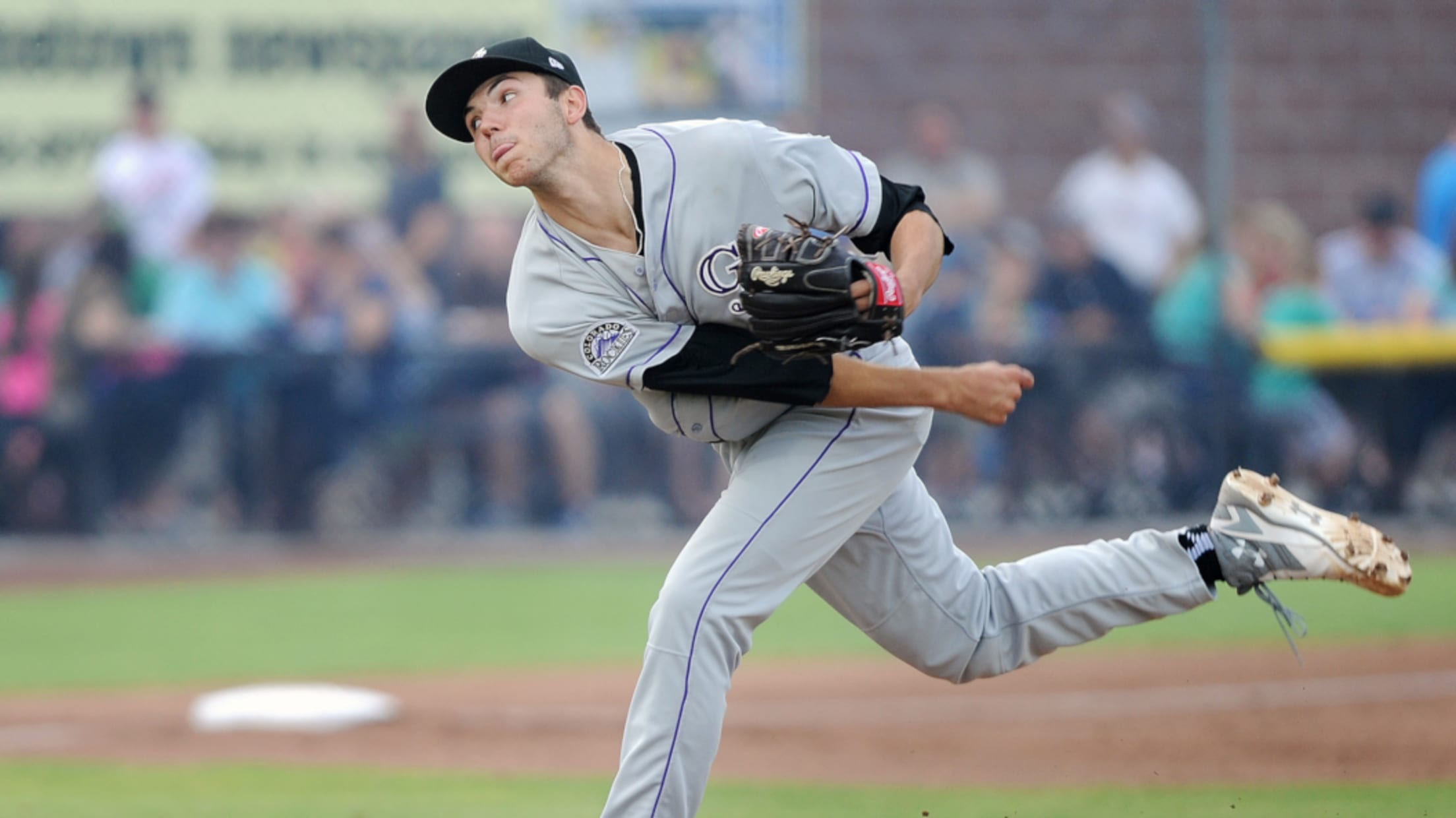 Just 19 years old, 2016 first-rounder Riley Pint possesses a fastball that can reach 102 mph. (Steve Thayer/MiLB.com)
Some players are on the verge of stardom, others are entering a crucial phase of their development and still others are getting their first tastes of full-season ball. With the 2017 season approaching, MiLB.com takes a look at the most intriguing prospects from each MLB organization.Full-season debutant: Riley Pint, RHP
Some players are on the verge of stardom, others are entering a crucial phase of their development and still others are getting their first tastes of full-season ball. With the 2017 season approaching, MiLB.com takes a look at the most intriguing prospects from each MLB organization.
Full-season debutant: Riley Pint, RHP
What was once Brendan Rodgers' designation is now Pint's, and he is the prospect around whom most questions about the Rockies system begin.
Pint is Colorado's newest phenom. The Rockies nabbed the towering prep right-hander with the fourth overall pick in last year's Draft and sent him to Rookie-level Grand Junction, where he posted a 5.35 ERA and walked 23 but also struck out 36 over 37 innings. Rockies senior director of player development Zach Wilson isn't worried about numbers -- he's thrilled with the prospect Pint promises to become in his first full season.
"I think the industry knew that if you took him, there were going to be some things to do with his delivery, not major issues, but because he's a big, strong man and he's still growing into his body and still figuring out how to use those big limbs and keep his delivery together," Wilson said. "He had some moving parts coming in, so we knew we were going to have to tighten that down a little bit."
Pint possesses an explosive fastball that can touch 102 mph and complements it with an above-average curve and changeup as well as a developing slider. With smoothed mechanics, the Rockies believe the 19-year-old is ready to take off.
• More quotes from Rockies senior director of player development Zach Wilson »
"Towards the end [of last season], we started to do some work on refining that delivery a little bit," Wilson said. "It started to take, and by the time he got to instructional league, you could see some real differences. Now, in his first couple live BPs, the delivery is compact. It's repeatable."
Colorado hasn't been afraid to challenge young arms at Class A Asheville, like they did with fellow righties Ryan Castellani (2015) and Peter Lambert (2016) at 19, and Pint could follow a similar track.
Shining star: Brendan Rodgers, SS
Last year's full-season debutant in this system is now its consensus top prospect. Rodgers went wire-to-wire with Asheville in 2016, batting .281/.342/.480 with 19 homers and 73 RBIs while playing 110 games, a notable accomplishment after nagging foot and leg injuries limited him to 37 games with Grand Junction a year earlier.
"The consistency of his at-bats, I think they're just going to continue to improve with plate appearances, pitch recognition and patience versus aggressiveness that you battle and have to start balancing with every young player," Wilson said. "That just takes at-bats. I think that's going to continue to develop."

What makes Rodgers' offensive success even more impressive is that he did it while getting adjusted to a part-time position change to add defensive versatility, playing 24 games at second base.
"He still has things to do at shortstop, too, but he's going to continue to develop at second," Wilson said. "He's a very fundamentally sound player, but now starting to understand the intricacies of both of those positions, particularly second base, that he hasn't done, around the bag, footwork, quick first steps, taking the right angles when you're in the six-hole or -- if you're playing second base -- in the three/four-hole. That type of stuff is where I think he's going to make some strides this year."
Rodgers will get to show off his bat at hitter-friendly Lancaster, the Rockies' new Class A Advanced affiliate.
Breakout prospect: Yency Almonte, RHP
Colorado acquired Almonte in a swap for big league reliever Tommy Kahnle following the 2016 season and what seemed like a deal to clear a Major League roster spot has unearthed an intriguing arm. Almonte was drafted by the Angels in 2012 and shipped to the White Sox three years later. The 22-year-old looks determined to make his third organization his long-term home.
Almonte impressed in the Class A Advanced California League with a 3.71 ERA, 1.18 WHIP and 134 strikeouts over 138 1/3 innings. Those numbers earned a promotion to Double-A Hartford, where he was even better in five starts. Almonte's Eastern League ERA was an even 3.00, and opponents batted .204 against him. His 156 total strikeouts paced the organization. The right-hander's showing may be the culmination of his physical development -- he's gained 25 pounds since he was drafted -- and it's turned up in his repertoire. Almonte now touches 98 with sink on his fastball.
Back and healthy: Tyler Nevin, 3B
One of the Rockies' team-record three first-round picks in 2015, Nevin missed all but one game with Class A Short Season Boise last year due to a severe hamstring strain. Although he avoided surgery, the rehab process was lengthy. To tackle it, Nevin spent the winter at the Rockies facility in Arizona, and Wilson said the approach shows.
"He was here all offseason working with our trainers, working with our physical performance staff, working in the weight room," Wilson said. "That has really put him in a good spot coming into camp. The toughest thing a lot of times about those hamstring injuries is getting past the mental blocks of allowing your body to work athletically, but he's past that."
Still filling out his 6-foot-4 frame and employing a mature approach at the plate, Nevin has the chance to develop into a power-hitting corner infielder. The year off may have motivated him, too.
"Adversity hits different guys in different ways," Wilson said. "Some guys, it's a tough developmental year. For him, the adversity came through an injury, but that can grow guys in so many ways. It can grow them mentally. It can grow them from a patience perspective, 'OK, I've got to slow myself down, my thought process.' That actually can help slow the game down. Now that he's been through that, I think he's learned some lessons that are setting him up for success this year."
Major League-ready: Kyle Freeland, LHP
Much of the focus entering Spring Training was whether Jeff Hoffman or German Marquez would seize the Rockies' fifth starter job. Freeman pitched himself into that conversation in the Cactus League. There are homegrown pitching prospects for Colorado and then there's Freeland, a Denver native looking to return to the city where he starred for Thomas Jefferson High School before a college career at Evansville. The left-hander was tabbed a 2016 Organization All-Star and did his best work down the stretch for Triple-A Albuquerque, going 3-1 with a 3.73 ERA, 1.05 WHIP and .224 opponents' average in five August starts.
The lean southpaw works regularly in the low 90's but can reach back for 97 mph with his fastball and his slider might be even better. MLB Pipeline describes it as "a wipeout pitch at its best, arriving in the low 80s on the same plane as his heater before darting at the plate." Freeland may start the season with Albuquerque for some finishing touches but should make his homecoming this year.


Others to keep an eye on: First baseman Brian Mundell set the Minor League record with 57 doubles at Asheville last year. "I don't care where you're playing, when you hit that many doubles, it's legit," Wilson said. Mundell is ticketed for Lancaster where "[d]efense over offense now is the focus for him" according to Wilson. … Antonio Senzatela didn't pitch much last year due to a shoulder problem, and the Rockies later revealed that the right-hander suffered through personal tragedy when he lost his mother to cancer in Venezuela. Senzatela is healthy this spring and likely headed to Albuquerque. … Ryan McMahon was drafted as a third baseman and introduced to first base last year. The Rockies are giving him another interesting wrinkle this spring: McMahon has been seeing time at second base in Minor League games in Arizona. … Little-known reliever Jerry Vasto broke out last year with a 2.26 ERA in 54 appearances for Class A Advanced Modesto and Hartford, fanning 70 over 55 2/3 innings, and could contribute at the big league level in 2017.
Tyler Maun is a contributor to MiLB.com. Follow him on Twitter @TylerMaun.