Rockies Prospect Primer: Versatility leads way
Top prospect Rodgers, slugger Nevin excelling all over diamond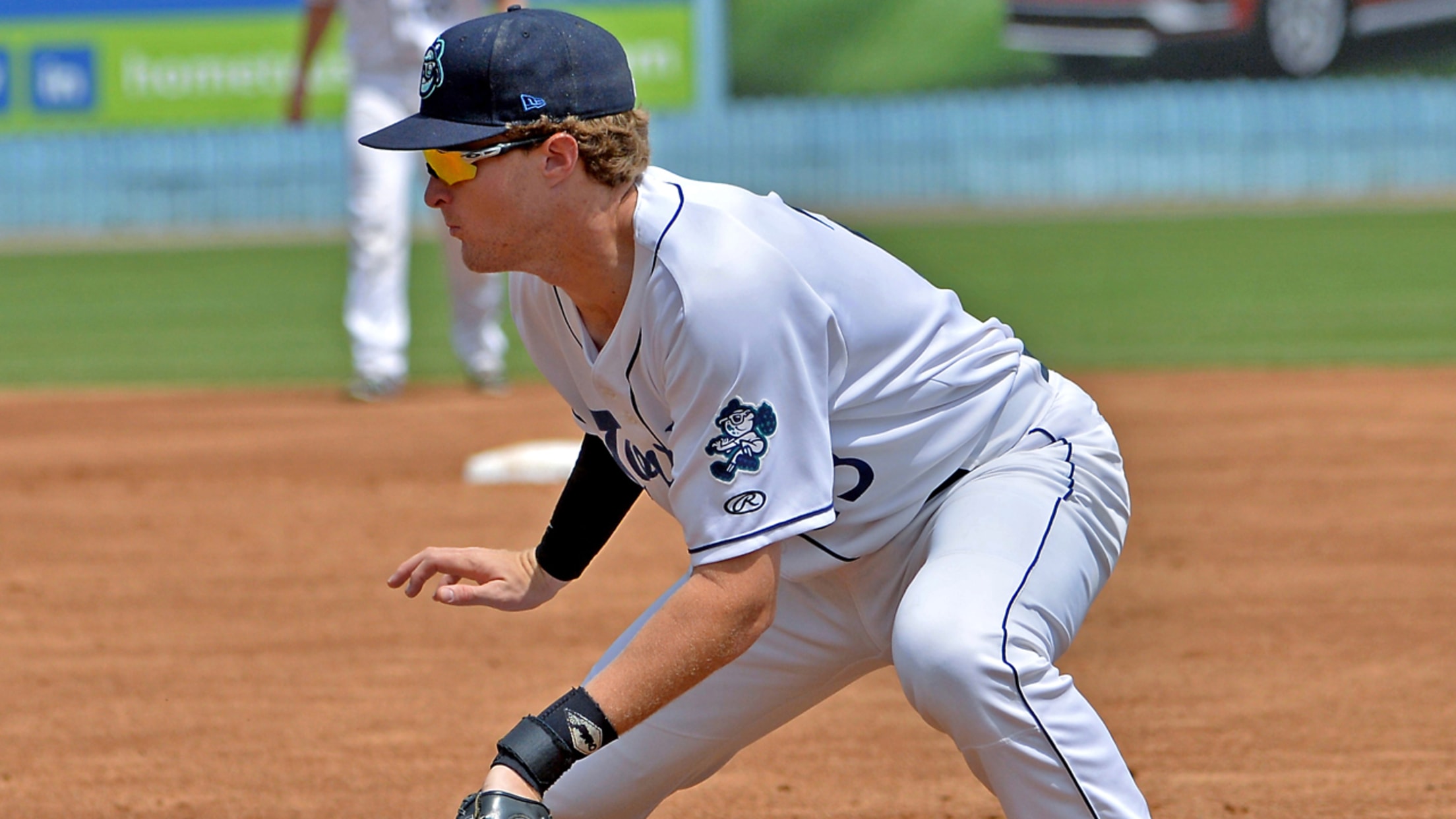 In addition to his breakout second half at the plate, Tyler Nevin is tackling both corner infield spots. (Rick Wilson/MiLB.com)
Some players are on the verge of stardom, others are entering a crucial phase of their development and still others are getting their first tastes of full-season ball. With the 2018 season approaching, MiLB.com takes a look at the most intriguing prospects from each MLB organization.Shining star: Brendan Rodgers, SS/INFThis
Some players are on the verge of stardom, others are entering a crucial phase of their development and still others are getting their first tastes of full-season ball. With the 2018 season approaching, MiLB.com takes a look at the most intriguing prospects from each MLB organization.
Shining star: Brendan Rodgers, SS/INF
This time three years ago, Rodgers was a high-school senior getting ready for prom. Now he's entering what could be his final season as a prospect. That's how high the Rockies are on their young shortstop, who was taken after only college players Dansby Swanson and Alex Bregman in the 2015 Draft. In 236 Minor League games since, Rodgers has batted .300/.352/.504 with 40 homers and 156 RBIs. His offensive prowess and defensive stability at short have led Colorado to challenge him elsewhere, starting with second base last year.
"Whenever you're adding positions, and it's easy for people to assume that if you play short, second base is, 'Oh, they can just do it,'" Rockies senior director of player development Zach Wilson said. "But second base is a completely different position. Everything is across your body. All the angles are different. You've got to throw completely differently at times. The work around the bag is different.
"It's really starting to come together. Obviously, he's not there yet. He needs continued reps. He needs continued early work, but I think the biggest thing that stands out is the work that he puts in daily. He's really embraced the fact that this is going to be a part of the player that he needs to become. That's the part that sticks out to me. His maturity and how he's gone about the process and just stuck with the process has been really good."
Rodgers will get a look at third base this year too. He's likely ticketed for Double-A Hartford, where he ended 2017, to start the season. It's all about providing multiple avenues to Colorado.
"Whether it's Brendan or somebody else, we like there to be an opportunity to put them wherever there is a need, whether that need comes from an injury or we need somebody to take over that position or because somebody's not playing well," Wilson said earlier this week from Rockies camp. "Whatever it is, when the bat's ready, you like to have options defensively."
Breakout prospect: Tyler Nevin, 3B/1B
The son of former big leaguer Phil Nevin, Tyler had played just 82 professional games due to injuries before busting out in the second half last season. After coming back from a right-wrist ailment, the corner infielder hit .336/.381/.523 with six homers and 42 RBIs in 54 contests.
"It didn't surprise me, because not only does he have tools, he's got some skills already," Wilson said. "He's got a consistent swing that he can repeat. He's got the ability to recognize pitches. He's got a feel for the strike zone when he's in the batter's box. He's advanced in some of those ways, and he's got a great path to the baseball. You add all that up, and it doesn't surprise me that he's able to do more than compete at Asheville."
Drafted as a third baseman, Nevin has looked comfortable across the diamond.
"Much like (No. 2 Rockies prospect) Ryan McMahon, I think we all saw even before we put him over there that he's got the potential to be really good," Wilson said. "He's got soft hands. His feet moved around good enough at third base to go, 'You know what, you put him over at first and he's probably going to look fairly natural.' Now, he's still got to learn a lot of idiosyncrasies. He's still working on his picks. He's got to work on how to turn his body on certain balls when you're turning two, how to get back to the bag, where to set up during pickoffs. All sorts of things like that he's learning, but his natural ability to do it is already there, so we're a step ahead of the game."
Nevin will get a chance to showcase his above-average power tool at the Minors' most hitter-friendly park in Class A Advanced Lancaster to begin 2018.
At the crossroads: Riley Pint, RHP
Our definition for this category includes the descriptor "crucial year in development," which certainly applies to Pint. Colorado hasn't been concerned with its 2016 first-round pick's struggles as a pro, but a solid 2018 would undoubtedly do wonders for the young righty's headspace. Through two pro seasons, Pint has gone 3-16 with a 5.40 ERA in 33 starts, striking out 115 while walking 82 in 130 innings. Still, he sports a repertoire that is jaw-dropping on its best days with a 70-grade fastball that touches 102 mph and sits 93-98 to go with plus breaking pitches.
"If you just look at the stuff alone, he is the definition of a prospect, of a super-prospect, really," Wilson said. "That being said, there's a lot to hone. Here's a guy who's still getting used to how to move around his [6-foot-5] body. People forget that type of stuff, but it's a big part of the learning. But he's focused, we're focused. He's on a great path and he'll continue to be."
Pint's lines haven't impressed, but that's not what matters to Wilson and the Rockies' player development staff at this stage for a player who was only 19 years old last season. Getting Pint comfortable with a repeatable delivery and the tools that will one day equal Major League success is the immediate goal.
• On the blog: Rockies Prospect Primer Outtakes »
"He's making steady progress," Wilson said. "The great thing where Riley's at right now is, listen, we have time and time is the most valuable asset that we have in the development world. People get bent out of shape or all of a sudden they think, 'Well, is this a real guy now?' because of perceived issues on a stat line. That's a really dangerous game to play. I can tell you I could really care less what his stats are. What I care about is every day, he's getting just a little bit better. When you have the multiplier effect over the course of years, that hopefully equals a front-of-the-rotation pitcher. He definitely continues to be in line to do that."
From the challenge of a hitters' haven in Class A Asheville, Pint will deal with another at Lancaster this year.
Breakout prospect: Jesus Tinoco, RHP
The Troy Tulowitzki trade looked like a franchise changer in 2015 for both the Rockies and the Blue Jays, but it hasn't paid those dividends on either side. Colorado was saddled with a disastrous Jose Reyes contract, reliever Miguel Castro (who has already been traded away) and righty Jeff Hoffman who, while showing glimpses of promise, has struggled to find consistency at Triple-A and in the big leagues. That leaves Tinoco, who rebounded from a brutal 2016 to put himself back on the map last year.
"All we focused on for an entire year was his delivery," Wilson said of Tinoco, who went 3-11 with a combined 6.86 ERA in 20 starts in 2016. "He had real problems with his line, with spinning off, which were all related to being way overly aggressive and having too much effort when he didn't need it. When we showed him, 'Hey, you can still throw 95 with a balanced, clean, repeatable delivery, something clicked in him. Then that really just took off."
Tinoco put together a 4.67 ERA over 24 starts for Lancaster last year and surged to the end, going 4-0 with a 3.03 mark in six August outings. He struck out 43 while walking 15 in 38 2/3 innings that month.
"He's got four quality pitches, I think," Wilson said. "Three of them have a chance to be plus at the Major League level. Now he's got a repeatable delivery. Now he's downhill. He pitches at 94-96. It probably surprised some people from the outside when we put him on the (40-man) roster. It didn't surprise us based on the progress that we've seen. This is how development is supposed to work, right? I saw this guy on an upward trajectory all year. That's going to continue, and that's one of the many reasons he went on the roster. I'm very proud of Jesus."
Full-season debutant: Ryan Vilade, SS
The Rockies are awash in talented shortstops from Trevor Story at the big league level to Rodgers, Garrett Hampson and Vilade. Colorado selected the latter in the second round last year out of an Oklahoma high school and he batted .308/.438/.496 in 33 Rookie-level games with Grand Junction. The two-time USA Baseball amateur representative and former Under Armour High School All-America Game Home Run Derby champion is likely to get a look at other positions with Asheville this season.


More to keep an eye on:Yency Almonte, Ryan Castellani, Sam Howard and Harrison Musgrave might not have the ultimate ceilings of former prospects such as Jon Gray or Kyle Freeland but are part of the next wave of solid starting pitching on the rise for Colorado. … Wilson called right-hander Peter Lambert "fearless" and the 2015 second-round pick will get his first shot at Double-A this year after an impressive first three seasons. … Outfielder Yonathan Daza stole 32 bases his first three seasons after spending time in the Dominican Summer League. He swiped 31 last year while capturing the California League batting title with a .341 average for Lancaster. … Forrest Wall (2B/OF) had surgery on a separated left shoulder he suffered last year while diving for a ball at Lancaster, but is healthy after playing in just 22 games in 2017.
Predictions:
Most home runs: Nevin
Most stolen bases: Daza
Most strikeouts: Lambert
Current prospect to get most Major League playing time: McMahon
Non-Top 100 prospect to end 2018 in the Top 100:Colton Welker
Tyler Maun is a contributor to MiLB.com. Follow him on Twitter @TylerMaun.