Goats' Castellani tosses first career shutout
Rockies No. 3 prospect surrenders three hits in seven innings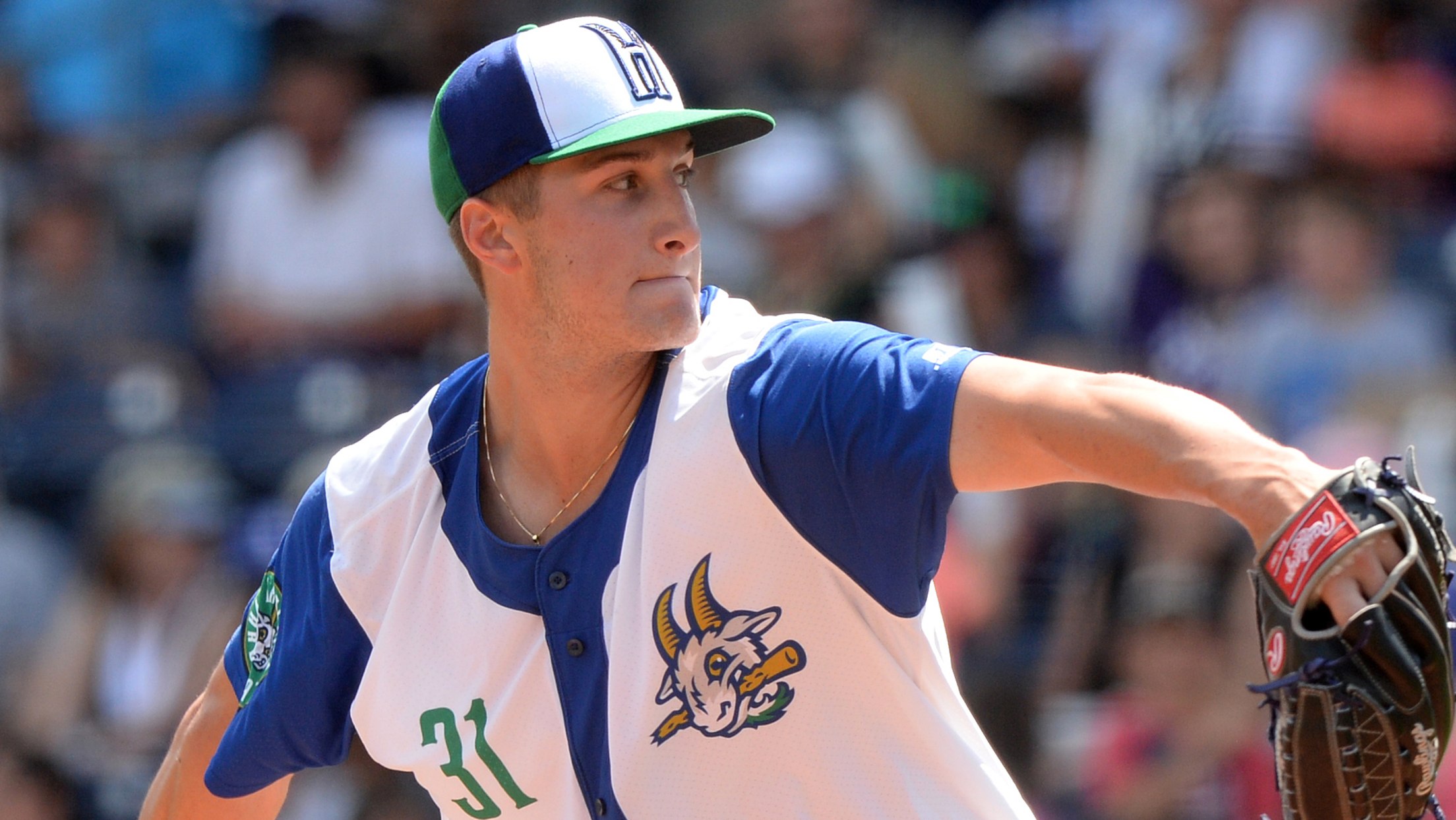 Now in his fourth Minor League season, Ryan Castellani has a career-best eight wins for Hartford. (Kevin Pataky/MiLB.com)
Knowing that he had a chance to finish what he started on Friday, Ryan Castellani decided to break something out of his bag of tricks. It worked, to say the least. "Out of nowhere, and this is exactly what I'm thinking and that's why me and catcher [Dom Nuñez are on the same
Knowing that he had a chance to finish what he started on Friday, Ryan Castellani decided to break something out of his bag of tricks. It worked, to say the least.
"Out of nowhere, and this is exactly what I'm thinking and that's why me and [catcher Dom Nuñez are on the same page. We got to a two-strike count on the last hitter and on pitch 99, he calls a curveball and we execute it," the Rockies' No. 3 prospect said. "It's a separation pitch that they're not expecting."
Castellani recorded his first professional shutout by yielding three hits and striking out six over seven innings as Double-A Hartford topped Portland, 2-0, in Game 1 of a doubleheader at Hadlock Field.
Gameday box score
"I always want to get to my pitch count, but also go effectively deep as I can," the 21-year-old right-hander said. "It's just a really big thing to take a toll off of [the bullpen] and be able to keep them in their roles -- an inning or an inning and a third instead of forcing them to stretch out."
The 2014 second-round pick is enjoying his best statistical month this season, posting a 3-1 record with a 2.92 ERA and 1.22 WHIP over four starts. But in his last outing Sunday against Trenton, Castellani (8-8) yielded four runs on seven hits and four walks in five innings.
After reviewing video and discussing the start with Nunez, Rockies co-Minor League pitching coordinator Darryl Scott and offseason pitching coach Chris Sinacori, Castellani determined that a mechanical flaw was the source of his troubles. He kept that in mind and made sure to not rush the ball to the plate against the Sea Dogs.
"The thing is I've just got to trust my delivery and not think too much about mechanics or anything like that," the Phoenix native said. "Just trust that it's there and have a good rhythm. And with that rhythm, everything is going to follow that. We've done a good job establishing the fastball early in the game, but not waiting too long to get to the off-speed.
"I really feel like my slider has gotten really better, a lot better feel of it, throwing it in the zone early in the count. Tonight, I was able to use it in a couple of 3-2 situations and get a couple of strikeouts. It's all about building off of the previous start and learning what you need to learn."
Castellani faced the minimum through the first two innings before Jake Romanski singled up the middle to start the third. The Arizona high school product got Deiner Lopez to fly out to left and Nick Lovullo to line into a double play to end the frame.
Castellani felt that inning pushed him over the hump.
"Well, the big thing was Rafael Devers wasn't there because he's in Triple-A," he said with a laugh. "They're a really great team, a really good lineup with or without him. The biggest thing is moving the fastball in and out and to be able to throw something other than a fastball on the first pitch. Once you do that, they have to respect the fact they're not going to just get a first-pitch fastball and a breaking pitch with two strikes.
"After two innings, I wasn't getting ahead of guys, I was getting a lot of 3-2 counts, but still getting outs. I was throwing a lot of pitches. ... The first two I had to get into my rhythm a little bit and from the third on it was, 'OK, I'm repeating really well today.'"
Castellani needed 41 pitches to retire the side in order in each of the next three innings. Cole Sturgeon doubled to start the seventh before the 6-foot-4, 220-pound hurler set down the final three hitters. After he snapped off the surprise curveball to fan Jeremy Barfield, Castellani was excited to celebrate on the mound with his teammates.
• Get tickets to a Yard Goats game »
"It's always good to see your catcher again when the game's over, it was just a great feeling," he said. "With the defense that we had, it was a close game, to be there and get the doubleheader off on the right foot was awesome. It's always great to throw up some zeros."
In the nightcap, top Rockies prospect Brendan Rodgers had a homer and two doubles, while Drew Weeks went 4-for-4 with three RBIs to power the Yard Goats to a 7-1 win.
Andrew Battifarano is a contributor to MthiLB.com. Follow him on Twitter, @AndrewAtBatt.