Vavra provides bulk of Tourists' offense
Rockies prospect goes 4-for-4 with two homers, two doubles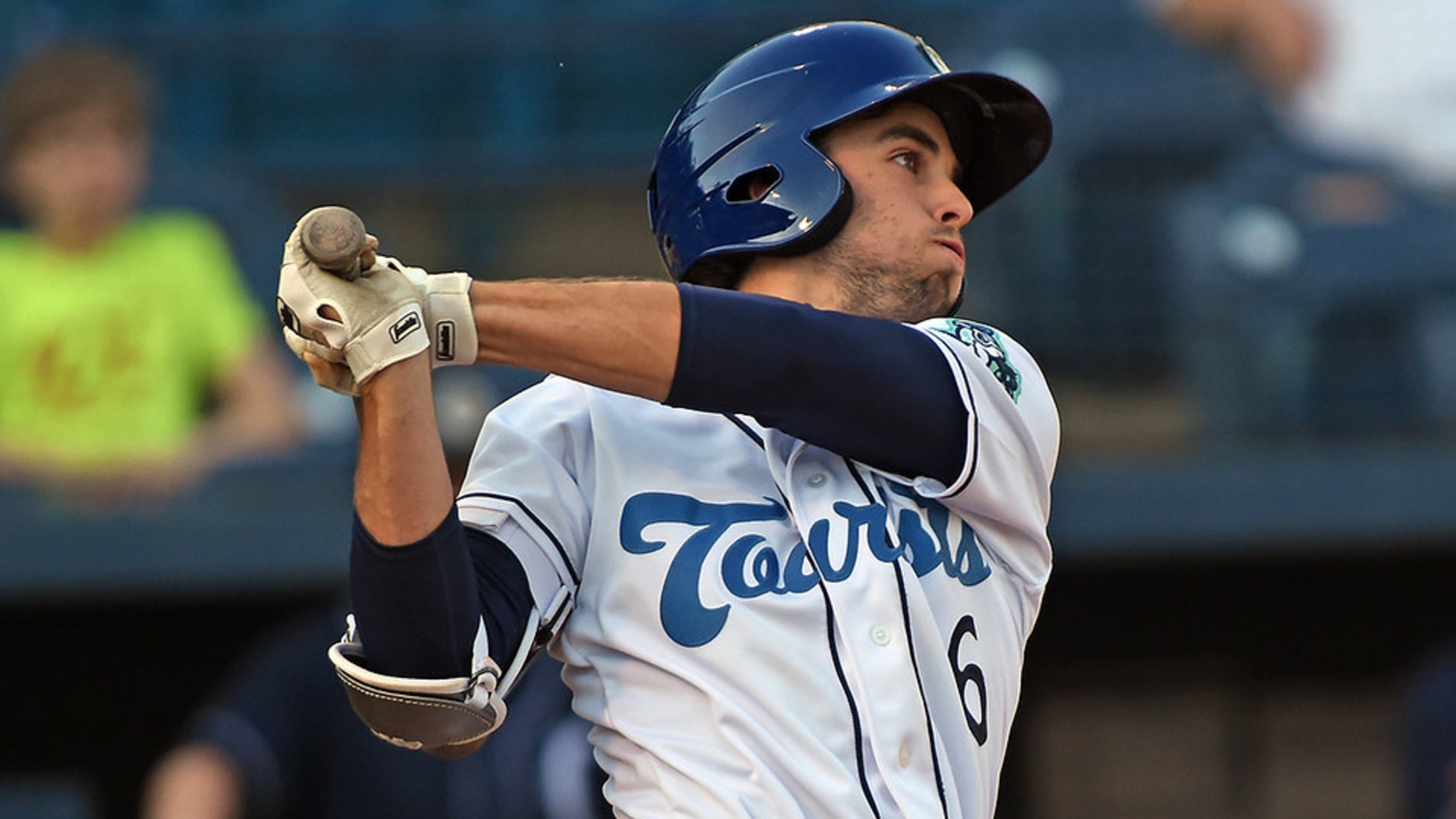 Terrin Vavra has five games in which he's collected three hits or more so far this season. (Brian McLeod/MiLB.com)
In his young Minor League career, Terrin Vavra hadn't played designated hitter before Monday's matinee. The 2018 third-rounder made 76 starts between Class A Short Season Boise last season and Class A Asheville this season, and all of them were in the field -- 55 at shortstop and 21 at
In his young Minor League career, Terrin Vavra hadn't played designated hitter before Monday's matinee. The 2018 third-rounder made 76 starts between Class A Short Season Boise last season and Class A Asheville this season, and all of them were in the field -- 55 at shortstop and 21 at second base. Making his DH debut Monday, he certainly looked the part.
The Rockies' No. 13 prospect went 4-for-4 with two homers and two doubles to lead Asheville to a 2-0 win over visiting Greenville at McCormick Field.
It was the first multi-homer game of Vavra's career and his second four-hit showing, following a 4-for-4 game on April 20 against West Virginia -- though all four of those hits were singles.
"Being my first time at DH here, I didn't have much experience to fall back on in terms of what to expect," Vavra said. "When I'm in the field, I just take each at-bat as it comes, and then, I get out there and have something else to focus on. Today without that, I wasn't trying to overthink every at-bat and drive myself into the ground with what I did or didn't do. I tried taking a break when we were on defense, focusing on what our pitchers were doing, and when my turn was up, just tried to focus in on the at-bat then."
Gameday box score
Batting out of the leadoff spot for the Tourists, the left-handed hitter got things going with a double to center in the first. Two frames later, he slugged his first home run of the day to right field on a 3-2 pitch from No. 21 Red Sox prospect Alex Scherff. He went deep off the Drive right-hander again in the fifth -- this time to right center -- and then doubled again off Greenville left-handed reliever Oddanier Mosqueda in the eighth.
Vavra's four hits accounted for two-thirds of the Tourists' final tally Monday. No other player for either side picked up multiple hits, and Vavra's two homers and two doubles accounted for all of the game's extra-base hits.
Seeing the 22-year-old middle infielder pick up a bunch of hits isn't surprising -- he's now batting .320 through 33 games -- but his power surge Monday was something new. Vavra had hit three homers and collected 13 total extra-base hits in his first 32 games of the season, resulting in a .169 isolated slugging percentage that ranked 26th in the South Atlantic League.
The Tourists leadoff man admitted that power wasn't on his mind. Instead, he used an approach that could make him an above-average overall hitter the higher he climbs in the Colorado system.
"They had some good pitchers on the mound out there today," Vavra said. "They can throw hard and really bring it, so I'm just trying to drive what they're bringing in. I'm not trying to get power into it exactly, but I'm trying to make contact when it's something I can hit and let it take over from there."
Apart from the power surge, Monday's game was also a nice rebound performance for Vavra, who had been struggling. He was just 2-for-24 (.083) with a double and six strikeouts over his previous seven games, and his .297 OPS was third-lowest among Sally League qualifiers over that span. However, his BABIP over that period was just .130 -- an unlucky figure that seemed unlikely to last.
"It's no secret that I had been struggling a little bit of late," he said. "But the big thing for me is making sure I'm getting a good pitch to hit and not focusing on the results that come after that. When I'm struggling and focusing on just the results, that's a quick way to drag myself down further. If I'm getting my pitches and putting the ball in play, then things will take care of themselves. ... I have to play every day and keep on hitting when I do. I can't get too caught up in the highs or the lows."
Taken out of the University of Minnesota last year, Vavra has demonstrated offensive promise in his first 11 months in the Rockies system. He now ranks fifth in the South Atlantic League with a .957 OPS and owns a .320/.408/.549 line with five homers, 20 walks and 29 strikeouts in 33 games with the Tourists. That's expected for a player who was a career .351 hitter as an infielder in college. And given the big performance Monday, maybe he'd like a few more opportunities as a designated hitter.
"I've always been a big fan of that quote from The Office," he said. "I'm not superstitious. But I am a little stitious."
Tourists left-handed starter Nick Bush (2-3) struck out seven and allowed three hits and no walks over six innings in the win. Mike Nikorak, PJ Poulin and Alexander Martinez combined to toss three no-hit innings of relief.
Scherff (0-3) gave up only two earned runs for Greenville (both on Vavra's solo shots) and scattered five hits and two walks while fanning five over five frames.
Sam Dykstra is a reporter for MiLB.com. Follow and interact with him on Twitter, @SamDykstraMiLB.