JetHawks' Ramos wins Cal League Derby
Rockies prospect swats 22 dingers in front of home crowd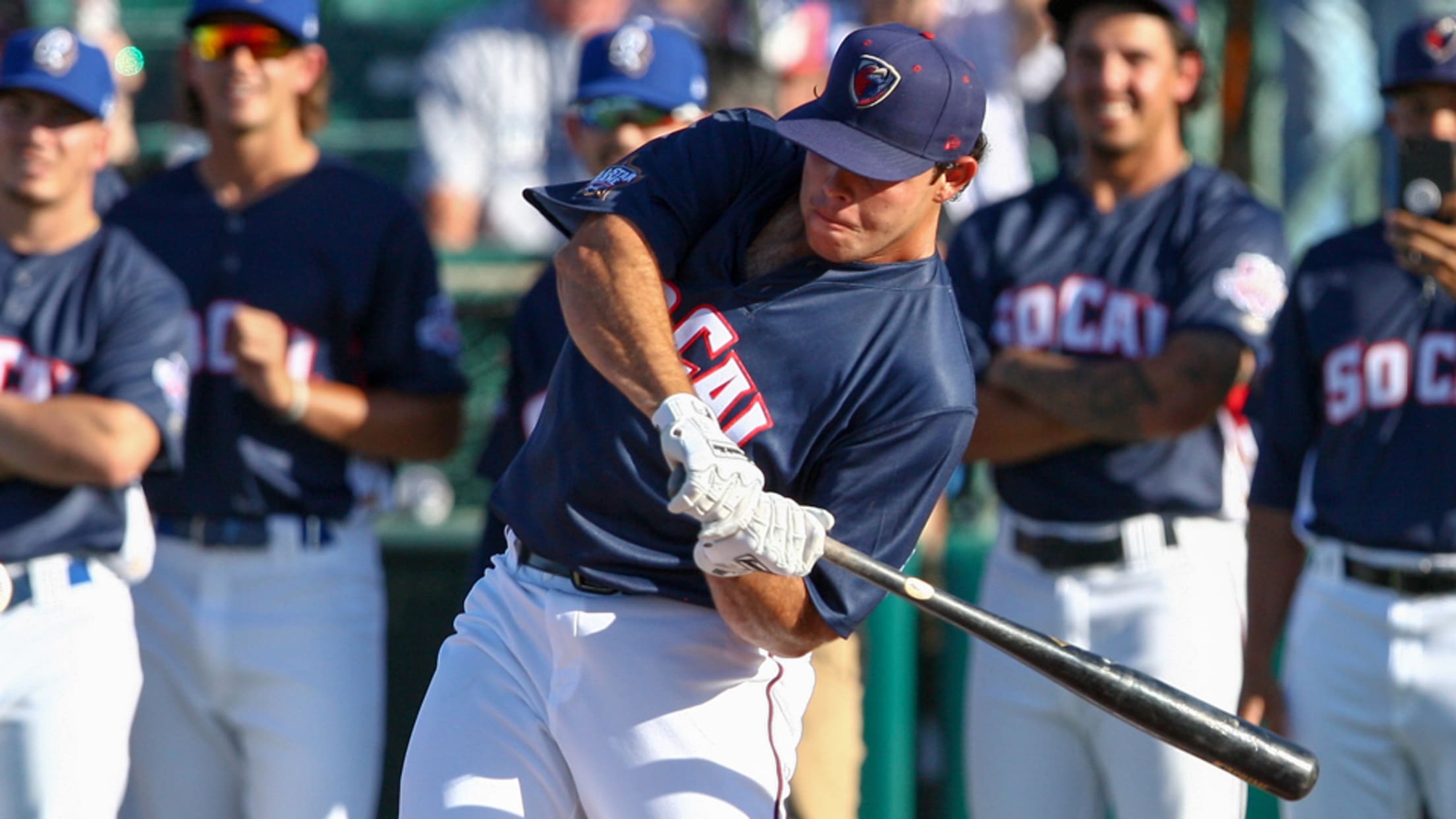 Roberto Ramos leads the California League with a .640 slugging percentage and 35 extra-base hits. (Tim Cattera/MiLB.com)
LANCASTER, California -- On any summer night with baseball at The Hangar, batters anticipate getting a little help from the wind. During Tuesday's California League All-Star Home Run Derby, natural forces left competitors high and dry."It's a big field when there's] no wind. You're used to playing in that wind
LANCASTER, California -- On any summer night with baseball at The Hangar, batters anticipate getting a little help from the wind. During Tuesday's California League All-Star Home Run Derby, natural forces left competitors high and dry.
"It's a big field [when there's] no wind. You're used to playing in that wind and out off nowhere it will come out, and there's no wind for home run derby -- the one day you kind of wanted the wind," said Roberto Ramos, the JetHawks first baseman who won the Derby in front of a cheering home crowd. "It was still really fun.
"[JetHawks fans are] amazing. They come out and support us every game, and it's awesome to have them behind my back. It gives you a little extra boost."
The Rockies prospect outslugged a field of five, leading the pack with 11 in the first three-minute round and 11 more in the final against Dodgers prospect Rylan Bannon of the Rancho Cucamonga Quakes, who swatted 11 in round 1 and 10 in the head-to-head matchup. A's prospect Jonah Heim of the Stockton Ports showed his switch-hitting abilities, knocking five. The Padres' Hudson Potts of the Lake Elsinore Storm hit nine, with Jalen Miller of the San Jose Giants had eight.
Each finalist already had a three-homer game at The Hangar, Ramos on April 8 and Bannon 10 days later.
"[Bannon] did a great job. He hit a lot of home runs," said Ramos, who batted last in each round. "I [just wanted] to have a good round and get to double digits. I got to it pretty quick, so I was trying to take my time and pick my pitches better because I was getting a little bit tired toward the end. I was able to get that last one in."
Ports' Blanco leads North to victory
The 6-foot-5 native of Mexico hit a league-leading 17 homers in the first half and responded to Bannon's double-digit challenge in the final round by drilling four in a row out of the shoot. With a minute and 40 seconds on the clock, he took a timeout.
"Honestly, at the beginning of the round, I had no idea how many I had because I was just trying to get as many swings as I could. At some point, I looked up and I had seven," Ramos said. "I wasn't looking at the ball and I looked up and had seven, so I decided to take a timeout there and relax a little bit and come back and get a little more into it toward the end."
One of the left-handed hitter's long balls struck high off a lightpost in right field.
"That one and the last one, as soon as I hit it, I knew it was going to go -- No. 11 -- so I shut it down right there," he said.
With temperatures in the high 90s, Ramos admitted to feeling fatigued.
"It gets tiring, a little bit. The three-minute rounds get long toward the end, but it's pretty fun," he said. "It was fun, and thank God we came out on top. Honestly, I was just thinking going out there, 'Have a lot of fun.' Whatever the outcome was, I wanted to have a lot of fun and enjoy the time with my teammates here, a bunch of guys that you don't get to play with every day. It was nice to hang around with players as talented as they are."
Ramos had less than an hour to re-energize before the All-Star first pitch.
"I'm about to go in, probably eat some, rest a little bit and come out to the game," he said, noting he'd also be feeding off energy coming from the stands. "It felt great. Just to give a little something back to the people [who] are out here supporting us every day, it's a really incredible feeling."
Roberto Alomar, Joe Morgan, Lenn Sakata and Larry Jackson were inducted to the Cal League Hall of Fame between the derby and the All-Star Game, with Sakata and Alomar receiving a plaque on the field and throwing out a ceremonial first pitch.
Josh Jackson is a contributor to MiLB.com. Follow and interact with him on Twitter, @JoshJacksonMiLB.