Fireflies' McIlraith faces moment of deja vu
Mets prospect tosses six hitless frames, earns second straight win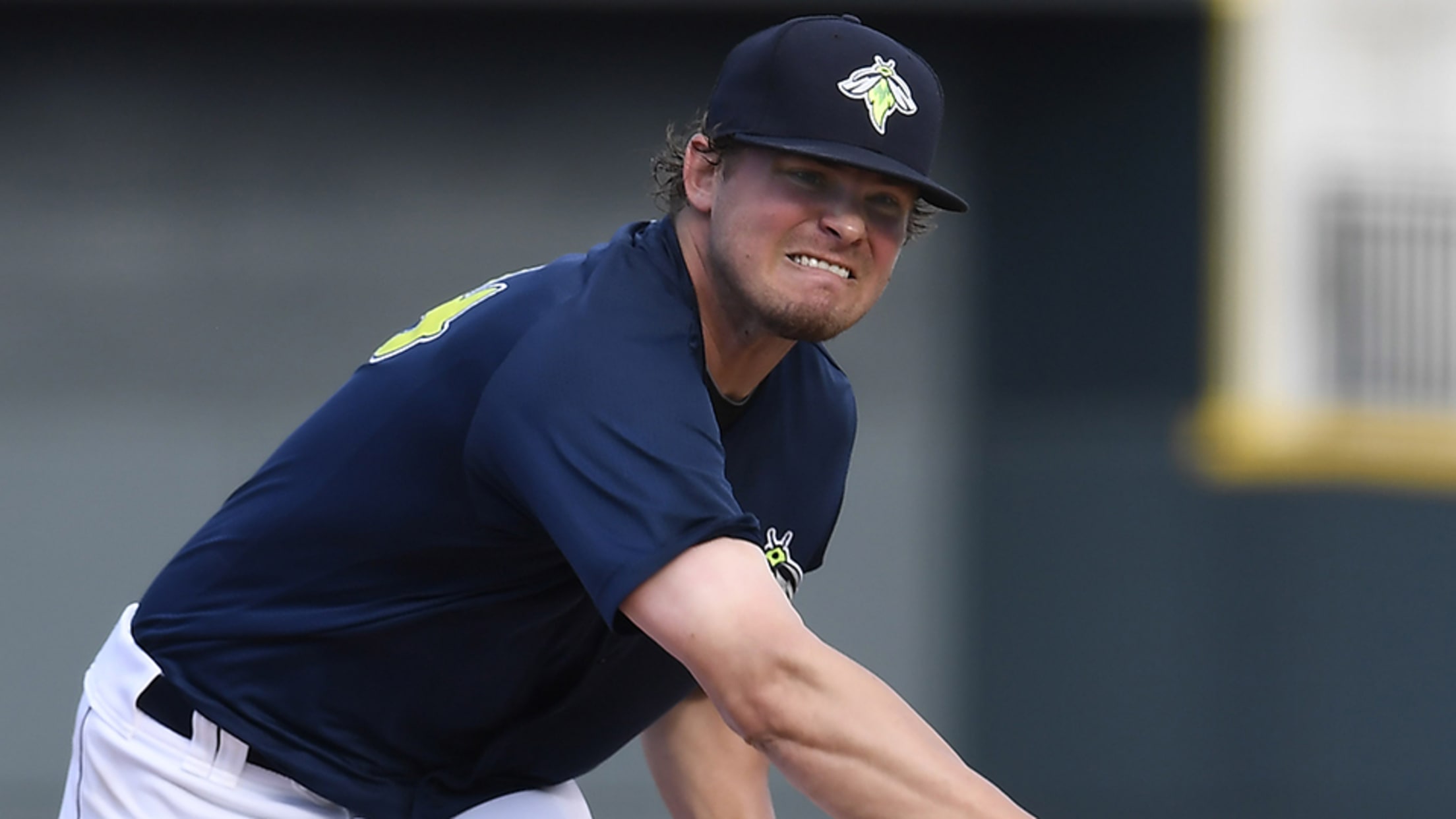 Thomas McIlraith has pitched 17 consecutive scoreless innings across two Minor League levels. (Tom Priddy/Four Seam Images)
As Thomas McIlraith worked into the sixth inning in an all-too-familiar position on Sunday afternoon, he tried not to let a feeling of deja vu get the best of him. "Yeah, you know, it was kind of weird," he said. "But I was trying not to think anything like that. I
As Thomas McIlraith worked into the sixth inning in an all-too-familiar position on Sunday afternoon, he tried not to let a feeling of deja vu get the best of him.
"Yeah, you know, it was kind of weird," he said. "But I was trying not to think anything like that. I was just trying to put up zeros and get my team back in the dugout."
McIlraith tossed six hitless innings, recording a season-high six strikeouts and issuing three walks, as Class A Columbia held on for a 3-2 victory over Rome at Spirit Communications Park.
Gameday box score
In his season debut last year, McIlraith was a part of history when he pitched six innings and combined with relievers Alex Palsha and Johnny Magliozzi on a no-hitter in the first win in Fireflies history. Sunday's no-hit bid ended in the eighth, but the 23-year-old was far from disappointed.
"At the beginning of the day, I was feeling good, I was excited to pitch -- it's been awhile," he said. "I felt good all-around all day, so it was fun. ... I'm feeling pretty good. It's always fun to have an outing like that. It's going to be important to build off that next week, though."
This year did not begin on the same magical note for McIlraith, however. After allowing nine runs over 12 innings with Class A Advanced St. Lucie, the right-hander landed on the disabled list for nearly two months. But he's returned and thrown 17 consecutive scoreless innings between Class A Short Season Brooklyn and Columbia.
"It's been kind of a rollercoaster, you don't want to leave the season early due to any injury," McIlraith said. "But it happens. I'm thankful to get back onto the field so quickly and I'm just looking forward to the rest of the season."
The 2015 20th-round pick worked around Randy Ventura's leadoff walk in the first and faced one batter over the minimum through four innings. He continued to keep the ball around the plate and ended up throwing 57 of 90 pitches for strikes.
"I was able to get ahead with my fastballs and put them away with my splitter or slider late in the count," he said. "I think that helped me a lot."
With one out in the fifth, Kurt Hoekstra hit a comebacker, but McIlraith made an errant throw to first. The University of Oklahoma product got Carlos Martínez to ground into a fielder's choice, then fanned Jordan Rodgers on three pitches.
The R-Braves put more traffic on the bases an inning later when Anthony Concepcion drew a leadoff walk. Justin Ellison also walked with two outs, prompting a visit to the mound from Columbia pitching coach Jonathan Hurst.
"He told me I was just rushing a little bit and he just wanted to come out and give me a quick breather," McIlraith said. "And that definitely helped, I was able to calm down a little bit. Obviously in a game like that you have a lot of adrenaline rushing and he was just trying to calm me down a little bit."
The Amarillo, Texas, native got Austin Bush to fly to right to preserve the Fireflies' 3-0 lead.
"I knew it was probably going to be my last inning because of pitch count, but it was a relief to get out of that inning without any runs," he said. "The walks usually hurt you, but fortunately, I was able to get out of that inning."
Reliever Joseph Zanghi kept Rome out of the hit column in the seventh, but Concepcion broke up the no-hit bid in the eighth with a leadoff bunt single. Randy Ventura followed with a two-run homer, his first of the year.
"It is [a little disappointing], but at the same time, they're trying to win a game and he did what he had to do to get on base," McIlraith said of the bunt. "They scored two runs that inning, so you can't really be too mad at them for trying to go after the game there."
Zanghi set down the next two batters before Adonis Uceta recorded the final four outs for his eighth save.
After a string of three quality starts, McIlraith hopes the second half of his season has more positives in store.
"I'm just trying to get ahead early with the fastball and get ground balls, go deeper into games and give my team a chance to win," he said. "It's pretty much what I take into every start. ... I'm healthy again and I'm excited to put together the rest of the season and we'll see how it goes."
Offensively, Jay Jabs drove in two runs with a triple, while seventh-ranked Mets prospect Andrés Giménez and No. 14 prospect Luis Carpio each collected two hits and scored a run.
Andrew Battifarano is a contributor to MiLB.com. Follow him on Twitter, @AndrewAtBatt.