Coquis Bats Catch Fire in 8-4 Triumph over Flying Tigers
Deal turns in seven strong innings for the fourth time in his career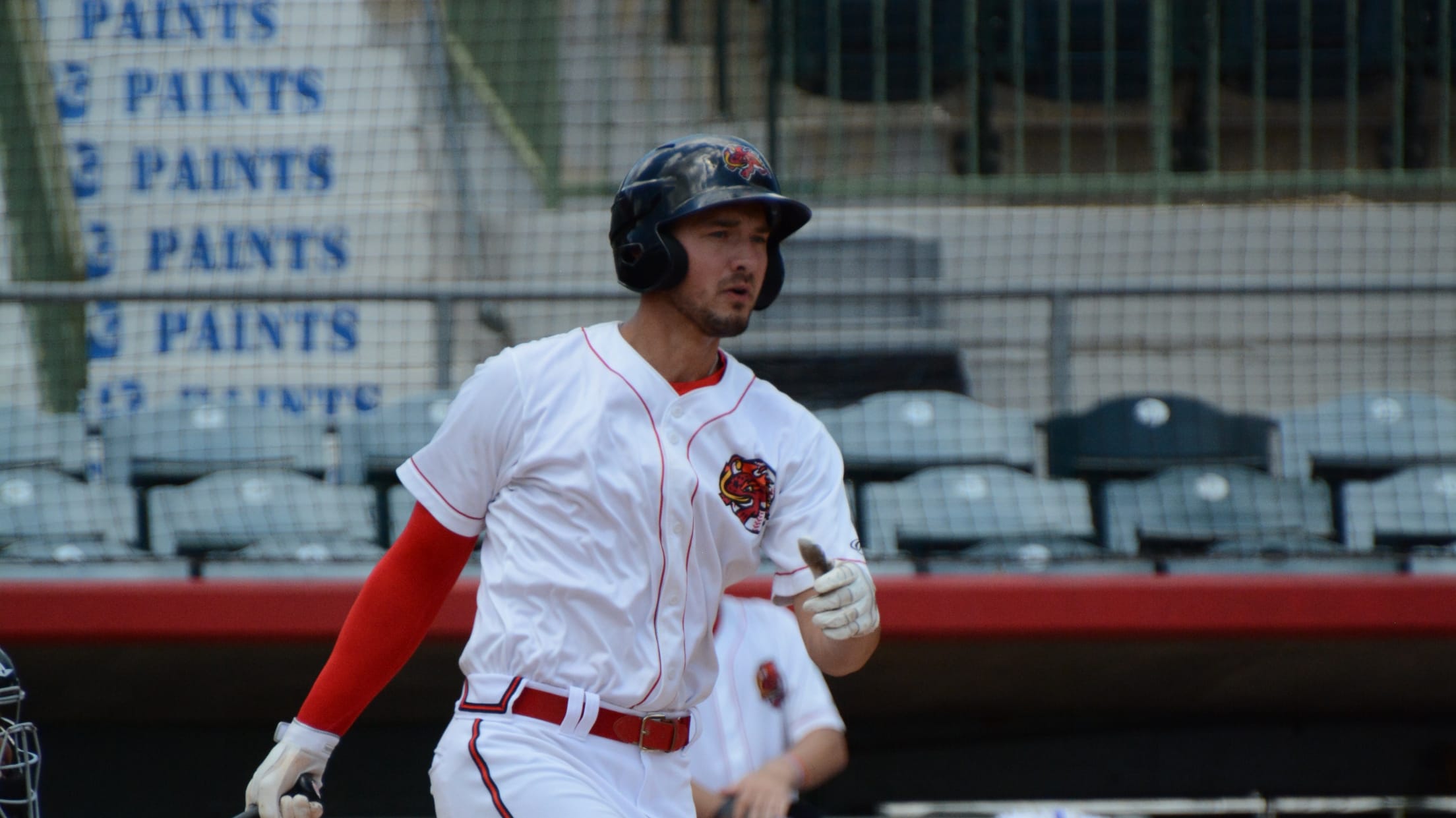 Drew Lugbauer's two-run single in the first got the Coquis on the board and another RBI knock in the seventh helped Florida pull away in an 8-4 win versus Lakeland (Alan Green)
KISSIMMEE, FLA.: After a 1:45 rain delay started the contest off on a soggy note, a three-run first got the Coquis de Florida off to a fast start and a four-run seventh enabled them to pull away from the Lakeland Flying Tigers, 8-4, in Friday night's victory at Osceola County
KISSIMMEE, FLA.: After a 1:45 rain delay started the contest off on a soggy note, a three-run first got the Coquis de Florida off to a fast start and a four-run seventh enabled them to pull away from the Lakeland Flying Tigers, 8-4, in Friday night's victory at Osceola County Stadium.
After Riley Delgado singled earlier in the inning, the Coquis strung together three consecutive two-out hits against RHP Paul Richan to plate the three tallies. Jefrey Ramos doubled ahead of Drew Lugbauer who scored him and Delgado with a knock. Logan Brown's RBI double extended Florida's advantage to 3-0 after an inning.
Lakeland got their first three men on in the second opposite LHP Hayden Deal to load the bases. Deal struck out two consecutive hitters and nearly escaped the jam, but A.J. Simcox coaxed a walk and Brock Deatherage singled in two to tie the game at 3.
Florida capitalized on a Simcox throwing error to regain the lead in the bottom of the second. Brett Langhorne notched a base hit with one out and was smartly able to move to third on a wild pitch and a groundout. When Delgado hit a weak chopper to short, a poor throw from Simcox brought Langhorne across for a 4-3 Coquis lead.
It was at this juncture of the contest where Deal (5-9) found his groove. He set down 15 of the last 16 batters he faced while yielding just one hit from the third through the seventh. He gave up four hits, three walks, three earned runs and punched out seven Flying Tigers to pick up his second consecutive win. He threw 57 of his 104 pitches after the 35-pitch second inning which nearly forced him out of the game.
Richan (0-1) settled in as well after a rough first two frames. He scattered four runs on seven hits and two walks with six strikeouts mixed in over 5 and 2/3's stanzas. He accepted his first loss as a Detroit Tigers farmhand since coming over in the Nicholas Castellanos trade from the Chicago Cubs organization.
The rally in the seventh began on an Andrew Moritz base hit. Riley Delgado reached on an error from Lakeland first baseman Jordan Pearce to place runners at the corners. Andy Wilkins then delivered with a knock to send Moritz to the plate, Ramos doubled in Delgado, and Lugbauer singled home Wilkins for a 7-3 margin. Garrison Schwartz drew a bases loaded free pass later in the inning to push RHP Jason Foley off the mound and bring in the final run, 8-3 Coquis.
Foley surrendered four hits and four runs (two earned) over three outs as the first out of the Flying Tigers bullpen. LHP Jared Tobey notched the final four outs.
Lugbauer reached base all four times, going 3-3 at the dish with a double and drove in three runs or more for the fifth time this season. Ramos and Brown chipped in two hits and an RBI each. The middle three of the Coquis batting order went 7-10 with three doubles and 5 RBIs.
Simcox was the top offensive contributor for Lakeland, going 2-3 with 2 RBIs. He has 3 RBIs already in the series.
Deatherage reached base twice and drove in two runs. Brady Policelli doubled and tripled as part of a 2-5 effort at the plate.
RHP Daysbel Hernandez permitted a two-out RBI single to Simcox in the ninth, but no other runs as he fanned five over six outs and worked around three hits and two hit-batsmen.
NEXT UP: Saturday evening's pitching matchup features RHP Freddy Tarnok (2-6, 5.50) throwing opposite Lakeland's RHP Elvin Rodriguez (9-7, 3.90). First pitch will be tossed at 6 p.m.
Saturday night is Woodstock Night at Osceola County Stadium! Florida commemorates the 50th anniversary by sporting specialty jerseys that can be bid on in a jersey auction. Fans can bring t-shirts to decorate as the Fire Frogs staff will provide stencils and fabric paint. Shot glasses and drink specials will also be hard to ignore.
GET YOUR $5 TICKETS NOW: https://www.milb.com/florida/tickets/single-game-tickets
About the Florida Fire Frogs
The Florida Fire Frogs are the Advanced-A affiliate of the Atlanta Braves and compete in the Florida State League. The Fire Frogs play their home games at Osceola County Stadium, located at Osceola Heritage Park in Kissimmee, Fla. For more information, please visit www.FloridaFireFrogs.com, and follow the team on Twitter, Facebook, Instagram, Snapchat and YouTube.