Corbin Burnes named Brewers Minor League Pitcher of the Year
The 22-year-old Burnes ranked third in Minor League Baseball with a 1.67 ERA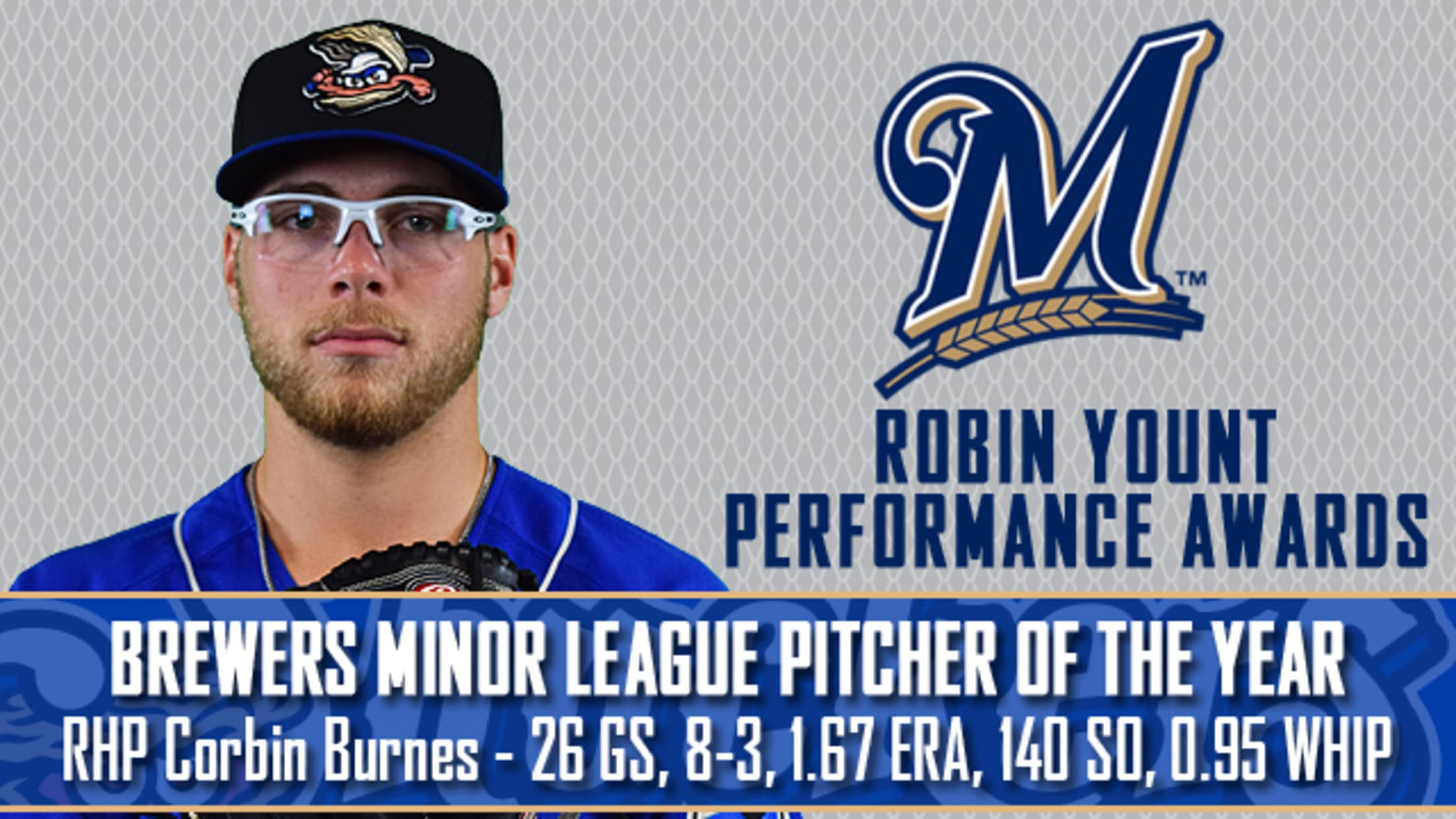 BILOXI, MS - The Milwaukee Brewers have announced the recipients of the 2017 Robin Yount Performance Awards, presented annually to the organization's top Minor League performers. Biloxi Shuckers right-handed pitcher Corbin Burnes was named Brewers Minor League Pitcher of the Year and outfielder Lewis Brinson was named Brewers Minor League
BILOXI, MS - The Milwaukee Brewers have announced the recipients of the 2017 Robin Yount Performance Awards, presented annually to the organization's top Minor League performers. Biloxi Shuckers right-handed pitcher Corbin Burnes was named Brewers Minor League Pitcher of the Year and outfielder Lewis Brinson was named Brewers Minor League Player of the Year. Burnes joins Jorge López (2015) and Brandon Woodruff (2016) as Shuckers to win the Brewers top Minor League pitching honor.

Burnes went 8-3 with a 1.67 ERA (145.2ip, 27er) with 36 walks and 140 strikeouts in 26 starts between Class-A Carolina and Double-A Biloxi. The 22-year-old began the season with the Mudcats and started 10 games for the club, going 5-0 with a 1.05 ERA (60ip, 7er) with 16 walks and 56 strikeouts. He would go on to make 16 starts for the Shuckers, posting a 2.10 ERA (85.2ip, 20er) with 20 walks and 84 strikeouts. Burnes finished third in Minor League Baseball and first in the organization in ERA (1.67). He also paced the Brewers system in starts (26), WHIP (0.954 - min 50ip) and was third in strikeouts (140).
"Corbin's first full professional season was nothing short of sensational," said Brewers Farm Director Tom Flanagan. "He was dominant at both Carolina and Biloxi, and he very much earned this award."
"What a tremendous year of development for Corbin," stated Chris Hook, Biloxi's pitching coach each of the three seasons. "His thirst for improvement is something that I think will get him to the Major Leagues very soon. The person, combined with the stuff, and the will to win really makes him stand out as one of the top pitchers in all of Minor League Baseball."

The Brewers fourth-round selection from the 2016 First-Year Player Draft out of St. Mary's College of California was named the Southern League Pitcher of the Week for the time period of July 3-9. Burnes made 2 starts in that span and tossed a combined 13 scoreless innings, allowing a walk and striking out 11. In addition, he was awarded Brewers Minor League Pitcher of the Month honors for May after going 4-0 with a 0.55 ERA (32.2ip, 2er) with 7 walks and 29 strikeouts in 5 starts. He won the award again in the following month, posting a 2-1 record with a 1.53 ERA (29.1ip, 5er) with 5 walks and 32 strikeouts in 5 starts, including a 7-inning shutout on June 23 against Mississippi. Burnes was signed by area scout Joseph Graham.
Brinson and Burnes will be presented with their awards in a pre-game ceremony on Tuesday, September 26, 2017, at Miller Park.
The Shuckers open up their 2018 season on the road at Montgomery before their home opener against Mississippi on April 11. More information on the fourth season of Biloxi Shuckers baseball will be available at biloxishuckers.com as the offseason progresses.
ABOUT THE BILOXI SHUCKERS: The Biloxi Shuckers are the Double-A Southern League Affiliate of the Milwaukee Brewers. The Shuckers play at MGM Park in Biloxi, Mississippi. For more information please visit biloxishuckers.com and follow us on Twitter @biloxishuckers and at facebook.com/biloxishuckers.com.