Martin perfect into seventh for Hooks
Astros No. 5 prospect retires 20 in a row in one-hit effort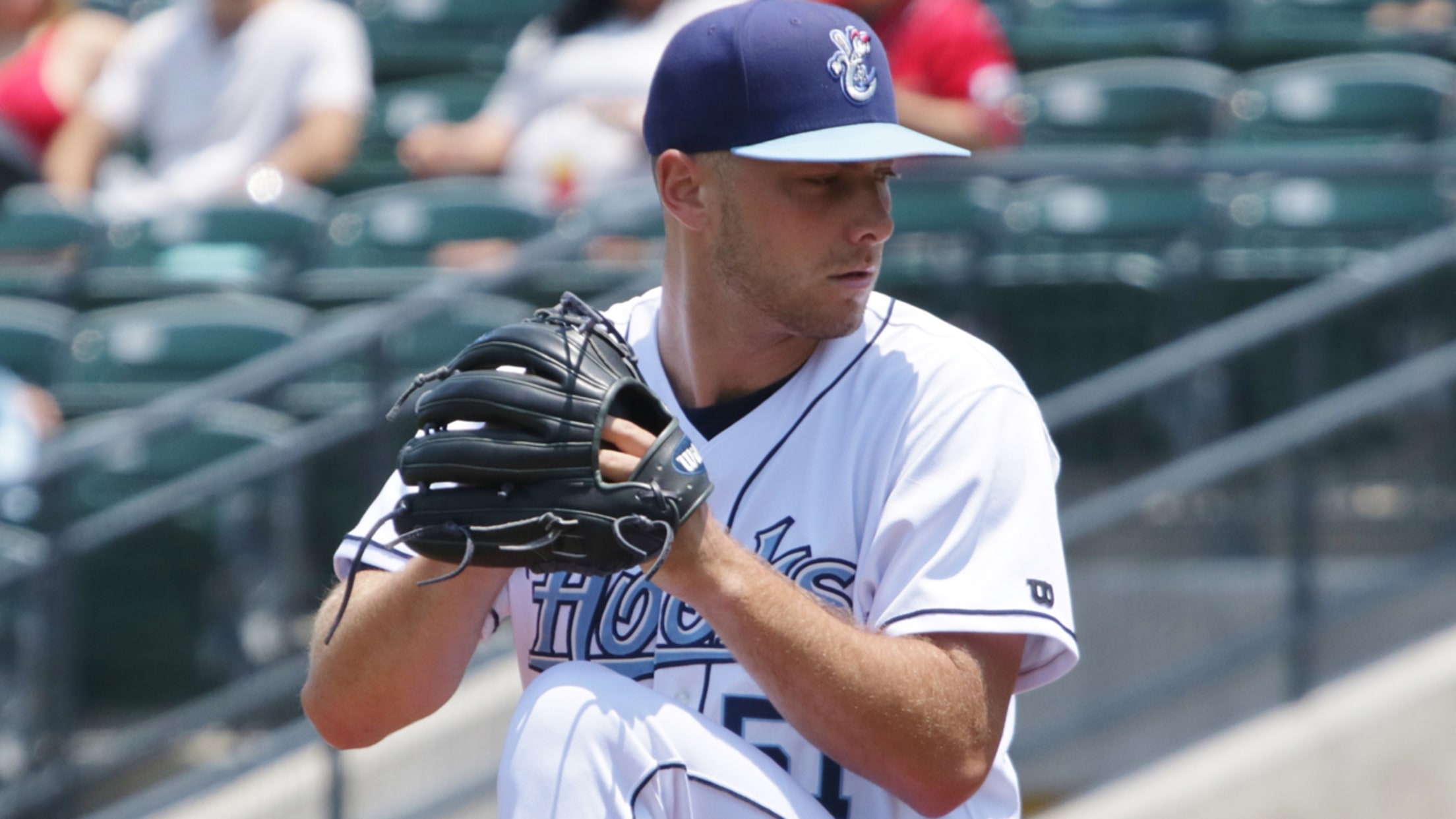 Since allowing six runs in his Double-A debut, Corbin Martin has a 1.69 ERA in 15 appearances, including 13 starts. (Tammy Tucker/MiLB.com)
Corbin Martin had been impressive since making his Texas League debut in early May. On Tuesday night, he crossed over from good to great."That's the kind of game every pitcher dreams of, execute every pitch and hit your spots," Martin said. "Tonight I was doing that, and we had some
Corbin Martin had been impressive since making his Texas League debut in early May. On Tuesday night, he crossed over from good to great.
"That's the kind of game every pitcher dreams of, execute every pitch and hit your spots," Martin said. "Tonight I was doing that, and we had some great plays early in the game. That established that easy trust with my defense that they were going to make the plays behind me."
Houston's fifth-ranked prospect took a perfect game into the seventh inning and finished with seven one-hit frames, striking out eight without issuing a walk, as Double-A Corpus Christi rallied for a 5-4 victory over San Antonio at Whataburger Field.
Martin generated contact early, fanning one in his first two innings before discovering his strikeout stuff. From there, the Texas A&M product punched out two batters in three of his final five frames. After cruising through six, the right-hander whiffed Padres No. 13 prospectBuddy Reed to open the seventh and 15th-ranked Josh Naylor. Naylor's strikeout made it 20 up and 20 down against Martin, but Corpus Christi's lead was just 1-0 as baseball's No. 50 prospectChris Paddack tossed five solid innings.
"San Antonio's as good as it gets in this league, and you can't make mistakes to them," the righty said. "They're going to make it hurt, and you saw that later in the game. I knew once the lineup turned over that I couldn't repeat what I was throwing to them the first time. If I was repeating, they were smart enough to start noticing that.
Gameday box score
"It's cool to go out and have your best stuff and get as quickly off the field as possible. Especially when their guy is rolling, you want him to get back on the field and kind of get uncomfortable. He did a really good job of matching me, so I just had to keep my focus, and as the game went on, not lose focus of what the task was."
Down to his last strike, Ty France finally solved the right-hander, bouncing a single through the left side for the Missions' first baserunner. Martin rebounded to induce an inning-ending flyout to right field from Padres No. 25 prospect Austin Allen.
The 2017 second-round pick threw 66 of 93 pitches for strikes, generating six outs in the air and four on the ground.
"I think it was just going with the gameplan. We've studied these guys, and we've faced them so many times that you start to [learn about] them," he said. "You're not always going to have your best stuff, especially against a team like this who are going to make you pay on certain pitches. Just attacking them and trusting my stuff, luckily it worked out."
Tuesday marked Martin's 16th appearance for Corpus Christi and his first start since July 21 after coming out of the bullpen Sunday as the back end of a tandem start with Ryan Hartman. Martin, who didn't allow an earned run over 19 innings with Class A Advanced Buies Creek to start the season, was roughed up in his Double-A debut on May 3 when he retired one batter and surrendered six runs on five hits against Midland. In the 15 outings that followed, the 22-year-old has allowed more than two runs just once.
"It feels good," Martin said. "I don't want to get weaker as the season goes on. My main focus is to continue to get better, and there's always room to improve and get better."
The righty left with the lead, but San Antonio scored three times in the top of the eighth. Corpus Christi responded with a four-spot in the bottom half, capped by a two-run single to center by Astros No. 26 prospect Randy César.
Tyler Maun is a contributor to MiLB.com. Follow him on Twitter @TylerMaun.