Corey Ray And Zack Brown Honored At Miller Park
Brewers Player and Pitcher of the Year Recognized In Milwaukee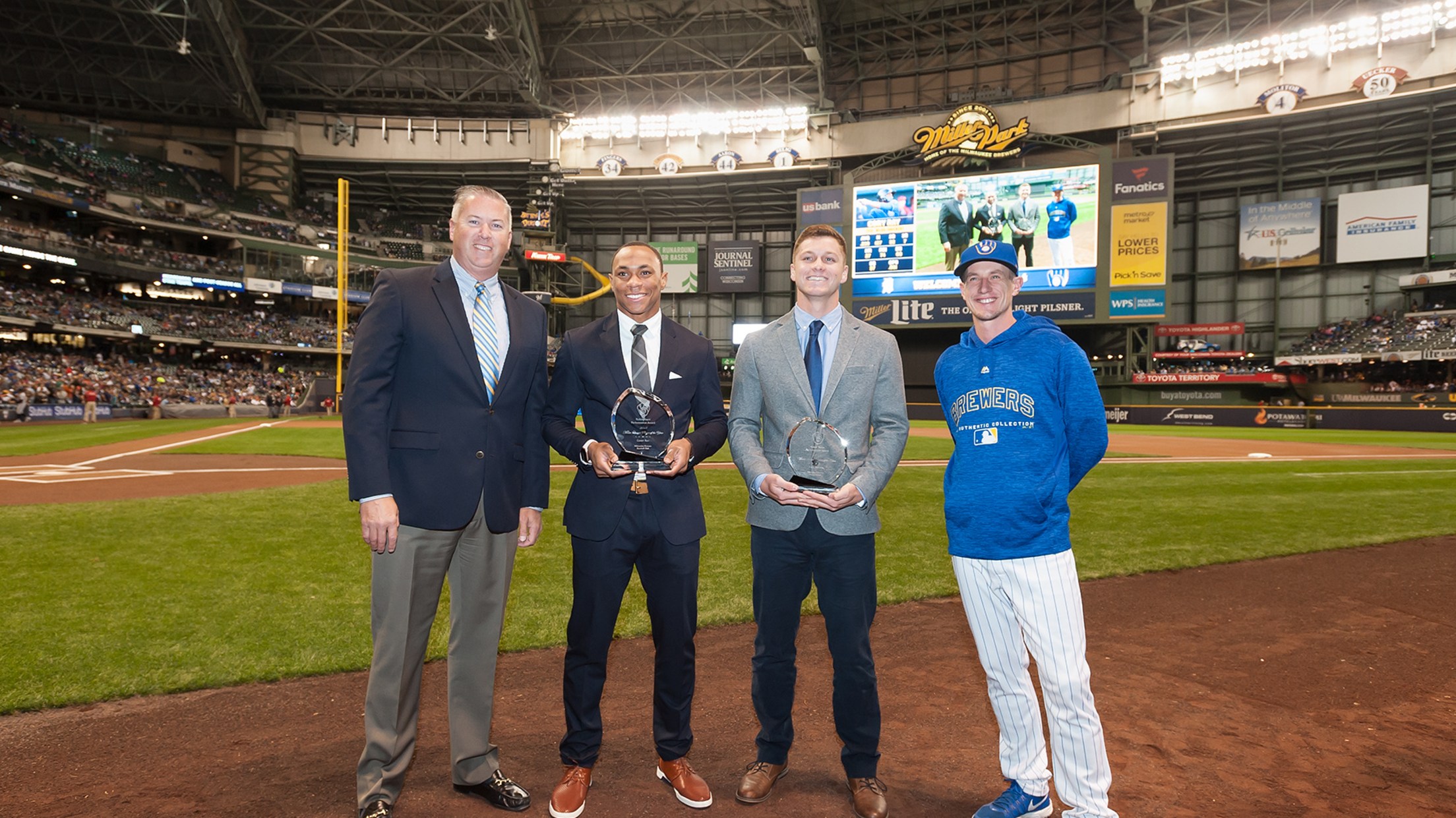 Corey Ray and Zack Brown were presented with the 2018 Robin Yount Performance Awards at Miller Park in Milwaukee on September 28. Brewers Manager Craig Counsell and Farm Director Tom Flanagan joined the pair on the field pregame. (Kirsten Schmitt/Brewers) (Kirsten Schmitt)
Prior to the Milwaukee Brewers game against the Detroit Tigers on Friday, September 28, Biloxi Shuckers OF Corey Ray and RHP Zack Brown were recognized as the 2018 Brewers Minor League Player and Pitcher of the Year. Both players spent the entire season with the Shuckers en route to the
Prior to the Milwaukee Brewers game against the Detroit Tigers on Friday, September 28, Biloxi Shuckers OF Corey Ray and RHP Zack Brown were recognized as the 2018 Brewers Minor League Player and Pitcher of the Year. Both players spent the entire season with the Shuckers en route to the organizational awards.
Ray and Brown started their trip to Miller Park with a media availability in the Brewers dugout before mingling with Brewers players, coaches and front office executives during batting practice. The pair of 2018 Shuckers then joined Fox Sports Wisconsin for 'Brewers Live,' where host Craig Coshun interview both players about their respective seasons.
.@CraigCoshun checks in with two of the @Brewers' top prospects: @FutureIs_Bright and @ZBrown__33 pic.twitter.com/4ndS49qGE3

— FOX Sports Wisconsin (@fswisconsin) September 28, 2018
The evening was capped by a presentation of the 2018 Robin Yount Performance Awards by Brewers Manager Craig Counsell and Farm Director Tom Flanagan to Ray and Brown prior to first pitch.
Ray was named the Brewers Minor League Player of the Year after leading the Brewers organization in Home Runs (27) and Stolen Bases (37) while finishing second in RBI (74). He also became the first player in the history of the Southern League to lead the league in both homers and stolen bases in a season, while pacing the league in Doubles (32), Extra-Base Hits (66), Total Bases (254) and At Bats (532). He is the second Shuckers player to win the award, joining Orlando Arcia in 2015.
Brown took home the Brewers Minor League Pitcher of the Year after producing career-best numbers in Wins (9), ERA (2.44), Innings Pitched (125.2), Strikeouts (116), Games Started (21), Batting Average Against (.207) and WHIP (1.04). His ERA led the Milwaukee Brewers organization and Southern League in 2018, while his WHIP and Batting Average Against ranked second in the Southern League. Biloxi has produced each of the last four Brewers Minor League Pitchers of the Year, with Corbin Burnes winning the award in 2017, Brandon Woodruff taking home the honor in 2016 and Jorge López earning the nod in 2015.
ABOUT THE BILOXI SHUCKERS:
The Biloxi Shuckers are the Double-A Affiliate of the Milwaukee Brewers. The Shuckers play at MGM Park in Biloxi, Mississippi and will host the 2019 Southern League All-Star Game. For more information please visit biloxishuckers.com and follow us on Twitter @biloxishuckers and at facebook.com/biloxishuckers.com.