Three's company during Hooks' power surge
Astros prospects Hyde, Nunez, Ferguson go back-to-back-to-back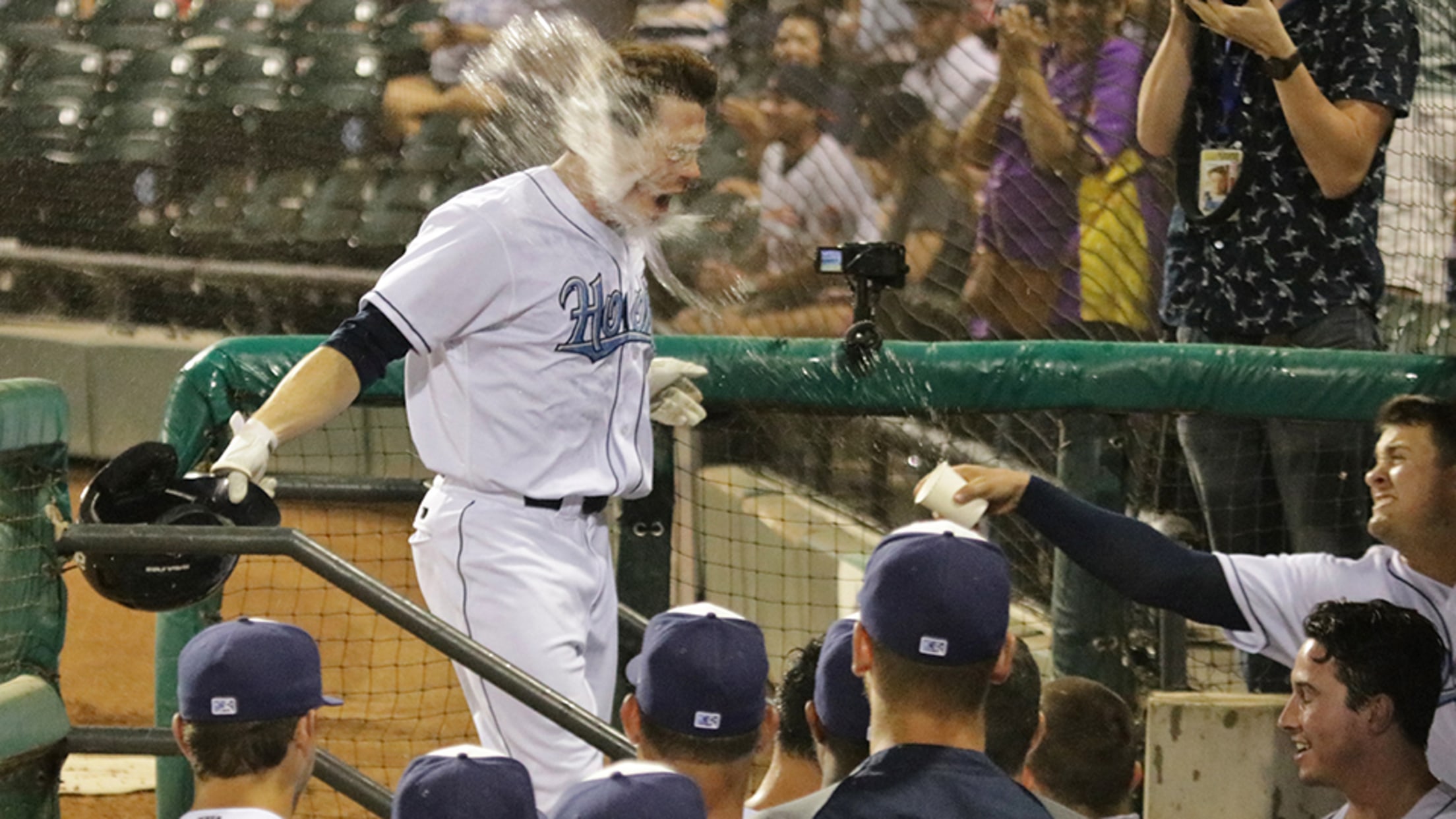 Drew Ferguson is welcomed back to the dugout after hitting the Hooks' third consecutive home run. (Tammy Tucker/MiLB.com)
Baseball and the number three are synonymous. Three strikes for an out, three outs in an inning, a triple play.The troika of home runs Corpus Christi hit in succession on Saturday night fits neatly into that symmetry.With the Hooks holding a three-run lead in the eighth inning, Mott Hyde, Antonio
Baseball and the number three are synonymous. Three strikes for an out, three outs in an inning, a triple play.
The troika of home runs Corpus Christi hit in succession on Saturday night fits neatly into that symmetry.
With the Hooks holding a three-run lead in the eighth inning, Mott Hyde, Antonio Nunez and Drew Ferguson completed one of the rarer feats in baseball. The trio thrilled the crowd of 6,008 at Whataburger Field and put an exclamation point on Corpus Christi's 8-2 victory over Frisco.
Box score
Facing Shane McCain, Hyde began the barrage by sending the southpaw's 0-2 offering over the berm in left field for his second long ball of the season. Shortly after that, Nunez sent a 2-2 pitch to nearly the same spot for his first career jack. Ferguson jumped on the next pitch and yanked it down the left-field line.
The three players made for an unlikely power source. Ferguson has the most career home runs of the trio, with 23 in two-plus seasons, including a career-high 17 last year with Class A Advanced Lancaster and Corpus Christi. Hyde entered this season with only eight while Nunez had never gone deep in his previous 659 Minor League at-bats.
Astros No. 11 prospect Garrett Stubbs doubled and hit his first roundtripper of the year for the Hooks, who are tied with Tulsa for the most homers in the Texas League with 21.
Jon Singleton chipped in with two RBIs, while Jake Marisnick doubled and singled during his first rehab appearance after suffering a concussion with the Astros on April 23.
Making his Double-A debut, Akeem Bostick (1-0) allowed two runs on three hits, no walks and three strikeouts in five innings.
Rangers No. 3 prospectAriel Jurado (1-3) was charged with five runs on eight hits and two walks with three strikeouts in six frames.
Scott Heineman, Texas' No. 24 prospect, led off the game with his third homer for Frisco.