Cubs' Hoerner a force in pro debut
24th overall Draft pick triples, doubles, scores three runs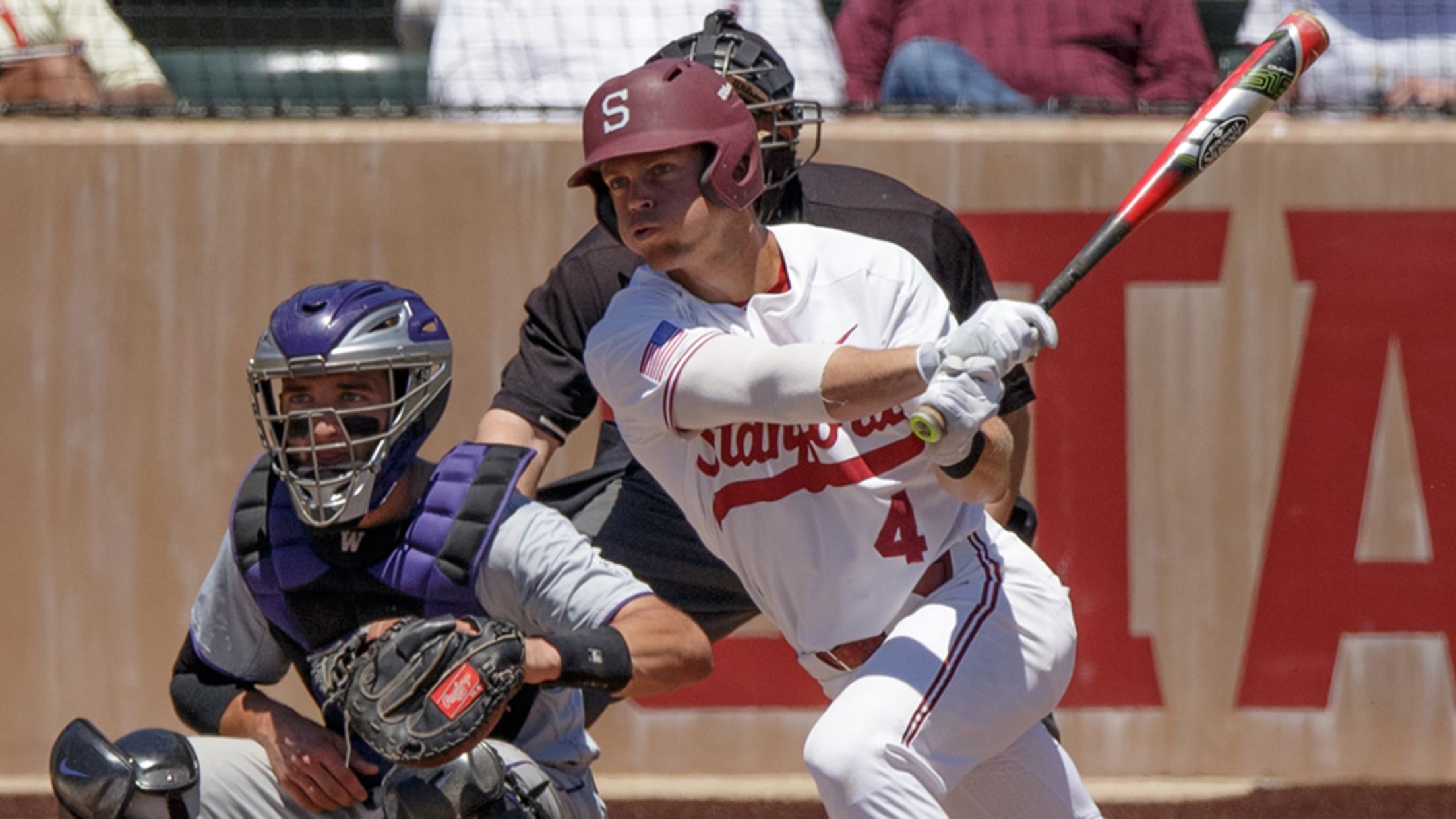 Nico Hoerner was an All-Pac-12 Conference selection as a sophomore and a junior at Stanford. (Bob Drebin)
Just a week after he signed a contract that included a $2.7 million bonus, Nico Hoerner got to work. And based on the earliest returns, the Cubs have to be thrilled with their investment.The first-round pick in this month's Draft tripled, doubled, reached base four times, scored three runs and
Just a week after he signed a contract that included a $2.7 million bonus, Nico Hoerner got to work. And based on the earliest returns, the Cubs have to be thrilled with their investment.
The first-round pick in this month's Draft tripled, doubled, reached base four times, scored three runs and drove in a run as the Rookie-level Arizona League Cubs lost to the Giants, 8-5, in Scottsdale.
"It's just been going smoothly, going through workouts," said Hoerner, who was selected 24th overall. "Definitely didn't feel much different. I was wearing red, now I'm wearing blue . . . using wood bats. It's different, but I've been using wood bats since middle school, so it's not a big thing."
Gameday box score
Hoerner officially became a Cub last week with the signing of his contract in Mesa. He got right to work, playing shortstop and batting second. The Stanford University product acknowledged that going from full ballparks in the Pac-12 Conference to the sparsley attended AZL was something to get used to.
"Yeah, but today was kind of the day that there was a lot of excitement because it was my first professional game," he said. "But it's definitely different than the Pac-12. There's maybe more talent here, but it's not as refined as Pac-12. But both are difficult for their own reasons."
In the first inning against Giants right-hander Jasier Herrera, Hoerner tripled home 31st-round pick Clayton Daniel, who drew a leadoff walk. Hoerner hit into a double play in the third but walked in the sixth and was hit by a pitch in the eighth.
In the ninth, he doubled and scored on a single by rehabbing Cubs outfielder Chris Coghlan.
While scouts regarded Hoerner as an average defender at shortstop, he was known for his bat during his college career. Talent evaluators were especially taken with the power he showed hitting with a wood bat in the elite Cape Cod League, and he showed good bat-to-ball skills in striking out only 73 times while drawing 47 walks in three years with the Cardinal.
"I like that people think of my bat in that way, but I've got a little to show at short, too," he said.
Second overall pick Joey Bart, a catcher from Georgia Tech who received a $7 million signing bonus, doubled, singled and walked for the Giants. He's 3-for-9 in his first three pro games.
The Giants also got two hits from 13th-round pick George Bell, the son of the 1987 American League MVP. Beicker Mendoza, a 2014 international signee from Venezuela, hit a grand slam in the seventh to break the game open.
Rehabbing big leaguer Chris Heston got the win with a scoreless inning. Tawainese right-hander Chi-Feng Lee (0-1) gave up the grand slam and took the loss.
For Hoerner, though, it was a night he won't forget. And he won't look past it too quickly, although he has goals for his first pro season.
"I want to move through the organization, but I [also] want to be where my feet are," he said. "I want to take advantage of each day, and I don't know the near future or what's likely to happen."
One thing Hoerner can answer without hesitation is about his position going forward: shortstop.
"Yes," he said quickly about staying at his natural position. "That's an easy answer. You can be dead-set on a position but also realistic. But I want to play shortstop for as long as I can."
Vince Lara-Cinisomo is a contributor to MiLB.com. Follow him on Twitter @vincelara.