Cubs Prospect Primer: Jimenez in spotlight
Young outfielder leads flashy system with Happ, Cease, Almora, more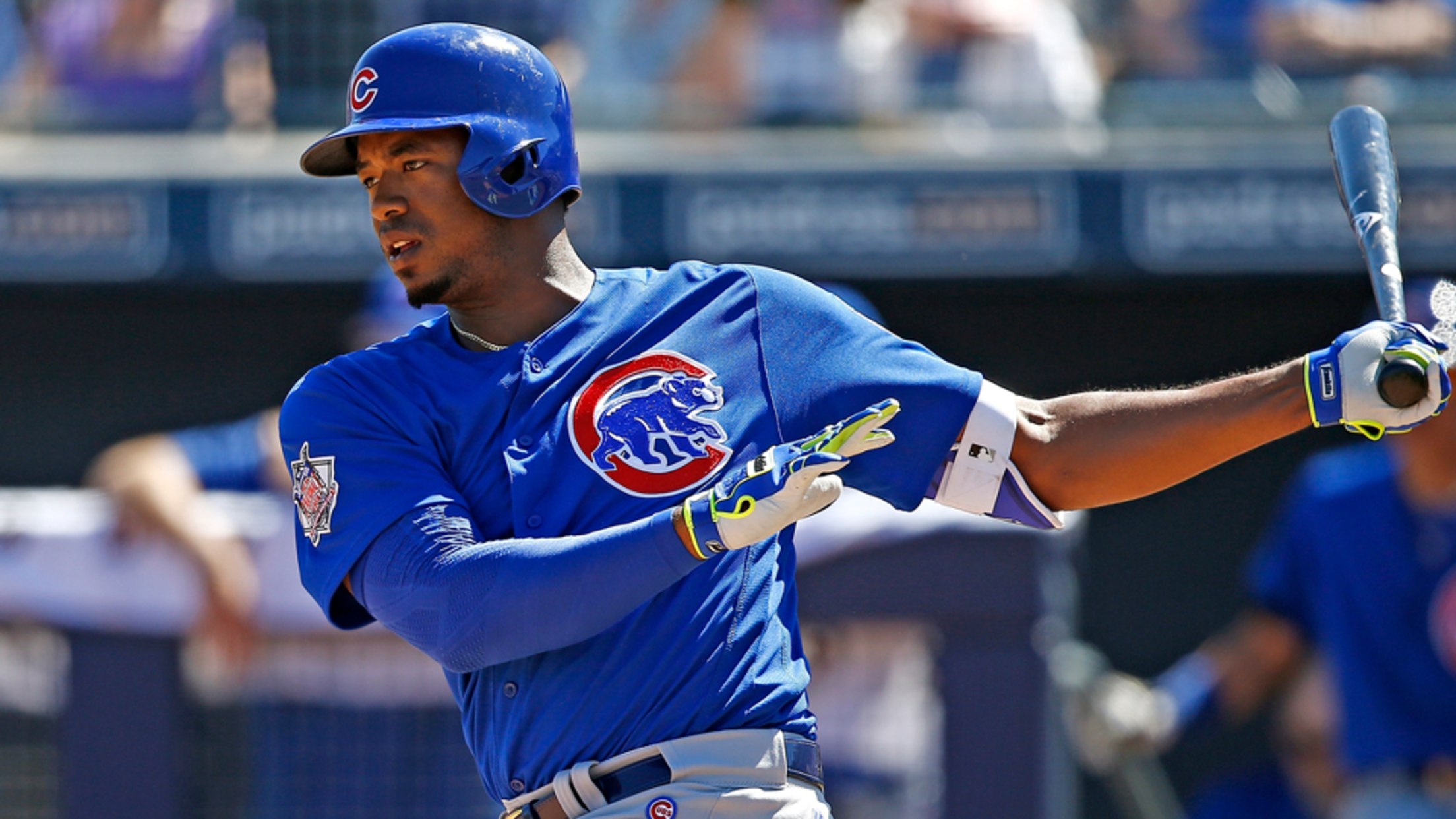 Top prospect Eloy Jimenez collected 57 extra-base hits in his first full season as a professional. (Ross D. Franklin/AP Photo)
Some players are on the verge of stardom, others are entering a crucial phase of their development and still others are getting their first tastes of full-season ball. With the 2017 season approaching, MiLB.com takes a look at the most intriguing prospects from each MLB organization.Shining star: Eloy Jiménez ,
Some players are on the verge of stardom, others are entering a crucial phase of their development and still others are getting their first tastes of full-season ball. With the 2017 season approaching, MiLB.com takes a look at the most intriguing prospects from each MLB organization.
Shining star: Eloy Jiménez , OF
A year ago, not a lot of people were talking about Jimenez. Today, he's the No. 13 overall prospect and the Cubs' No. 1. That's the kind of recognition you earn when, as a 19-year-old playing your first full season, you bat .329/.369/.532 with 14 homers and 40 doubles across 129 Class A Midwest League games, pausing only to steal the show against older and more advanced talent at the Futures Game and finishing the year with the Breakout Prospect MiLBY Award. What's more, Jimenez didn't blink against big league talent in the Cactus League this spring. Through his first 16 games, he was 9-for-28 (.321) with two homers, two doubles and a pair of walks.
"Now it's just about seeing better pitching and consistently putting together good at-bats," said Cubs director of player development Jaron Madison. "He controls the zone. He's not a guy who chases out of the zone. He doesn't give away at-bats, but he's going to start facing better pitchers, guys who can throw breaking balls in different counts, so for him, it's just having a good plan, sticking with it and making the adjustment as he moves up level to level. And continue to improve defensively -- that's going to be big for him."
The organization sees no reason to rush Jimenez, and he'll miss at least three weeks with a bone bruise on his right shoulder, general manager Jed Hoyer said on Monday. When he's healthy, it wouldn't be a shock to see him get a modest assignment at Class A Advanced Myrtle Beach.
"You have to remember he's 20 years old. He played one year in the States, one full season, so there's not really pressure to move him up real quick," Madison said. "I would prefer to take him a little slower and make him force us to move him up than challenge him and put him on a level that might be a little bit too rough right now. Our goal is always to put guys in positions to do well and force us to make the moves, so that's kind of the plan with him. He could handle Triple-A right now, just from a personality/makeup standpoint. He just has to get at-bats under his belt."
Breakout prospect: Ian Happ, 2B
Can an organization's No. 2 prospect, somebody already among MLB.com's Top 100 overall, really "break out?" A look at the spring Happ's had, combined with his 142 total bases through 69 Double-A games last summer, reveals a picture of a powder keg. Throughout his time with Chicago, the 2015 first-rounder has focused on becoming the versatile type of player the Cubs love, but he's still managed to produce on offense.
"Everyone to a man [in the Cubs front office] knew this guy can really swing the bat from both sides of the plate, has feel and control of the zone," Madison said. "He's a pure hitter. He's a guy who really understands himself as a hitter, understands how to control the zone and he's always been able hit. That's why we took him [in the first round]."
Full-season debutant: Dylan Cease, RHP
Cease, who was on this list last year for his "loudest tool" fastball, certainly still has that going for him.
"The velocity is great, but just the way it plays ... it has great life. It kind of jumps at the hitters late at the plate," Madison said. "I think he just needs to understand locating his fastball is maybe more important than the velo. A 95 mph fastball in the right spot is better than a 100 mph fastball that's out of the zone, so just understanding how to harness and figuring out the pitchability part of it while not backing off of his stuff."

As Spring Training wound down, it appeared Cease would get the chance to try to learn those lessons in the Class A Midwest League.
"We have him penciled in right now to go to South Bend," Madison said. "We'll see how everything plays out here in Spring Training, but that's our plan right now, to have him break camp and go to South Bend and join that rotation."
Cease feels ready.
"Wherever I'm pitching, I'm excited," the righty said. "It doesn't matter if it's here or there, but I'm definitely looking forward to that."
Back and healthy: Jose Albertos, RHP
Just 17 last year, Albertos put in enough work in extended spring camp to earn a June 22 start in the Rookie-level Arizona League. Over four innings, he struck out seven and surrendered one hit and one walk.
"That was where he put himself on the map. I was at that game -- it's a big arm. It's three Major League pitches. One of those pitches [his fastball] is a plus-plus pitch now," Madison said. "It's just about building him up and getting him ready, building him up as a starter. I think he can stay in that role and continue to develop. It looks like he's gotten stronger and gotten bigger, so that's good."
But after that start, the native of Reynoso, Mexico, felt some forearm soreness, and the Cubs didn't mess around, shelving him for the season. Madison intends to start Albertos on a slow track in April.
"He's going to stay here, just because of the injury last year and we really shut him down," he said. "We'll slowly build him up and then let him force our hand, kind of like Oscar De La Cruz last year, where we sent him to Eugene, and then he made us send him to South Bend."
Major League-ready: Albert Almora Jr., OF
"Before last year, before he got to the big leagues, everybody thought he was on a slow track, because Kris and Schwarber kind of moved by him, but when you look at his path, he was 22 years old in Triple-A," Madison said.
The Cubs are high on Almora's all-around game, but his defense in center field may be what they benefit from most.
"Absolutely [the defensive skills are what's pushing him up there fast]," Madison admitted, but added, "His instincts are special; they're off the chart defensively and on the bases and obviously at the plate. They're really special. You can't teach that. That's what's allowed him to excel. It's almost looked like he's moving before the ball's even put in play. He knows where it's going. That's special."


Others to keep an eye on: Right-hander Trevor Clifton has been a steady mover since being drafted in the 12th round of 2013, and he answered a lot of questions with a performance in the Class A Advanced Carolina League last year that netted him Cubs Pitcher of the Year honors. If while working in the upper levels of the Minors he comes anywhere close to his 2016 2.72 ERA, watch his stock skyrocket. ... The Cubs are confident in Victor Caratini's conversion to catcher in part "because he cares so much about it," Madison said. (Read more quotes on Clifton, Caratini and others on the blog.) ... Speedy outfielder D.J. Wilson is also a good hitter for average and power. The 20-year-old Ohio product has played a couple summers of short-season ball and should be ready for the Midwest League.
Josh Jackson is a contributor to MiLB.com. Follow and interact with him on Twitter, @JoshJacksonMiLB.