Cubs Prospect Primer: Righties get ready
Albertos, Maples, Rucker on the rise along with catcher Caratini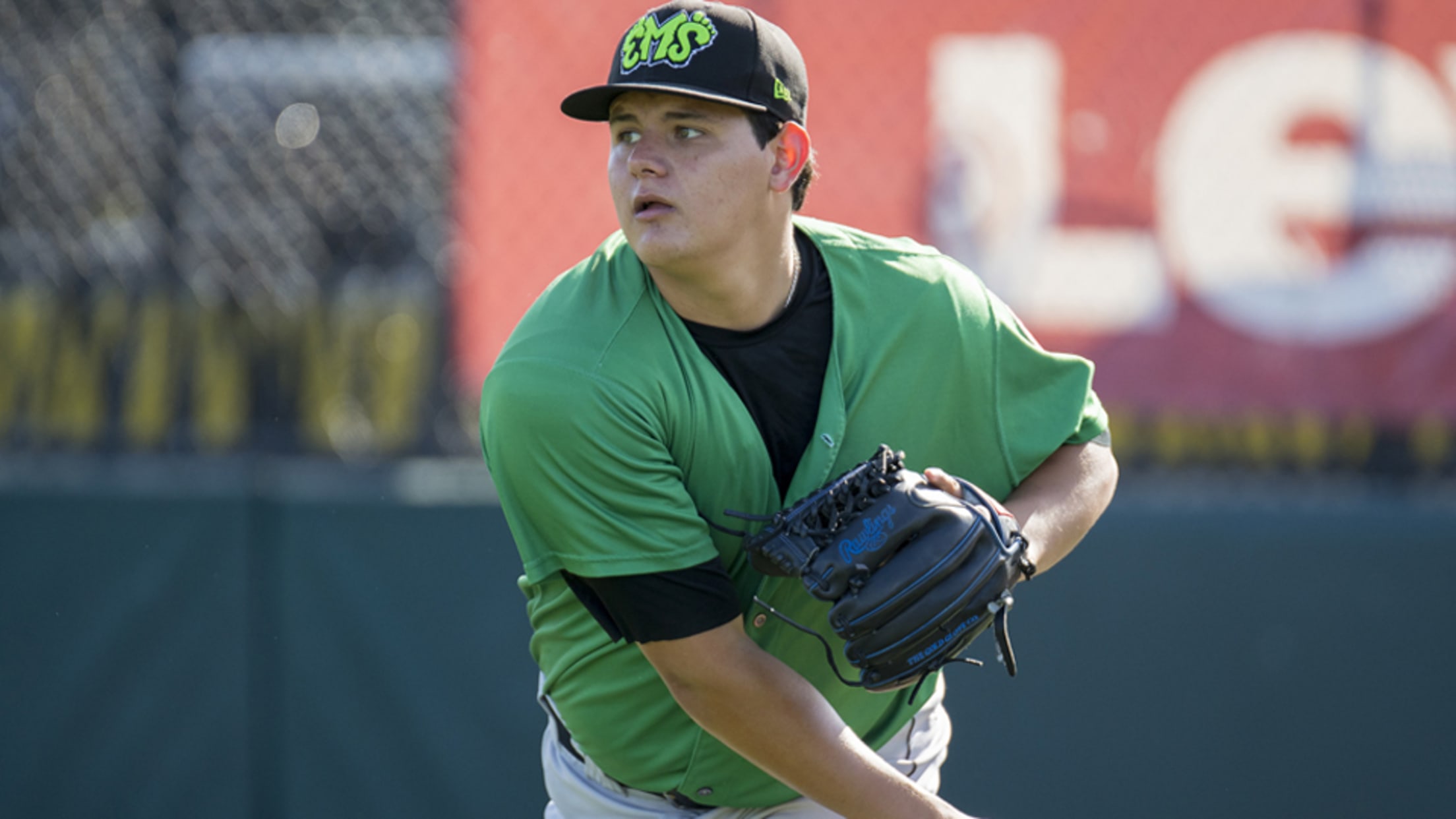 Jose Albertos, who turned 19 in November, has a 1.04 WHIP over 47 career innings in the Cubs system. (Jared Ravich/MiLB.com)
Some players are on the verge of stardom, others are entering a crucial phase of their development and still others are getting their first tastes of full-season ball. With the 2018 season approaching, MiLB.com takes a look at the most intriguing prospects from each MLB organization.Full-season debutant: Jose Albertos, RHPAfter
Some players are on the verge of stardom, others are entering a crucial phase of their development and still others are getting their first tastes of full-season ball. With the 2018 season approaching, MiLB.com takes a look at the most intriguing prospects from each MLB organization.
Full-season debutant: Jose Albertos, RHP
After forearm soreness limited his pro debut to one start in 2016, Albertos came out firing for his sophomore campaign. The club's No. 4 prospect spun four hitless innings with the Arizona League Cubs to kick off the season. One start later, he was promoted to Class A Short Season Eugene, where he continued to showcase his plus fastball and plus changeup, which MLB Pipeline considers the best in the system. In total, Albertos went 2-1 with a 3.14 ERA, 48 strikeouts and 17 walks in 43 innings across 10 starts -- all before turning 19 in November.
"He's a kid who can run his fastball from 92 to 97, 98 [mph] and has a Major League, plus changeup. He's still developing a breaking ball as well," said Jaron Madison, the Cubs' director of player development. "So he's a guy that's exciting because he has a chance to stay as a starter. He's looking good physically, and we're really excited to get him out there and see what he can do this year."
As Albertos heads to Class A South Bend, look for him to continue to rack up strikeouts and keep the ball on the ground -- the Mexico native has not allowed a home run through 47 career innings.
Breakout prospect: Michael Rucker, RHP
Rucker's first full season began in the South Bend bullpen and ended in the Class A Advanced Myrtle Beach rotation as the 23-year-old made a seamless transition to starting for the first time since his days at Brigham Young University. Madison said Rucker's three-pitch mix better suits him for the rotation.
"He's just a special kid, a guy that has a feel to pitch. He's really aggressive, he's a mature kid and has weapons to get hitters out and doesn't waste pitches, just goes right at hitters and challenges them and puts the pressure on those guys," Madison said. "It's fun to see someone young but aggressive and have a feel for what they do. He's right there with our pitching prospects and a guy who mixes pitches well and just attacks at all times."
An 11th-round pick in 2016, Rucker has already begun to make his way into the Cubs' spotlight and currently ranks as their No. 21 prospect. The 6-foot-1 hurler went 5-5 with a 2.38 ERA, 114 strikeouts and 21 walks in 106 frames over 27 games (15 starts). Madison predicts he will really "put himself on the map" this year.
Major League-ready: Victor Caratini, C
Ever since he anchored a deadline trade in July 2014, Caratini has enjoyed a steady climb through the Cubs system, uninterrupted by a midseason promotion -- until last year, that is. The 24-year-old practically demanded a big league callup with his bat, hitting .341/.382/.537 with eight homers and 54 RBIs in his first 69 games for Triple-A Iowa. On June 28, Caratini began his first of three Major League stints.
The bigs, of course, proved more challenging -- he posted a .254 average in 31 total games -- but the switch-hitter went 6-for-15 (.400) during his second stint, showing glimmers of potential.
Spending a little time at first, third and the outfield across all levels, Caratini continues to develop behind the plate. The Miami Dade product threw out 26 percent of would-be basestealers last season and two of seven to start camp. With a bat that is "pretty close to Major League-ready," according to Madison, Caratini needs to fine-tune his game calling and learn pitchers, all while maintaining scouting reports.
"He drives the ball gap-to-gap really well and he's developing pull-side power," Madison said. "And the other part is, this is his fourth year as a full-time catcher and he's really made strides and made himself into a really good defensive catcher. His aptitude and his desire to be a catcher are really exciting, and he's a guy who can be a weapon from both sides of the plate, which is always good to have in a catcher."
Loudest tool: Dillon Maples, RHP
Over the first five seasons of his career, Maples worked to overcome injuries, struggles as a starting pitcher and then adjustments to the bullpen, but in 2017, something clicked. Unranked entering the season, the 25-year-old easily put up his best numbers en route to making his Major League debut.
Maples' 75-grade fastball (on a 20-80 scale) set the tone as he developed a couple offspeed pitches. The 2011 14th-round Draft pick went 6-3 with a 2.27 ERA, 100 strikeouts and 37 walks in 63 1/3 innings over 52 appearances between Myrtle Beach, Double-A Tennessee and Iowa. That's an electrifying 14.2 strikeouts per nine. Currently the Cubs' No. 13 prospect, Maples converted 13 saves in 15 opportunities before a September callup to Chicago.
"It's pretty special. He's always been a guy who could run it up to 99, 100 mph when he wants to," Madison said. "I think the most exciting thing for Dillon is just the development of his offspeed. He's come up with a slider that's pretty special. He still has a plus power breaking ball and he has a change that he doesn't throw very often, but he has three offspeed pitches and he has a fastball that can run up to 99."
Maples still has to work on consistency and minimizing mistakes in the Majors -- he notched a 10.13 ERA in 5 1/3 innings last fall before registering a 12.86 ERA in seven innings this spring. Madison is confident, though, that after some more time with Iowa, Maples will help out in Chicago "quite a bit."
At the crossroads: Duane Underwood Jr., RHP
Underwood has pretty much had the opposite career path as Maples. After being selected in the second round of the 2012 Draft out of high school, the Georgia native took a year to adjust to the Minors before lighting up the system. In his first two full seasons, Underwood notched a composite 2.46 ERA, going 12-7 with 138 strikeouts and 60 walks in 179 frames, mostly for Class A Kane County and Myrtle Beach as one of baseball's most exciting pitching prospects.
But with lingering injuries, including discomfort in his pitching elbow that led to a Tommy John scare, the numbers stopped showing up for Underwood. In 2016, limited to 73 innings, the 6-foot-2 hurler reached Tennessee but was knocked around for a 4.91 ERA there. Last year, he was finally healthy and able to play 138 innings with the Smokies, but his ERA remained on the wrong side of 4.00.
Since then, Underwood moved to Arizona so he could condition and train at the Cubs' facilities. In five appearances at big league camp, the 23-year-old has worked around two hits and a walk with three strikeouts in 4 1/3 scoreless innings.
"He's really worked hard on his body and his conditioning and putting himself in a great position where he feels great physically; confidence-wise he's up there," Madison said. "We met with him recently and just talked about his approach and how to use his pitches. He's shown really well so far at big league Spring Training, and now we'll get him back to the Minors and get him working to get him back to the big leagues whenever an opportunity comes."


More to keep an eye on: The Cubs clearly have a lot of young pitchers with 21 of their top 30 prospects toeing the rubber, highlighted by Adbert Alzolay, Oscar De La Cruz and Alex Lange. While Madison admits it's a change for the system to be more pitching-heavy, he's excited for their future. ... In terms of position players, shortstop Aramis Ademan provides solid defense and D.J. Wilson offers plus speed from the lower levels, while second baseman David Bote looks to build on on a resurgent Arizona Fall League campaign in the Minors' upper levels.
2018 organization predictions:
Most home runs in the system: Ian Rice
Most stolen bases: Zach Davis
Most strikeouts: Thomas Hatch
Current prospect to get most Major League playing time: Caratini
Non-Top-100 prospect to end 2018 in the Top 100: Alzolay
Kelsie Heneghan is a contributor to MiLB.com. Follow her on Twitter @Kelsie_Heneghan.