Casali scorches way to six-RBI night
Bulls slugger falls one short of career high with homer, double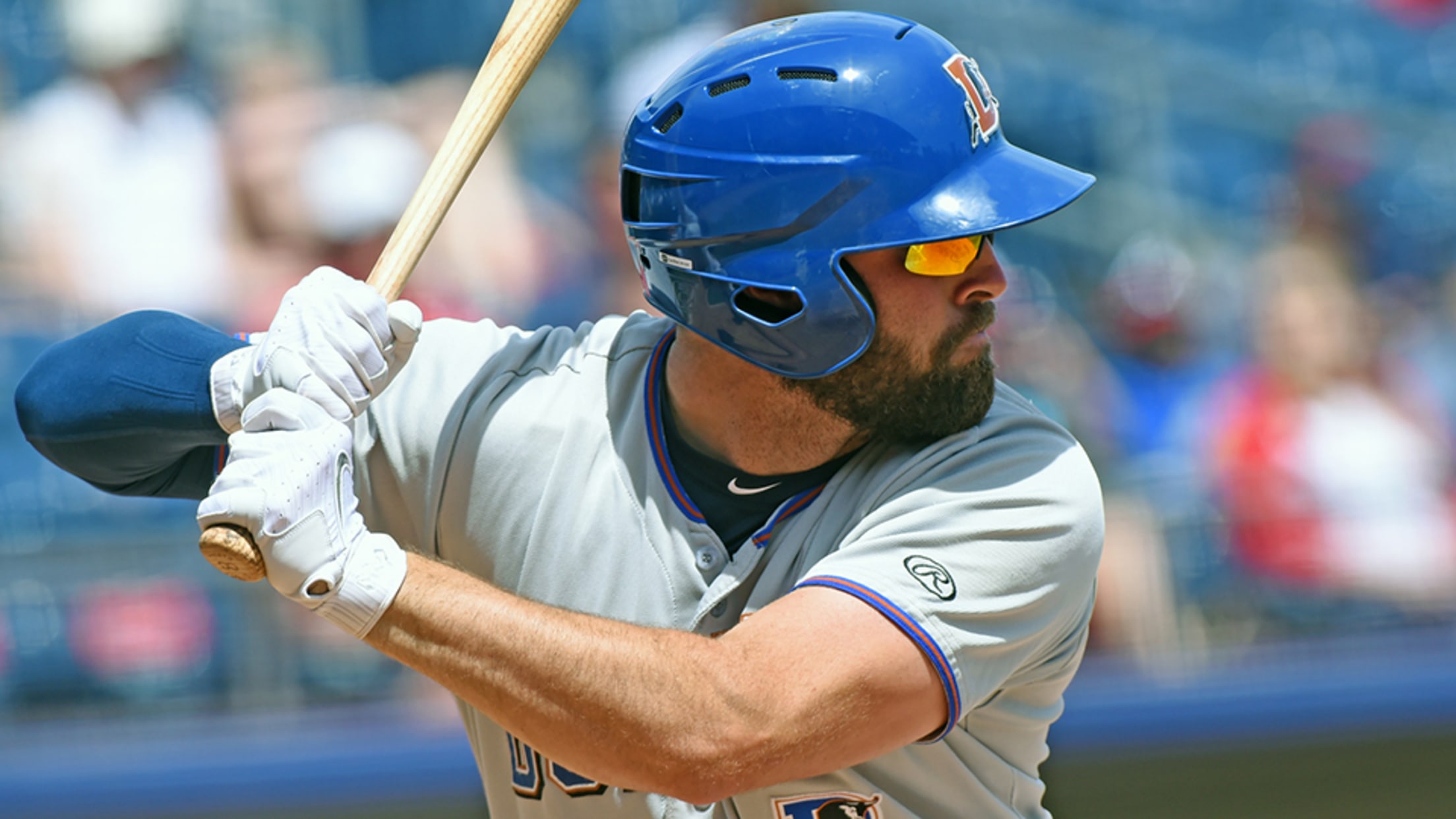 Curt Casali has six hits and 16 RBIs in nine at-bats with the bases loaded this season. (Brian McLeod/MiLB.com)
As the sun beat down on Durham Bulls Athletic Park, Curt Casali saw the 93-degree heat get the better of his opposition on the mound. So both times he came to the plate with runners in scoring position, he capitalized on that."It was a hot day, and by the time
As the sun beat down on Durham Bulls Athletic Park, Curt Casali saw the 93-degree heat get the better of his opposition on the mound. So both times he came to the plate with runners in scoring position, he capitalized on that.
"It was a hot day, and by the time I got up there, probably they were having trouble finding the zone," the 28-year-old said. "It was just one of those nights where when I got my pitch, I hit it good."
The Rays slugger homered, doubled and drove in six runs to lead the Triple-A Bulls to a 9-4 win over the Indians. Casali improved to a .272/.353/.351 slash line with three homers and 39 RBIs in 64 games this season.
Gameday box score
The six RBIs fell one shy of the career high he set on July 15, 2013 with Class A Advanced Charlotte in the Florida State League.
Casali, who has split time between Durham and the big leagues over the past three years, describes his eighth professional season as a "power outage," but he's been able to come through when given the opportunity. In 54 at-bats with runners in scoring position this season, he has hit .404 with two homers, eight doubles and 38 RBIs.
"When there's guys on base, typically I'm pretty patient," the Vanderbilt product said. "I know how I would attack a hitter with guys on base, try to get him to swing at the pitcher's pitch. Just so happens that I laid off a couple good ones."
Casali came into the game with just six hits in 35 at-bats over the past 11 contests, but said he still feels comfortable with the way he's been swinging the bat.
"I wasn't too down on myself, but the thing that really gets me going is when I find the bat in my right hand in the right spot," the backstop added. "That creates a lot of comfort in my swing. It puts my barrel in great position and I feel like I'm in command on the plate. Unfortunately, it goes away sometimes."
With one run already in during the second inning, seventh-ranked Pirates prospectNick Kingham walked Casali on seven pitches to load the bases and a run scored when he was forced out at second on Jake Hager's grounder. With two outs and the bags full in the third, Casali knocked a fly ball beyond the diving reach of center fielder Eury Pérez to clear the bases.
"I thought I hit really hard and the guy almost dove and got it," said the 2011 10th-round pick of the Tigers. "I laid off a good slider down ... and I hit it right on the nose."
No. 4 Rays prospectJake Bauers led off the fifth with a double to right and Tampa Bay's top prospect Willy Adames followed with a walk to chase Kingham. Right-handed reliever Brett McKinney whiffed the first two batters he faced before Casali lifted a a three-run shot over the fence in right-center.
"I was looking for a ball middle-in, just because of where he was throwing it to the other guys in front of me," the California native said. "He threw two fastballs away, so I just changed my approach and just basically tried -- still with some authority -- to hit it to right-center. Fortunately, that one got out of the ballpark in a good situation."
• Get tickets to a Durham Bulls game »
Casali went down looking in his final at-bat to start the eighth against right-hander Dovydas Neverauskas.
Adames, MLB.com's No. 16 overall prospect, singled twice, walked twice and scored three times and Bauers, No. 62 overall, collected two doubles and two runs.
Kingham (3-60 was tagged for eight runs on seven hits and four walks with five strikeouts over four innings.
Danny Ortiz belted a three-run homer in the sixth for Indianapolis.
Gerard Gilberto is a contributor to MiLB.com. Follow and interact with him on Twitter, @GerardGilberto4.