Vargas posts eight zeros for Generals
No. 14 D-backs prospect logs first Double-A 10-strikeout game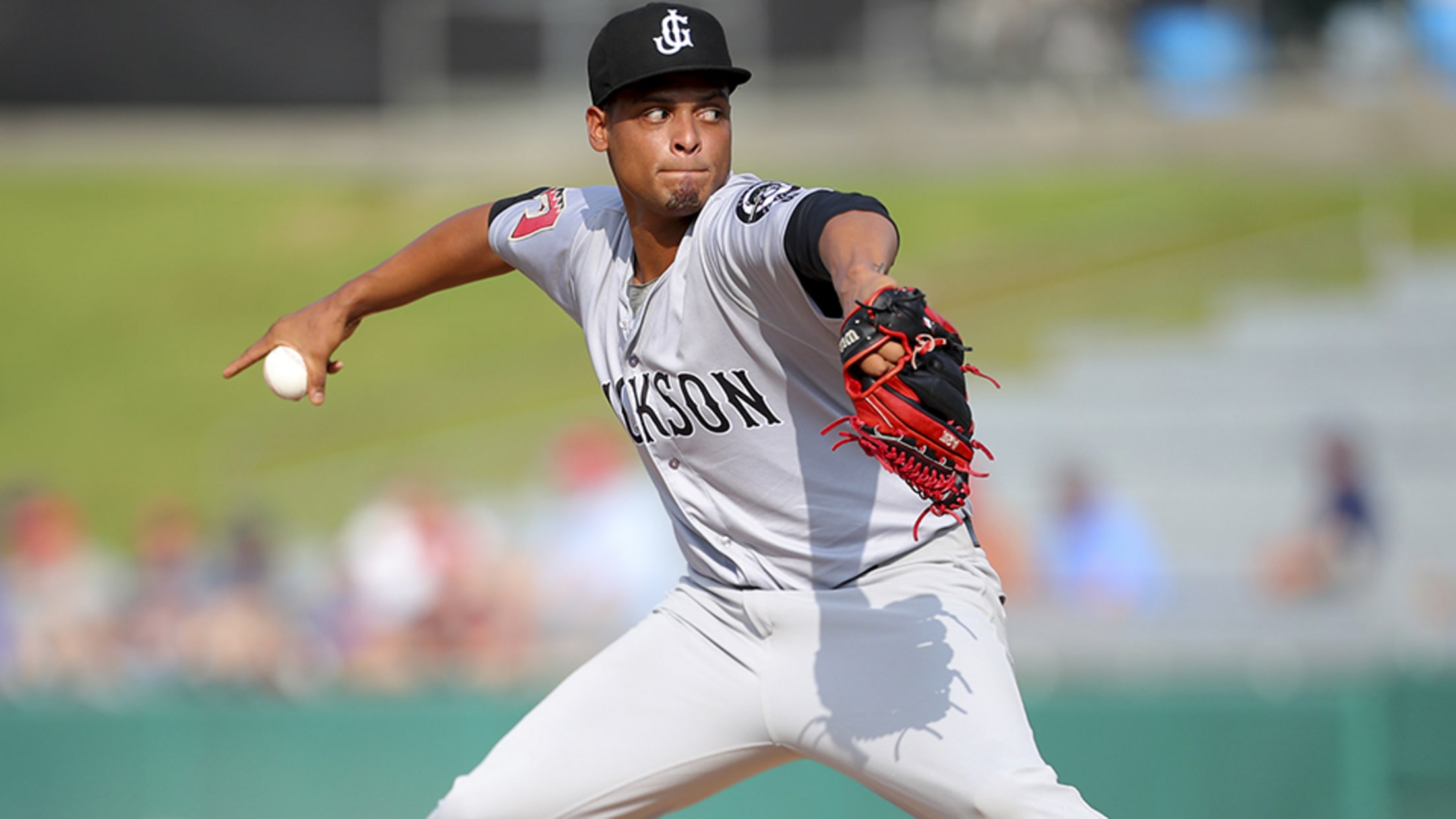 Emilio Vargas is striking out 10.82 batters per nine innings over 137 2/3 total frames this season. (Danny Parker/MiLB.com)
Emilio Vargas' rise to Double-A Jackson was a slow and arduous process dotted with enough flashes of brilliance to hint that the wait would be worthwhile. The 14th-ranked D-backs prospect needed four years to make it to full-season ball but earned California League Pitcher of the Year honors this summer
Emilio Vargas' rise to Double-A Jackson was a slow and arduous process dotted with enough flashes of brilliance to hint that the wait would be worthwhile. The 14th-ranked D-backs prospect needed four years to make it to full-season ball but earned California League Pitcher of the Year honors this summer and a promotion to the Southern League on Aug. 1.
Although he wasn't able to hit the ground running at the new level, he showed what he's capable of Friday night.
Vargas struck out 10 over eight innings of three-hit ball as the Generals blanked the Barons, 3-0, at Regions Field. The effort marked his seventh scoreless performance this season and first since June 15 with Class A Advanced Visalia.
"He made a little change with the slider his last start, got [it] a little tighter, easier to throw strikes [with]," Jackson pitching coach Doug Drabek said "He did a good job commanding the fastball in the zone, [pitching to] the inside part of the plate effectively, [and he] didn't shy away from contact."
The 22-year-old right-hander allowed one runner to get into scoring position through his gem. He pitched around a one-out bunt single by ninth-ranked White Sox prospectLuis Alexander Basabe in the opening frame before setting down the next 11 batters.
Trey Michalczewski lofted a base hit to right to start the fifth and Mitch Roman bunted him to second before Vargas got Danny Mendick to ground out to first and fanned Matt Rose to end the threat. Following a 1-2-3 sixth, Vargas struck out the side on 12 pitches in the seventh. Rose bounced a single through the middle with two outs in the eighth, but Vargas punched out Keon Barnum to conclude his night at 100 pitches, 70 for strikes.
Signed out of the Dominican Republic in 2013, Vargas features a devastating fastball-slider combination with a developing changeup that has helped him average 10.82 strikeouts per nine innings over 137 2/3 frames this season.
Drabek said that before his last start, Vargas began using a different grip to complement his looping slider with one that has a tighter break and a bit more velocity. The 1990 National League Cy Young Award winner explained that the harder slider and Vargas' changeup were effective put-away pitches and the slower breaking ball was useful in getting ahead in the count.
"He's always been able to throw two different [sliders]," Drabek said. "One thing is his velocity is ... a touch above average. His delivery is not high-intensity or high-effort. It works together smooth and the ball comes out good. His fastball plays more than the radar [shows].
"His delivery is nice and [the harder slider] just plays more with the ability to be able to use secondary pitches early in counts for strikes."
Gameday box score
Vargas posted an 8-5 record with a 2.50 ERA and 140 strikeouts over 108 innings, spanning 20 appearances with the Rawhide. He notched his 400th career strikeout on May 25 against Modesto and recorded another milestone on July 10, punching out a season-high 13 over five innings.
"Whether he realizes it or not, the game doesn't get fast on him," Drabek said. "If there's a couple hits or maybe a run or something, he kind of keeps doing what he's doing. It's not where he starts to overdo things to try and stop the bleeding. [If you try and overcompensate], mechanically, things go wrong. Pitch quality goes down and [you're] treading through the mud."
Vargas set his personal best with 17 whiffs for Class A Kane County against Quad Cities on Aug. 20, 2016, during his first full season. After Friday night's gem, the 6-foot-3, 200-pounder has five games with double-digit strikeout totals.
The righty completed six innings only once in his first four starts for Jackson, allowing 15 total runs over 21 2/3 frames.
Being a high-strikeout pitcher, Vargas depends on limiting walks in order to go deep into games. Only twice in 25 appearances this season has he been able to go at least six innings in starts when he's issued at least two free passes. Friday night's game was his third walk-free outing this season.
"That just goes for a lot of pitchers, in my opinion. Just attack the zone early; it sets everything else up," Drabek said. "He had a lot of one- or two- or three-pitch outs tonight, which indicates that he's over the plate and that he's over the plate in good spots."
Kevin Ginkel relieved Vargas and pitched a perfect ninth to record his third Southern League save.
Ben DeLuzio had two hits, including a homer on the game's second pitch, in support of Vargas. Dominic Miroglio and Josh Prince knocked consecutive RBI singles in the sixth.
Gerard Gilberto is a contributor to MiLB.com. Follow and interact with him on Twitter, @GerardGilberto4.