D-backs' Clarke adept at overcoming obstacles
No. 7 Arizona prospect dealt with elbow surgery, facial paralysis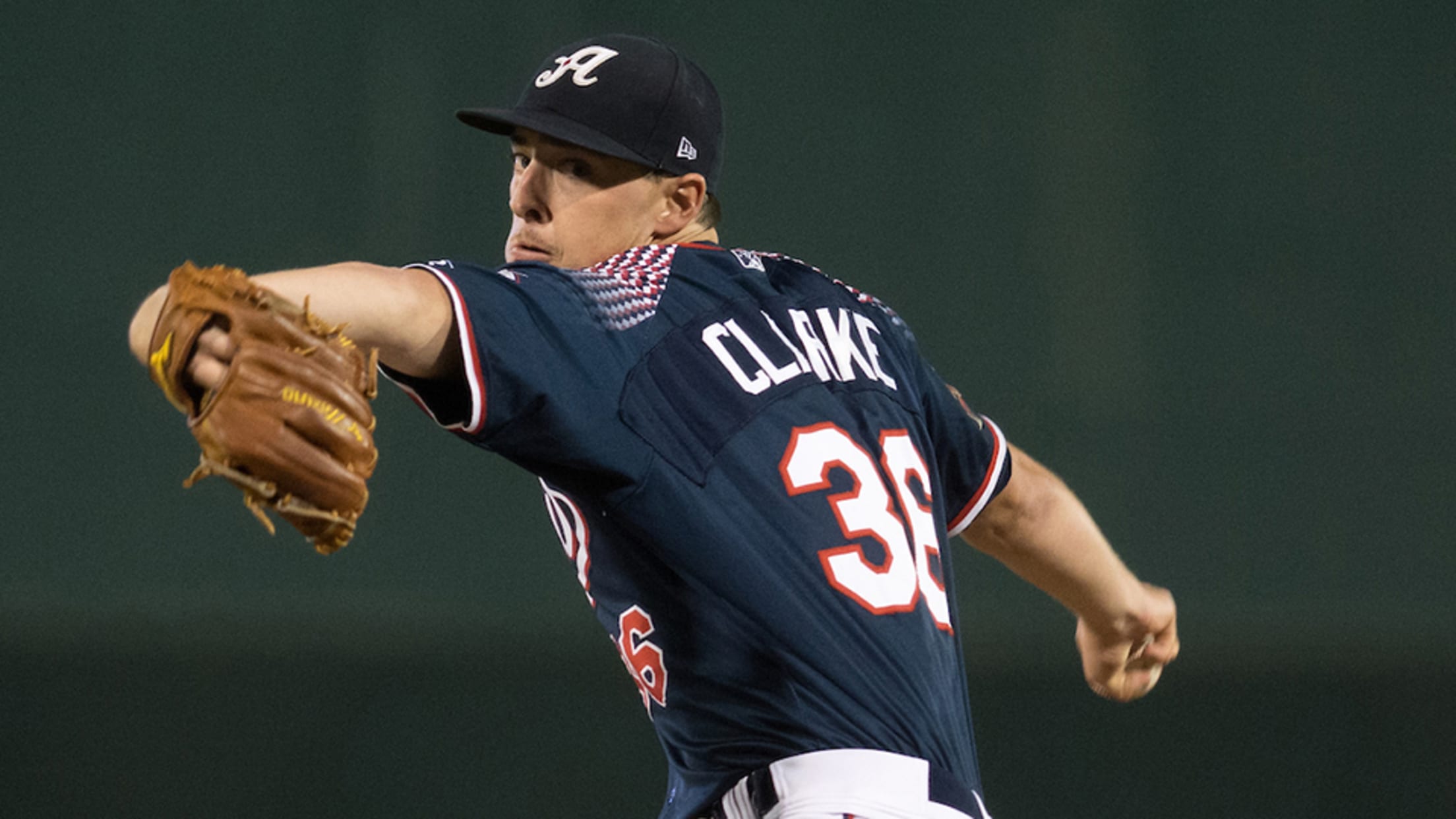 Taylor Clarke, who was 3-2 with a 4.81 ERA over six Triple-A starts in 2017, begins the season back with the Aces. (Reno Aces)
Taylor Clarke looks at the starting pitching depth of the Arizona Diamondbacks and he is not discouraged by his chances of cracking the Major League roster. He's had to overcome bigger hurdles.The 24-year-old right-hander, who finished last year at Triple-A and is scheduled to make his first 2018 start with
Taylor Clarke looks at the starting pitching depth of the Arizona Diamondbacks and he is not discouraged by his chances of cracking the Major League roster. He's had to overcome bigger hurdles.
The 24-year-old right-hander, who finished last year at Triple-A and is scheduled to make his first 2018 start with the Aces Friday night, has dealt with right-side facial paralysis since birth, a weakness of the muscles that can cause some of his speech to be slurred.
"It's never been an issue," the unassuming Clarke said.
D-backs vice president of player personnel Mike Bell said he doesn't factor the facial paralysis into any evaluation of Clarke. In fact, Clemson coach Monte Lee, who had Clarke at the College of Charleston, referred to him as a vocal leader who "motivates other players."
Clarke has also had to get past another obstacle more germane to his profession. He had Tommy John surgery in 2013 while at Towson University. To add more uncertainty to his future, Towson was considering eliminating its baseball program for budget reasons, so Lee, then the coach at CofC, acted on the recommendation of Towson coach Mike Gottlieb and leaped at the chance to add Clarke. Lee watched Clarke become his ace and the Colonial Athletic Association's Pitcher of the Year in 2015.
He stepped into that leadership role in the wake of CofC losing expected ace right-hander Bailey Ober to his own Tommy John surgery. Characteristically, Clarke deflected the credit.
"I think everyone felt like they had to step up," he said.
And a step up is now all Clarke needs to reach his ultimate goal. The Asburn, Virginia, native -- currently ranked as Arizona's No. 7 prospect -- could be an injury away from contributing to the big league staff. In fact, MLB.com recently tabbed Clarke as the prospect most likely to make an impact on the D-backs in 2018.
Clarke has a solid four-pitch mix, starting with a fastball that ranges 91-95 mph, a solid-average slider, a changeup the D-backs believe is Clarke's best secondary pitch and a curveball he continues to refine. Clarke says his over-the-top release point adds deception, and his 6-foot-4 frame enables him to drive the ball down in the zone. He fills the strike zone aggressively and his competitiveness gets high grades.
"I like the way Max Scherzer pitches," Clarke said when asked about role models. "His mentality and toughness and demeanor ... he's a good guy to follow and look up to."
Clarke credits his parents for his work ethic and says Matt Heath, who was his pitching coach at Charleston, taught him the importance of the mental side of baseball.
Bell acknowledged that Clarke is nearly big league-ready.
"Sometimes it's just a matter of waiting your turn," Bell said. "He just needs to be more consistent. He's got command but he's got good stuff, too. He's not a command-over-stuff guy. He's a workhorse, he's disciplined, he takes care of his body.
"He's been preparing himself."
The D-backs have a solid five-man rotation, fronted by $206.5 million man Zack Greinke. But left-hander Patrick Corbin is a free agent after the season, potentially paving the way for Clarke to join the big league staff in 2018.
"I don't even think about [the Majors]," he said. "It's one start at a time. I try not to get carried away and just focus on one start at a time. If the time comes, I will try to take advantage of the opportunity."
Vince Lara-Cinisomo is a contributor to MiLB.com. Follow him on Twitter @vincelara.