'Dads to Take on Hickory Dickory Docks Identity
Hickory Dickory Docks to Play 3 August Games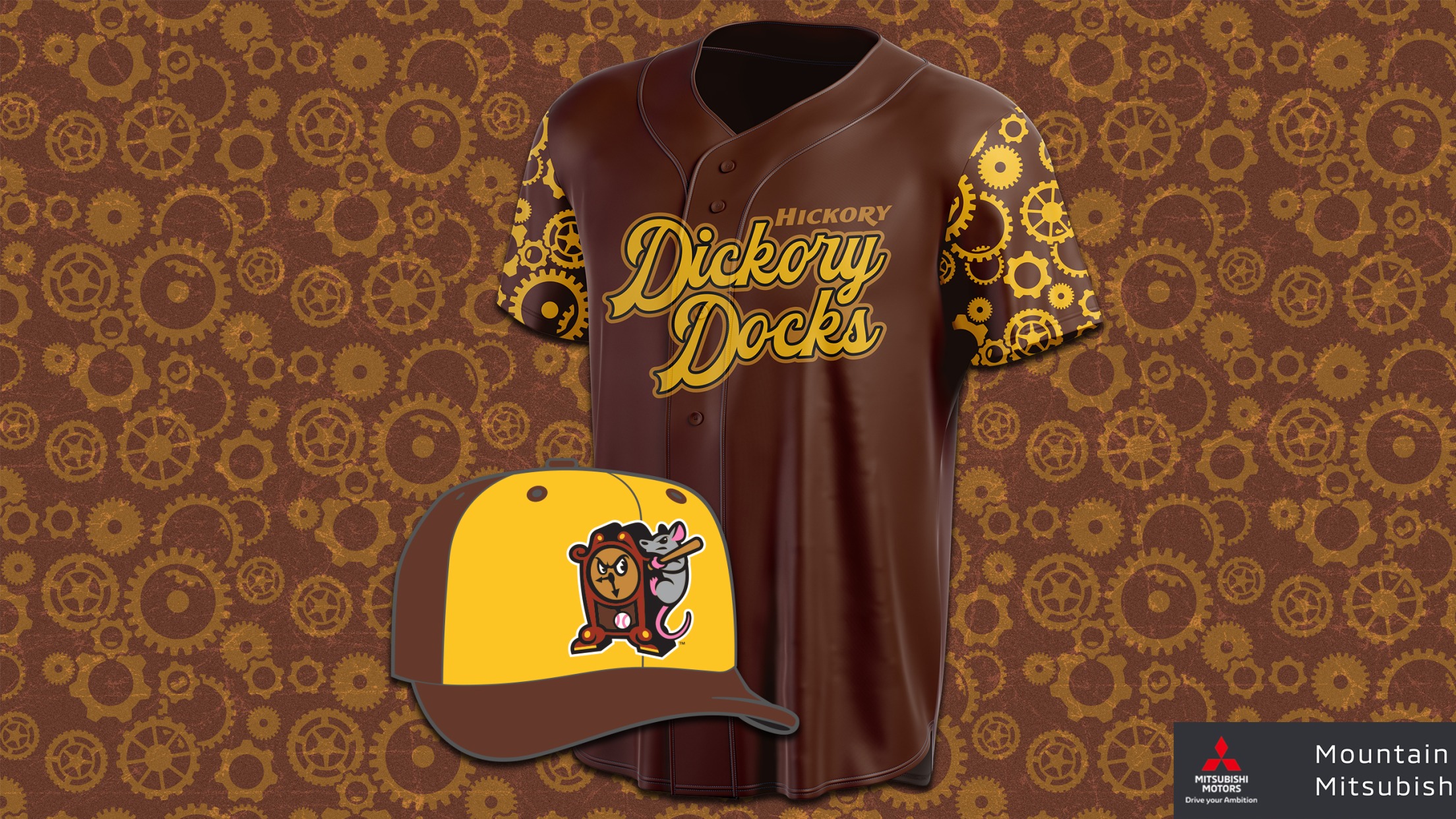 Hickory, NC- The Crawdads are excited to reveal a new addition to their Theme Night Collection in 2023- the Hickory Dickory Docks. The team will take the field in special Hickory Dickory Docks hats and jerseys for the Thursday, August 17th, Friday, August 18th, and Saturday, August 19th games against
*Hickory, NC- *The Crawdads are excited to reveal a new addition to their Theme Night Collection in 2023- the Hickory Dickory Docks.
The team will take the field in special Hickory Dickory Docks hats and jerseys for the Thursday, August 17th, Friday, August 18th, and Saturday, August 19th games against the Rome Braves thanks to Mountain Mitsubishi.
Saturday night's game will include a themed toothbrush holder giveaway to the first 1,000 fans thanks to Mountain Mitsubishi. The evening will be capped off with a special firework show courtesy of Vesco Toyotalift.
The identity is inspired by the nursery rhyme of the same name which begins "Hickory, dickory, dock. The mouse went up the clock." In the logo, the hands of the clock point to "8:28", a nod to the local area code, while the swinging pendulum is shaped like a baseball.
Tee shirts, decals, and an adjustable hat are currently available online. The merchandise will be available for purchase in person during the App State vs Queens Series at the ballpark February 17th through February 19th. Merchandise can be ordered for curbside pickup with the code "CURBSIDE".
The on-field 59fifty and adjustable 9twenty hats from New Era are expected to arrive in July and will be available online and in-person in the GoTeez Locker Room.
The Crawdads' full promotional schedule will be unveiled in mid-March. Single game tickets will go on sale in March as well.
The Crawdads will open their season at L.P. Frans Stadium on April 6_th_ against the Winston-Salem Dash. For more information about the Crawdads, including promotions, ticket books, and group outings please visit _[**www.hickorycrawdads.com_**](http://www.hickorycrawdads.com/)_ or contact the front office at (828) 322-3000._