Varsho dominant at dish in doubleheader
D-backs No. 4 prospect collects seven hits in Generals sweep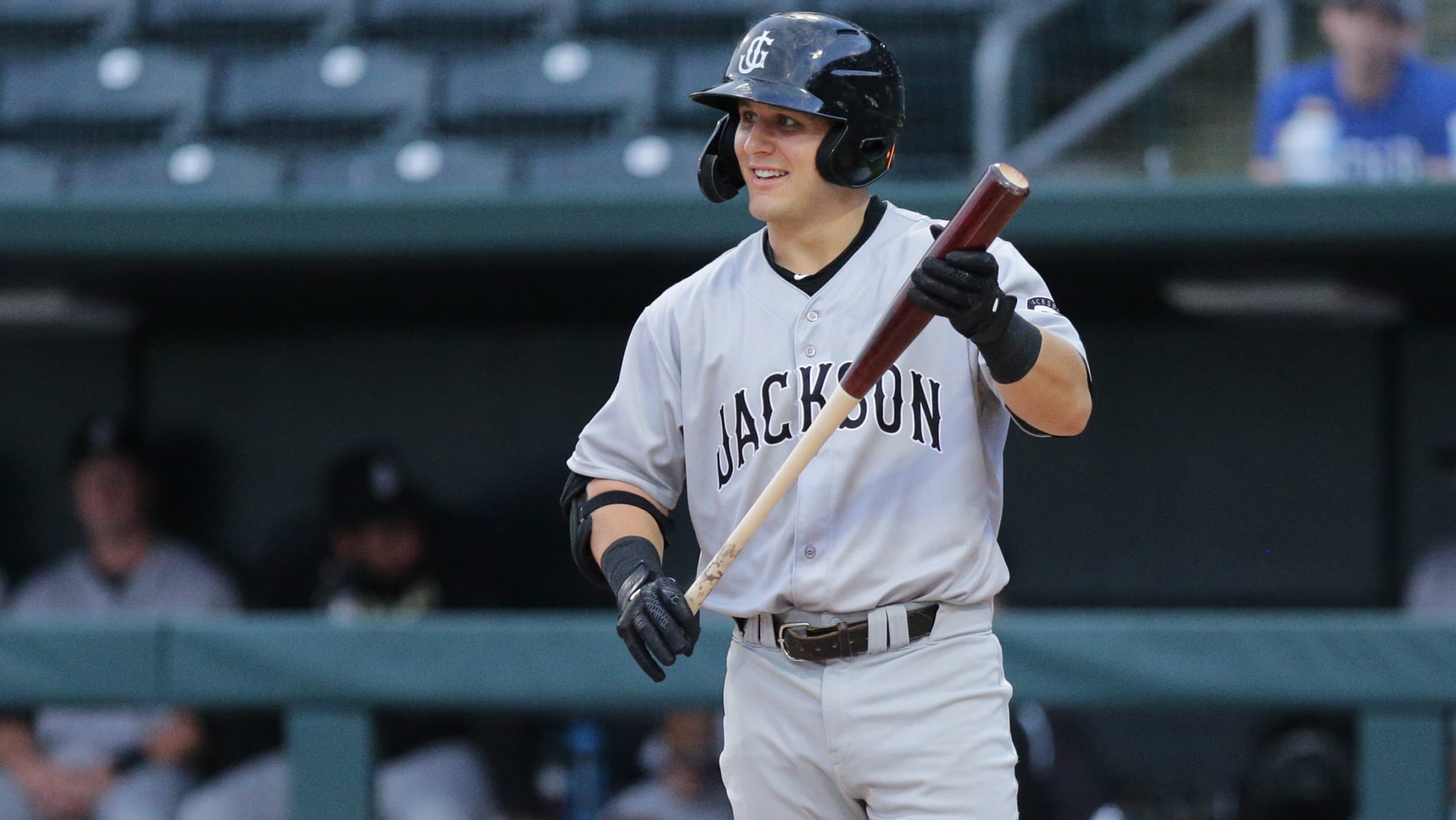 Daulton Varsho is batting .304 across his first three seasons as a professional. (David Rosenblum/Jackson Generals)
Day or night, Daulton Varsho shined all the same on Monday.Arizona's fourth-ranked prospect went a combined 7-for-9 in Double-A Jackson's doubleheader sweep of Mobile at Hank Aaron Stadium. He went 4-for-4 with two doubles in Generals' 5-1 win in the opener and followed that up with a 3-for-5 showing in their
Day or night, Daulton Varsho shined all the same on Monday.
Arizona's fourth-ranked prospect went a combined 7-for-9 in Double-A Jackson's doubleheader sweep of Mobile at Hank Aaron Stadium. He went 4-for-4 with two doubles in Generals' 5-1 win in the opener and followed that up with a 3-for-5 showing in their 11-8 nightcap victory.
Game 1 box score | Game 2 box score
It was certainly a day to remember for Varsho, especially after early-season struggles caused his average to dip as low as .159 just over two weeks into the year. Above all else, though, he was pleased to be the driving force behind the Generals' pair of wins.
"It's nice having a good day," he said. "I struggled a little bit right away this season, so it was nice to have a couple hits fall for me and hit some balls really, have them hit a couple holes. It was a great day, glad we won both games. That's the whole point, is winning."
In the opener, Varsho led off with a pair of singles in the first and third innings off Angels No. 22 prospectJesus Castillo. First he beat out a ground ball to second base and Los Angeles' No. 4 prospect Jahmai Jones threw home to catch Jamie Westbrook out at the plate. The second was a grounder up the middle off the right-hander.
The 22-year-old doubled to left in the fifth in Castillo's last inning and added another to right off righty Dario Beltre before coming around to score on a two-bagger by Andy Young in the final frame.
Normally, a performance might warrant some celebration and time to decompress. But with another game just on the horizon, Varsho had to keep a level head -- something he says wasn't a problem.
"I was pretty relaxed," he said. "I knew that I was DH-ing the second game before I even played the first game, so I was ready to play the next game after."
Varsho singled again in the first of the second contest, a liner to left off Jason Alexander. Two frames later, he picked up his sixth straight hit of the day after rocketing a double off first base against the righty. He later scored on a two-bagger by Drew Ellis.
"I couldn't believe that I actually had that many hits in a row. ... I tried to keep it going, obviously I didn't, but it was a good run," he said. "Six hits in a row, I mean, not many people are able to [do] that."
Video: Generals' Varsho smokes double
Varsho capped his monster day off with a single to right off southpaw Adrian Almeida in the sixth, scoring on another knock from Ellis for the Generals' eighth run of the game.
In his first full season as a pro last year, MLB.com's No. 6 overall catching prospect compiled a slash line of .294/.367/.475 between the Rookie-level Arizona League and Class A Advanced Visalia, smacking 12 homers and driving in 45 runs.
Now a month and some change into 2019, Varsho has put together a line of .295/.375/.505, homering five times and knocking in 18 runs. The key for him so far in his second full go-around has been more mental than physical, he says -- understanding that highs like these will come with equally as emphatic lows, such as his aforementioned struggles at the plate to open the season.
"I've learned a lot about myself," Varsho said. "I'm really a perfectionist, so I've learned to try to not to be too hard on myself. Take it a day at a time ... and just trying to understand that some days are going to be a little rough and you might not be able to see the ball very well, but hopefully the next day, you turn it around and have a good day."
Westbrook finished 3-for-8 with a homer, four RBIs and four runs scored. Ellis only played in the nightcap, going 3-for-4 with two doubles, four RBIs and two runs. Young went 2-for-5, doubled twice, and drove in four.
Jordan Wolf is a contributor to MiLB.com. Follow him on Twitter @byjordanwolf.