Dragons' Santillan strikes out 10 in six innings
Reds No. 14 prospect doesn't issue a walk for first time in career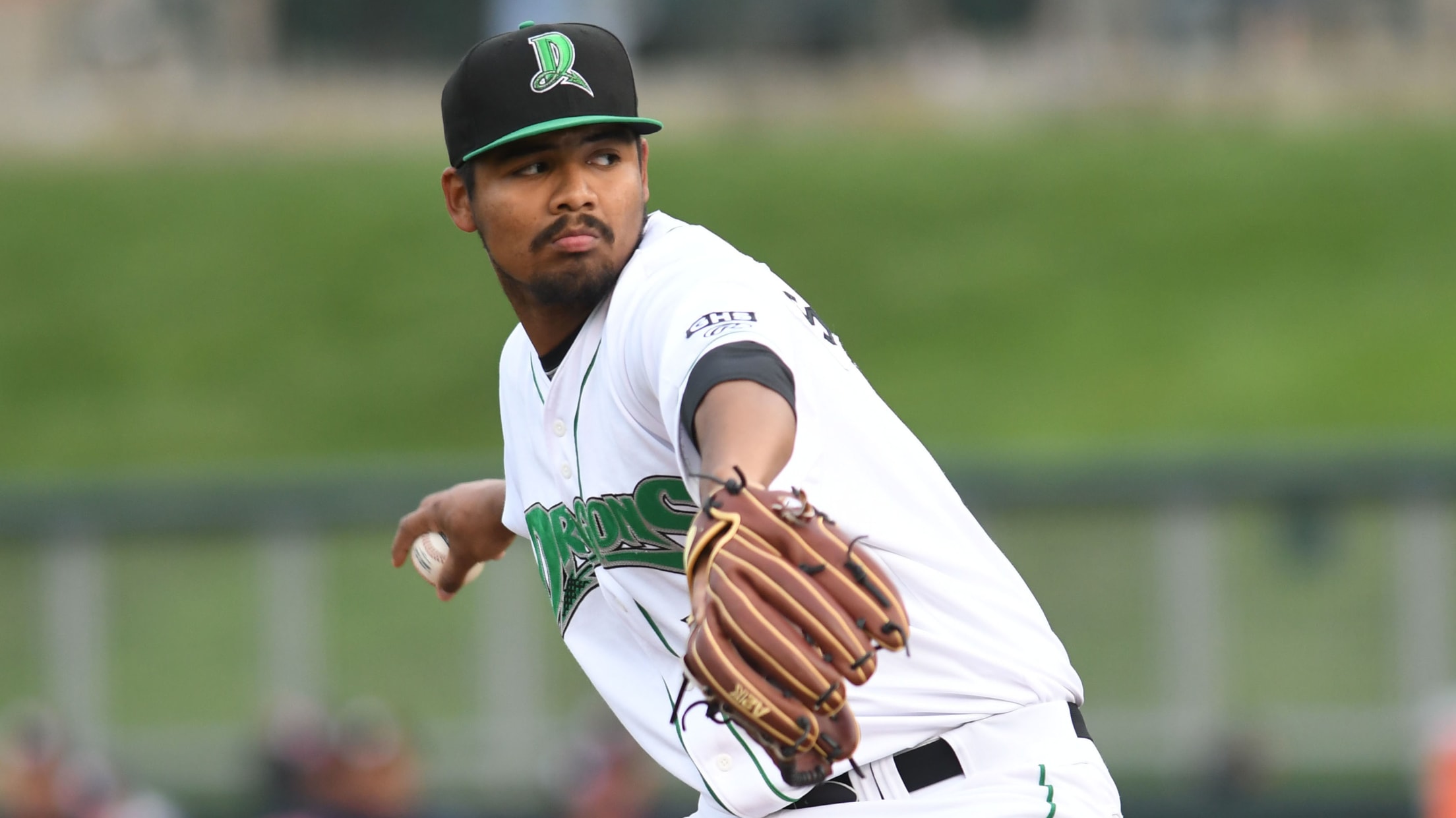 Tony Santillan has struck out 21 with no walks over his last three starts for Class A Dayton. (Dayton Dragons)
Tony Santillan had a night of highs and lows Monday, and they were all good.Cincinnati's 14th-ranked prospect struck out a season-high 10 and didn't issue a walk for the first time in his career in Class A Dayton's 4-1 win over Cedar Rapids at Fifth Third Field. Santillan allowed one
Tony Santillan had a night of highs and lows Monday, and they were all good.
Cincinnati's 14th-ranked prospect struck out a season-high 10 and didn't issue a walk for the first time in his career in Class A Dayton's 4-1 win over Cedar Rapids at Fifth Third Field. Santillan allowed one run on two hits over six innings.
Box score
"Most of my pitches have been working," the 20-year-old right-hander said. "I had a lot of confidence, especially after that first inning and it just kept building up, which allowed my pitches to be sharper and more consistent."
Santillan (2-2) fanned Jermaine Palacios and Ariel Montesino to start the game and he recorded multiple strikeouts in four other frames. The Texas native also avoided walking anyone for the first time in 29 career starts since being selected in the second round of the 2015 Draft.
"It's a great feeling," said Santillan, who had walked 69 over 116 career innings coming in. "I thought it was my best outing of the year so far. I just attacked the zone, got ahead early and put them away pretty quickly. I didn't really play around with the hitters. Now I'll just build off that and keep the momentum going forward."
Christian Cavaness made Santillan work out of the stretch for the first time when he singled up the middle with two outs in the third, and Palacios led off the fourth with a home run to left-center field, but he bounced back to retire the final nine batters faced in order.
"[The home run] had no impact on me really," Santillan said. "I just let it happen and got back in there to attack the zone and attack the hitters."
He departed after throwing 61 of 94 pitches for strikes. Right-hander Ryan Hendrix struck out five of the seven batters he faced, and lefty Andy Cox whiffed two batters in the ninth to pick up his second save.
"It was awesome to watch it, especially from your teammates," said Santillan. "You go out there and have a good game, and then you turn it over to the bullpen and you see them have the same success, it's always fun to watch."
James Vasquez and Brantley Bell both had two hits and an RBI, and Cassidy Brown plated two runs for Dayton.
Michael Peng is a contributor to MiLB.com. Follow him on Twitter @MichaelXPeng.