Dragons' Santillan posts eight more zeros
Reds No. 14 prospect follows near-perfect start with two-hit gem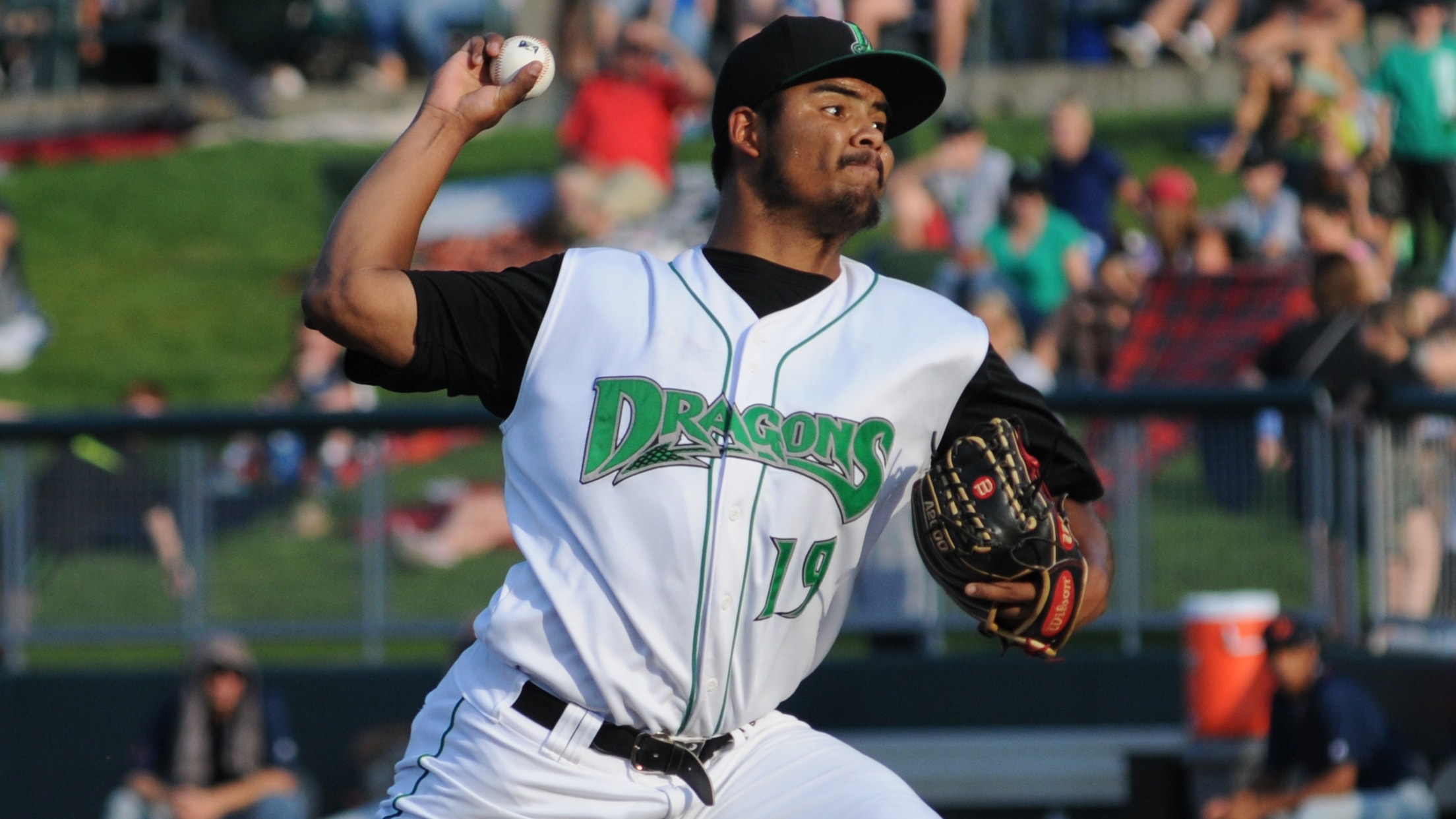 Tony Santillan has allowed two earned runs on 10 hits over 26 2/3 innings in his last four starts. (Dayton Dragons)
Strong winds and frequent showers in Midland, Michigan, may have been an issue heading into Wednesday's doubleheader between Class A Dayton and Great Lakes. But it did not hinder the game plan of Dragons starter Tony Santillan."We talked about today's conditions," Dayton pitching coach Derrin Ebert said. "I asked him
Strong winds and frequent showers in Midland, Michigan, may have been an issue heading into Wednesday's doubleheader between Class A Dayton and Great Lakes. But it did not hinder the game plan of Dragons starter Tony Santillan.
"We talked about today's conditions," Dayton pitching coach Derrin Ebert said. "I asked him how he wanted to attack guys and he's as straightforward as it comes. He's says, 'We're just going to be aggressive and trust my stuff.'"
Gameday box score
The Reds' No. 14 prospect tossed eight scoreless frames before rain suspended the opener after 13 innings at Dow Diamond. In the longest outing of his professional career, Santillan gave up two hits, struck out five and issued his first walk since May 3, ending a streak of 25 1/3 innings without a free pass.
"On his bad days, his stuff is better than most guys' good days. Getting him to believe in that was one of the big things," Ebert said. "Staying on the plate early in counts, not trying to be so far in and letting the action of his pitches move across the plate. It's a different way that he's been approaching it, but he's been approaching it aggressively. Every time he lets the ball go, he's got confidence that he's going to get it over the plate."
The 20-year-old lowered his ERA 41 points to 2.35 over 53 2/3 innings this season. He has not allowed a run in his last two starts -- spanning 15 innings -- after taking a perfect game into the seventh on Friday against Bowling Green. His strikeout totals are down from his outings before the scoreless streak, although Ebert said it works toward a new objective for Santillan and the rest of the Dragons pitching staff.
"I pulled all my starters together," the 40-year-old coach said before recalling something he learned as a Braves prospect. "[The attitude] was always: log innings. No coach is going to leave you out there in the seventh inning when you're getting your butt handed to you.
"So you think of getting quick outs early in counts. He's kind of taken that to heart and he's running with it. He's trying to make contact early in counts."
In the early innings, the 2016 second-round pick displayed a dominance similar to his previous start, although any thought of a milestone was quickly thwarted. Santillan retired the first five Loons before surrendering a two-out single to Keibert Ruiz, the 13th-ranked Dodgers prospect, in the second inning.
After getting Erick Meza to bounce out to end the frame, the right-hander strolled through the next 13 batters, working a perfect third, fourth, fifth and sixth. He got into some trouble in the seventh after allowing a leadoff single to Dodgers No. 21 prospect Oneil Cruz.
The Fort Worth native got two outs on a fly ball and a grounder, but Cruz advanced to second after a mishandled pickoff attempt by first baseman Bruce Yari. Santillan quickly got out of the jam as Ruiz lofted a pop fly to center field.
Although the game was supposed to be a seven-inning tilt, the Dragons -- with no help from Mother Hature -- could not scratch out a run for Santillan, who came back out for the eighth with his pitch count approaching 80. He worked a 1-2-3 inning and exited after throwing 60 of 88 pitches for strikes.
Andy Cox escaped a bases-loaded jam in the ninth and Carlos Machorro allowed a hit and a walk while fanning two over four innings in his second appearance of the season for Dayton. His first came Saturday in relief of Scott Moss as they combined with Brian Hunter on the first nine-inning no-hitter in the Dragons' 18-year history.
One constant in each of Santillan's last two outings -- and the no-hitter -- is catcher Cassidy Brown. Selected by the Reds in the 12th round of last year's Draft, Brown debuted with Santillan and Moss last summer with Rookie-level Billings.
"Cassidy is very good at recognizing what pitchers have that day. Tony was actually under the weather, he didn't have the life that he normally has, so the fastball was a tick down," Ebert said. "He's back there giving confidence to the pitcher, even though he may not have his best stuff. That's one of the best attributes Cassidy has. It's nice to watch those two work together."
After the game was resumed Thursday, Great Lakes won, 2-1, on a two-run walk-off homer by Carlos Rincon in the 16th.
Gerard Gilberto is a contributor to MiLB.com. Follow and interact with him on Twitter, @GerardGilberto4.