Daytona drops Saturday doubleheader to Palm Beach
Cardinals take game one, 6-5, and nightcap, 8-4; Daytona steals Tortugas-record seven bags in opener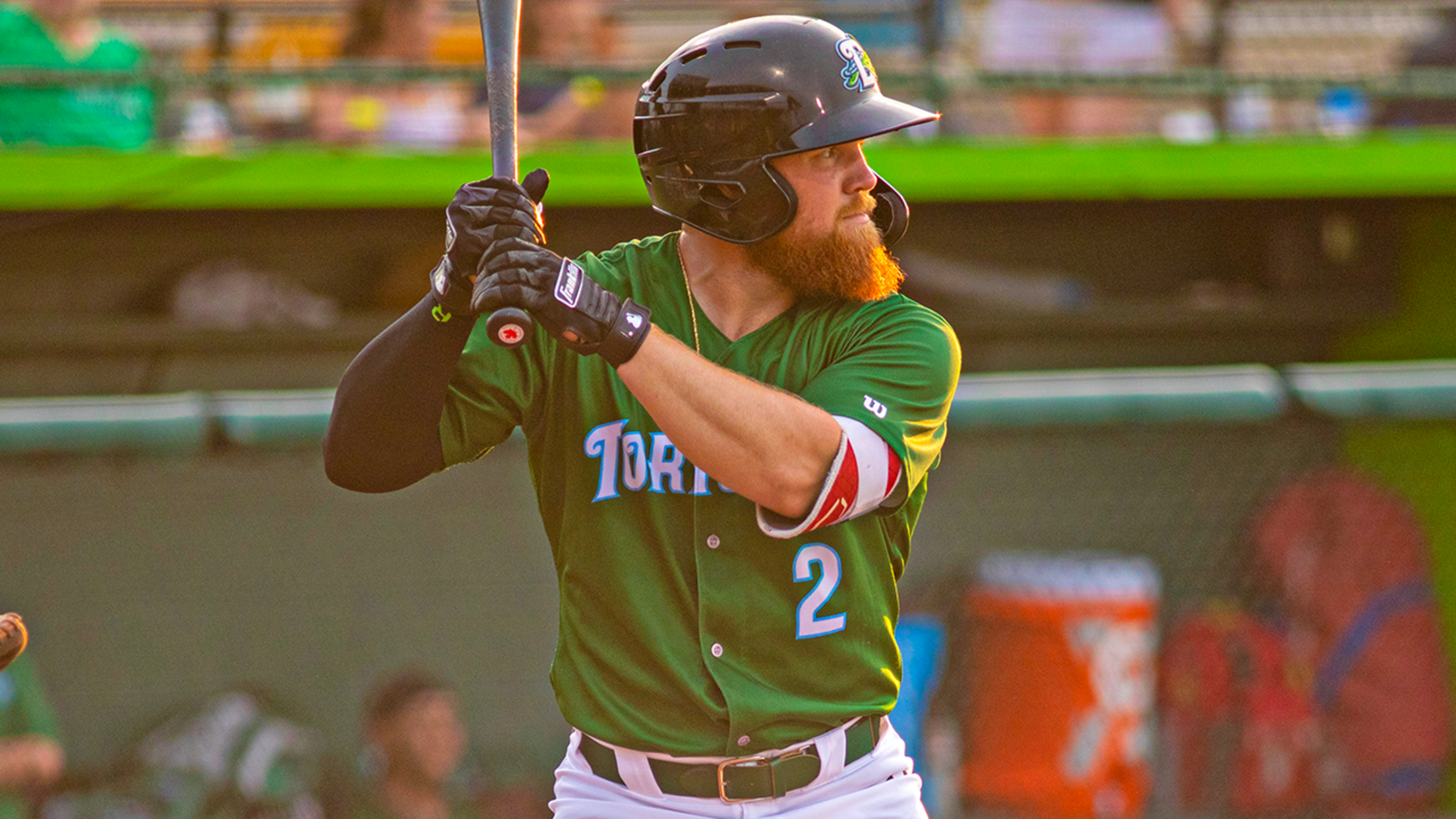 RF Blake Dunn set a Tortugas record with four stolen bases in game one, the most by a player for the franchise in 13 years. However, Palm Beach rallied to win game one, 6-5, and snared the nightcap, 8-4, as the Cardinals swept the doubleheader from Daytona in front of 1,305 fans at Jackie Robinson Ballpark on Saturday night. (Aldrin Capulong)
DAYTONA BEACH, Fla. — Despite the team and RF Blake Dunn setting a pair of Tortugas' records in the opener, it would not come with the appropriate ending. Palm Beach rallied from 5-0 down to take game one, 6-5, while the Cardinals used a six-run third to snag game two,
DAYTONA BEACH, Fla. — Despite the team and RF Blake Dunn setting a pair of Tortugas' records in the opener, it would not come with the appropriate ending. Palm Beach rallied from 5-0 down to take game one, 6-5, while the Cardinals used a six-run third to snag game two, 8-4, sweeping the doubleheader from Daytona in front of 1,305 fans at Jackie Robinson Ballpark on Saturday night.
The afternoon began on a positive note for the Tortugas (18-26). Dunn (1-2, R, 2 RBI, BB, SO) reached on a two-out walk and promptly stole second base in the bottom of the first in game one. LF Jamal O'Guinn (1-2, BB) hit a grounder behind the third-base bag, creating a challenging play at the hot corner. The throw to first was late and kicked up the right-field line. Dunn scored, while O'Guinn advanced to second on the single and error to put Daytona in front, 1-0.
In the second, the offense erupted even further. 2B Tyler Callihan (2-3, R, 2B, BB) started the frame with a double and quickly came home on a single to left-center from 3B Michel Triana (1-4, R, RBI, 3 SO). 1B Jack Rogers (1-3, R, 3B, RBI, BB, SO) sliced a triple into the left-field corner for his first hit with the club — scoring Triana — to extend the Tortugas' lead to 3-0.
Following a pair of outs to third and a hit-by-pitch of CF Jay Allen II (0-3, R, 2 SO), Dunn came through once more. The Saugatuck, Mich. stung a two-run single up the middle to cap Daytona's four-run frame and put them in the driver's seat, 5-0.
Two innings later, Palm Beach (17-27) started the comeback effort. With two on and two out, CF Matt Chamberlain (2-3, R, 2 2B, 2 RBI, SO) pounded a double into the right-field corner. Both runners scored on the two-bagger, pulling the Redbirds within three, 5-2.
In the fifth, the Cardinals drew even. 2B Sander Mora (1-2, R, RBI, BB, SO) garnered a walk with one retired and took second when C Wade Stauss (0-2, R, 2 SO) was drilled with a 1-2 pitch. After a fly ball to center, 3B Osvaldo Tovalin (1-4, R, HR, 3 RBI, SO) powered one beyond the left-field batting cages for a game-tying, three-run home run. The 22-year-old's third long ball of the campaign knotted it at five.
Chamberlain ignited another rally for Palm Beach in the sixth. The University of New Haven alum ripped a one-out double to right and advanced to third on a ground out. After a walk to DH Aaron McKeithan (0-2, BB, 2 SO), Mora delivered the go-ahead knock. The right-handed swinger slapped a ball through the left side of the infield to bring home a tally and grant the Cardinals their first lead, 6-5.
Daytona mustered rallies in the sixth and seventh, but couldn't retaliate. Allen reached on a fielder's choice with one out in the sixth and swiped second and third before being tagged out trying to score on a ground ball to short. O'Guinn was plunked and Callihan singled to put the winning runs aboard in the seventh, but consecutive strikeouts ended the game.
The seven stolen bases in the game for the Tortugas set a new high watermark since the franchise rebranded prior to the 2015 season. The Daytona franchise had not swiped that many bases in a game since they stole eight — also against Palm Beach — as the Cubs affiliate on July 22, 2009, at The Jack.
Dunn's four stolen bases in the game also set a Tortugas record surpassing the mark of three accomplished by several players. The Western Michigan alum is the first Daytona player to steal four bags in a single contest since future Major League All-Star Josh Harrison did so in that same contest on July 22, 2009.
Neither starter received a decision in game one. RHP Chase Petty (3.2 IP, 3 H, 2 R, 2 ER, 6 SO) was off to a torrid start, retiring the first nine men he faced and striking out five-of-six hitters in the second and third frames. The six punchouts were a new career-high for the Tortugas' 19-year-old. RHP Bryan Pope (2.0 IP, 5 H, 5 R, 4 ER, BB, 3 SO) lasted only two innings for Palm Beach in his first start of the season.
LHP Nelfri Contreras (2.0 IP, H, 2 SO) tossed two scoreless out of the bullpen, earning his second win for the Cardinals. RHP Roy García (1.0 IP, H, 3 SO) struck out the side in the seventh to earn his second save.
Daytona RHP Arij Fransen (2.1 IP, 3 H, 4 R, 4 ER, 2 BB, 2 SO) was taxed for four runs, suffering his fourth defeat of the season.
In the nightcap, Palm Beach took advantage of a massive third inning. LF Tyler Reichenborn (2-5, R, 2B, RBI, SO) started the inning with a ground-rule double to right-center, while 3B Osvaldo Tovalin (0-4, R, BB, 2 SO) followed with a walk. 1B Brady Whalen (1-3, R, BB) drew first blood for the Redbirds, slapping a two-run double into left-center.
After a sacrifice bunt by SS Jeremy Rivas (0-4, R, 2 SO), RF Matt Chamberlain (2-4, R, 2 RBI) stung a run-scoring single to right, granting Palm Beach a 3-0 advantage.
The onslaught did not halt after a pitching change. DH Aaron McKeithan (2-4, R, SO) greeted the new arm with a single to center and C Jake Burns (2-2, 2 R, 2 2B, RBI, 2 BB) drove in another tally with a double to straightaway center. Two batters later, 2B Brandon Hernández (1-4, 2B, 2 RBI, SO) whipped a two-run ground-rule double over the left-field fence to cap the Cardinals' six-run inning.
In all, Palm Beach tallied six runs on six hits and sent 10 men to the plate in the third inning.
Chamberlain's RBI single in the fourth made it a 7-0 contest before Daytona broke up the shutout in the bottom half.
RF-CF Blake Dunn (0-3, R, BB, 2 SO) garnered a leadoff walk and advanced to third on DH Jamal O'Guinn's (1-4, R, 2B, RBI, SO) double down the left-field line. Trailing a wild pitch that allowed Dunn to score, 1B Ruben Ibarra (1-3, R, HR, 2 RBI, 2 SO) sent a ball into orbit.
On a 3-2 pitch, the 23-year-old sent a majestic drive into the main parking lot beyond the center-field wall for a two-run home run. Ibarra's colossal 451-foot shot — his fourth blast of the year — pulled the Tortugas within four, 7-3.
Both teams traded runs the rest of the year. Palm Beach made it an 8-3 contest in the fifth, as Burns doubled and scored on a throwing error. An inning later, Daytona collected that run back, as 3B Michel Triana (2-3, R) singled, moved to second on a C Wilfred Astudillo (1-3) knock, took third on a passed ball, and crossed the dish on a wild pitch.
RHP Carlos Guarate (3.0+ IP, 4 H, 3 R, 3 ER, BB, 4 SO) was unable to register an out in the fourth, taking a no-decision in his start for the Cardinals. LHP Hayes Heinecke (2.2 IP, 3 H, R, BB, 5 SO) punched out five to earn his first victory of the season in relief, while LHP Alex Cornwell (1.1 IP, 2 SO) retired all four men he faced to collect the first save of his career.
Daytona's RHP Reynardo Cruz (2.1 IP, 4 H, 4 R, 4 ER, 2 BB, 4 SO) ran into trouble in Palm Beach's six-run third. The 20-year-old was saddled with his second defeat of 2022.
The two-week concludes on Sunday with Shelldon's Family Fun Day. Members of the brand-new kids and family plan receive tickets to every Sunday home game in addition to a Tortugas' hat, a meal voucher — good for a free hot dog, popcorn, and small fountain drink — at the gates. After the final out, youngsters take the diamond with Kids Run The Bases presented by Neighbor's Ice Cream Parlor.
RHP Alex Johnson (1-2, 7.64) — anticipates getting the ball for the Tortugas as they search for a series split in the finale. The Cardinals are projected to counter with RHP Inohan Paniagua (1-3, 2.06). Coverage on the Tortugas Radio Network will begin on the MiLB First Pitch app and www.daytonatortugas.com at 5:20 p.m. leading up to the 5:35 p.m. first pitch from Jackie Robinson Ballpark.
Season tickets, multi-game plans, group packages, and single-game tickets are currently available and can be purchased online at www.daytonatortugas.com or by calling the Tortugas' Ticket Office at (386) 257-3172.
ABOUT THE DAYTONA TORTUGAS
The Daytona Tortugas are the Single-A Affiliate of the Cincinnati Reds and a member of Minor League Baseball's Florida State League. The Tortugas play at Jackie Robinson Ballpark in downtown Daytona Beach, Fla. Jackie Robinson Ballpark also plays host to Bethune-Cookman University, the Jackie Robinson Ballpark Museum, and many community events and initiatives of all sizes throughout the year.